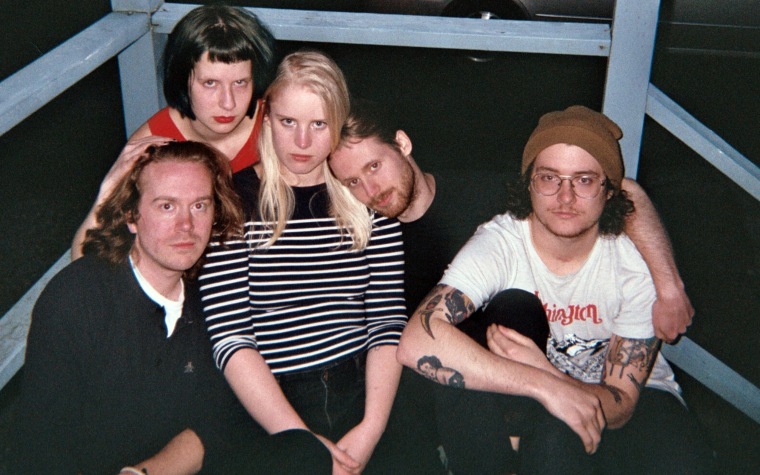 Following up an incredible, angsty single called "Teen Challenge," Seattle band Great Grandpa continue their streak of catchy, emotional rock songs with "Fade," a track about what a bummer it is to feel jaded. "I'm in the same place/ but I'm changing," cries Alex Menne, whose voice sounds like that of an emo angel.
"'Fade' is about the dulling of pleasure that comes with repeated exposure to the same experiences, locations, persons, etc. and the small ways in which we struggle — and often fail — to find newness," Great Grandpa wrote to The FADER via email. "It's the feeling of knowing you need to make a change but not being sure where to start, constantly looking for the next rush." Listen to "Fade" below.
Plastic Cough is out July 7 on Double Double Whammy.
Tour Dates
7/6 - Lakewood, OH @ Mahall's * ^
7/7 - Lansing, MI @ Mac's Bar * ^
7/8 - Chicago, IL @ Beat Kitchen * ^
7/10 - Minneapolis, MN @ 7th St Entry * ^
7/11 Omaha, NE — Slowdown * ^
7/12 - Denver, CO @ Moon Room * ^
7/14 - Missoula, MT @ Ole Beck VFW * ^
7/15 - Seattle, WA @ Barboza * ^
7/16 - Portland, OR @ Mississippi Studios * ^
7/18 - San Francisco, CA @ Bottom Of The Hill * ^
7/20 - Los Angeles, CA @ The Hi Hat * ^
7/21 - San Diego, CA @ Soda Bar * ^
7/22 - Phoenix , AZ @ The Rebel Lounge * ^
7/23 - Albuquerque, NM @ Launchpad * ^
7/25 - Austin, TX @ Sidewinder * ^
7/26 - Dallas, TX @ Three Links * ^
7/28 - Orlando, FL @ Will's Pub * ^
7/29 - Atlanta, GA @ The Masquerade (Purgatory) * ^
7/30 - Carrboro, NC Cat's Cradle (Back Room) * ^
8/1 - Washington, DC @ Songbyrd * ~
8/2 - Philadelphia, PA @ Everybody Hits * ~
8/4 - Brooklyn, NY @ Baby's All Right * ~
8/5 - Cambridge, MA @ The Middle East (Upstairs) * ~
8/6 - Hamden, CT @ The Ballroom at The Outer Space * ~
8/7 Long Branch, NJ — Brighton Bar # ^
8/8 - Pittsburgh, PA @ The Funhouse at Mr. Smalls * ~
8/9 - Columbus, OH @ Double Happiness * ~
8/10 - Nashville, TN @ The End * ~
* w/ Rozwell Kid
^ w/ Vundabar
~ w/ Chris Farren