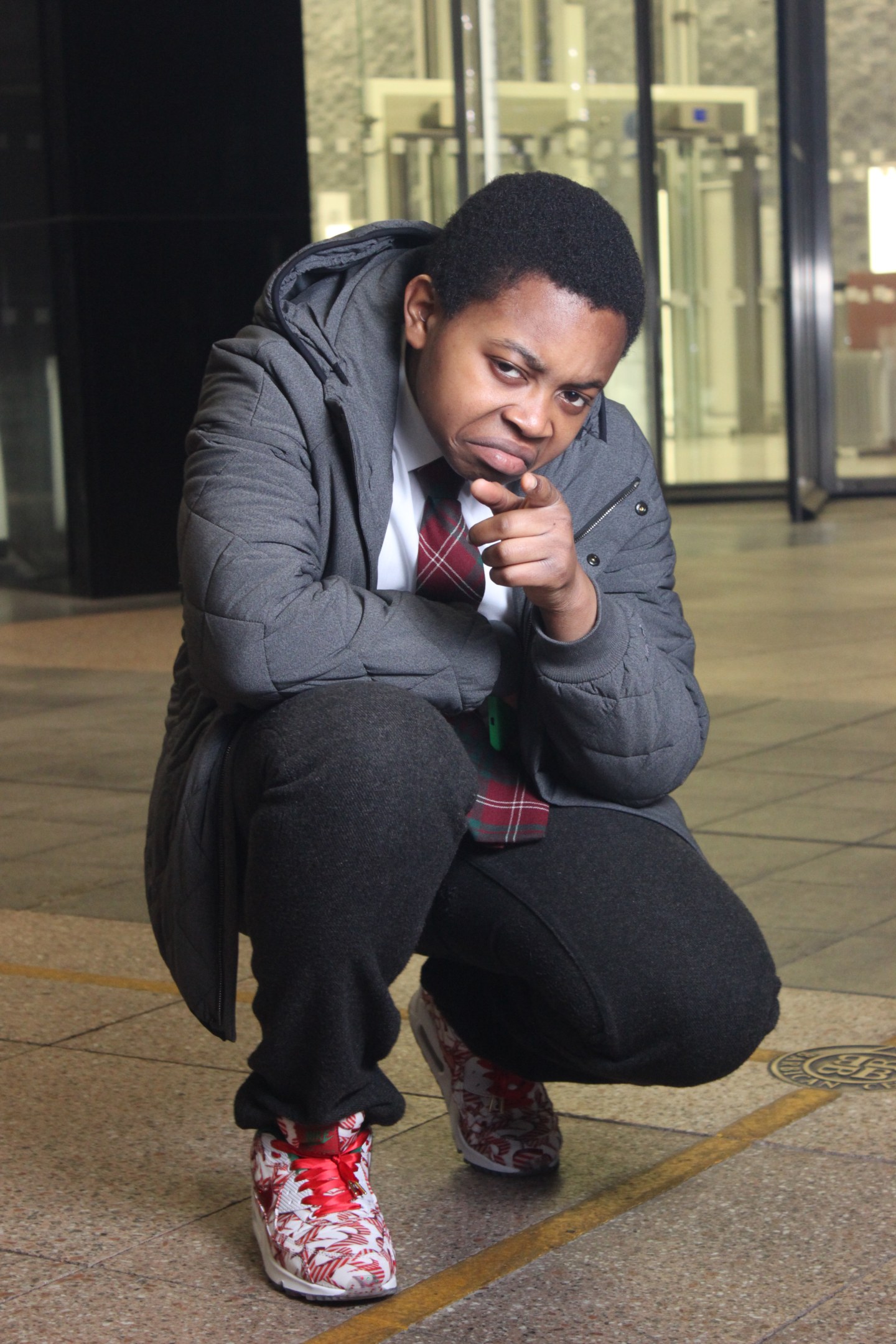 Five months can often feel like a long time to maintain relevance on the internet's social sphere. Back in December 2016, the ascent to fame for Elijah Quashie, aka YouTube's Chicken Connoisseur, was rapid. Clips of the north Londoner's series The Pengest Munch — where he reviewed the humble inner-city London chicken shop — gained traction on Reddit, then Twitter, then finally across the rest of the media. The videos are very funny, but more than that, they're real, with a tongue-in-cheek awareness of the various rituals that so many young black Londoners like me have when it comes to going to the chicken shop. Rating each meal component (burger, wings, chips) out of five, Quashie's videos felt like the first time the cultural relevance of chicken shops was widely acknowledged.
Chicken shops have long catered to working class, often black and brown communities across London, as well as "mandem" (Caribbean/London slang for your crew). However, over the past year, they have become an unlikely phenomenon. Alongside Elijah's videos, they've had shout outs from London artists like Stormzy in his "Big For Your Boots" video, and Ray BLK, in "My Hood." On the other hand, Goldsmiths University released a video about chicken shops and their "sensory ethnography," with a white, well-spoken lecturer telling us "lots of people are revolted by chicken shops, and there's no denying that." Meanwhile, the so-called "Bossmen" (London slang for the mostly South Asian men who work in chicken shops) are capitalizing on their establishments' increased popularity. Price hikes are becoming more common, and south London institution Morley's has even started selling merchandise.
Chicken shops are refusing to be driven out by gentrification, and instead are making the most of it — just like Elijah himself, who took control and ownership of his brand straight away. Since he went viral, the Chicken Connoisseur has not just registered as a limited company, but Elijah himself announced a book deal in April, has appeared in an advert for Samsung, and branched out to reviewing things from sneakers to turkey sandwiches. The media has both loved and hated him, focusing on everything from his age to the people around him.
Meeting in an east London hotel restaurant in April, Elijah turns up for our chat alone, on time, and greets me with a handshake. As he admits arriving here after looking around local sneaker store 1948, it's disarming how normal he seems for someone with over 26 million YouTube views, and who was recently flown to New York to rate chicken shops. Talking to The FADER, the Chicken Connoisseur spoke about viral fame, Jeremy Corbyn, and why his videos will always be for the mandem.
---
How have the last 5 months been for you?

It's been really hectic. I've had to adjust to my life changing entirely, my way of thinking, everything. You're never prepared for any of this stuff. Ever.

Did you have any idea the videos would blow up like they have?

Not this way. They were designed to cater to a particular demographic — SB.TV, The Grime Report, GRM Daily, Link Up TV. I expected all of them to pick up on it and say, "This is sick." But even before they picked up on it, it was ITV and the BBC who were trying to get through to me on Instagram and stuff like that. It went a lot further than I thought it would.
What about the criticism you've had from the media?
To be honest I've never cared about all of them lot, and they've never cared about me — or people like me. Now the fame's here they wanna say this and say that. But I kinda feel the same towards them — they're in the same box they always were. It's all propaganda really.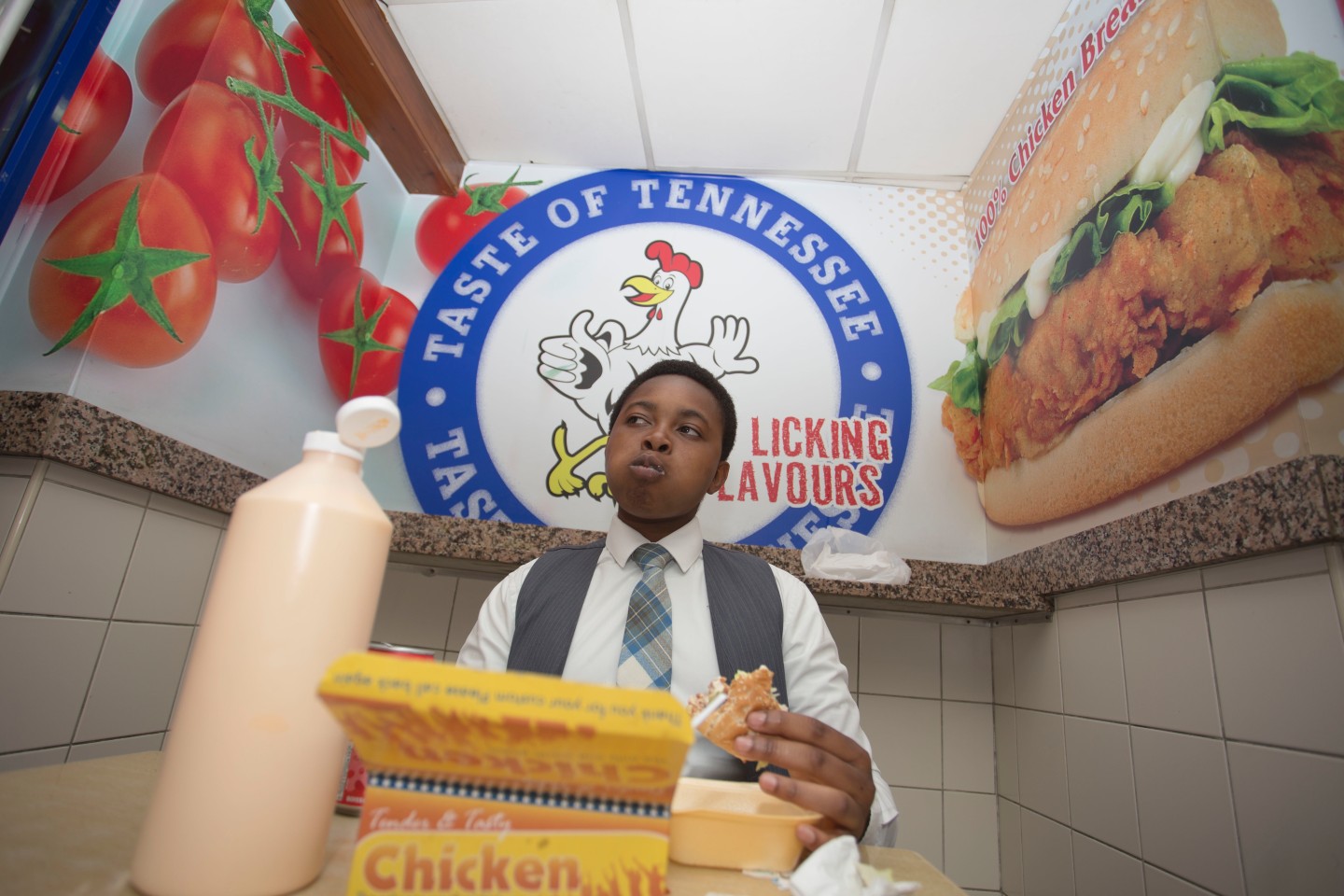 "It feels like I've been a catalyst for unwanted gentrification. If I knew it was going to happen I'd probably try and suppress how mainstream [the videos] got."
Why do you think chicken shops are such a London thing?

They've always been here. As an unofficial community center sometimes — like if you're gonna link up with someone. Sometimes I'll say, "That's across the road from Dixie," so they're a landmark. It's decent food as well, and it's cheap.

There are people who say, "I go to the chicken shop all the time but now every random hipster is trekking to deep South or North to come here." How does that make you feel?
It feels like I've been a catalyst for unwanted gentrification. That was never the plan, but it happened. I never had a problem with like the actual Bossman seeing [the videos, but] it got mainstream. If it stayed on SB.TV and that, the Bossman might say, "I saw your thing and I liked that" — but it being on BBC News means it's more than that. It's, "Lemme raise my prices by a pound." Then all the hipsters come in. I didn't want to turn the local chicken shops into some type of spectacle. If I knew it was going to happen I'd probably try and suppress how mainstream [the videos] got.
You've been pretty specific about your audience and who you want to reach: the mandem. They're still your focus, right?

Definitely. The videos [are] essentially being made for mandem because mandem have always been going [to chicken shops]. I'm not saying anyone else can't go there but when they do, prices increase. Hipsters have more expendable cash than mandem. Bossman will see them, see they've got more money, and he'll raise the price. It's a problem.
Do you think the fact you're not a young teenager is why you seem to have such long-term business plans?

Probably. I've got four brothers — I'm the youngest — and I'm making the most of all this. I can't do that on my own. My brother's helping me with managing stuff, just making more pots for me to collect from. Even from early I've never really wanted to stay in the system. Once you get a chance to escape, you just escape.
You focus your brand on the mandem, and I think that's why you've had so much support.

Yeah. Mandem are a minority, but when I think of it, mandem are very influential. A lot more influential than any minority should be. I'm a guy from the ends, and now everybody knows about me because I did something everyone from the ends does on a regular basis. That in and of itself is a bit mad. Mandem have a lot of talent and potential, [but] when you look where the money is, [mandem] are never represented. On TV, you never see mandem at all.
The only times you'll see mandem on TV is if they're [showing a] gang violence documentary. You never have a documentary about mandem cracking jokes, and that happens more than violence.
What should we expect from the Chicken Connoisseur book?

It's going to rate the Top 50 chicken shops. I'm going on a kind of a U.K. tour, but we've opened it up for people to suggest places they want me to go to. So we're just going to choose loads of [chicken shops] from different places.

I also have an app coming out. It's called Chicken2Me, and basically it's a map of every chicken shop. If you want chicken you go on the map, and there'll be a flame [graphic] everywhere there's a chicken shop. So wherever you're locally based, it'll show you what's around.
Will the app have ratings?

Yeah, and it's not just for me to rate, but for everybody else to be a connoisseur as well. It should be dropping kinda soon, hopefully this month. If your chicken shop isn't on there, then take a picture and it'll track the location as well.
You've been branching out from chicken shops recently with your new series, The Crep Chronicles. How many trainers [U.K. word for sneakers] have you got?

The house isn't big and if there are trainers everywhere my mum will switch, so I try to keep [my collection] as small as possible, but like, really quality stuff. Last time I counted it was around 70, which I still feel is too much. I've also been looking for [a pair of] Dizzee Rascal Tongue n Cheek Air Max 90s for ages, in a U.K. Size 7. They came out in 2009. But I've liked creps before the chicken thing was even an idea, but then the chicken thing blew up. Now I just have to try and make [The Crep Chronicles] happen. I have a lot of ideas for it, but there's tons of stuff going on.
Are you going to vote next month in the general election?

Probably. If I was then [it would be for] Jeremy Corbyn, because he's one of the few people who makes sense. He's not sneaky, he's just a regular guy saying, "It's dumb spending too much money there, we should spend it here." It's all common sense.

Would you go to a chicken shop with Jeremy Corbyn? He's a vegetarian, but maybe you could get some chips?

Not sure if he has a local Bossman, but that's a shout. Get a couple wings and chips, and chill.
---
Download the Chicken Connoisseur's new app, Chicken2Me.