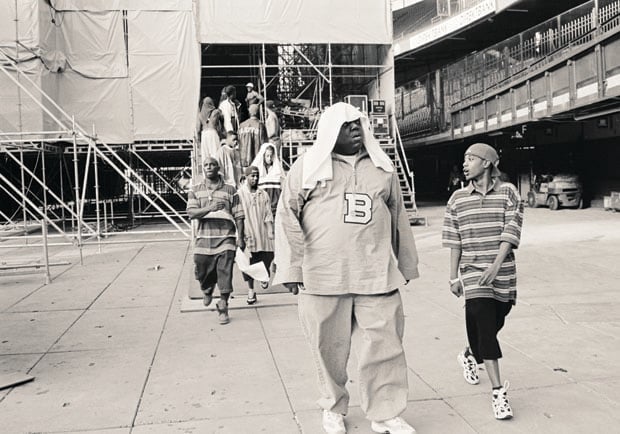 A&E has announced plans to air separate documentaries on Biggie and Tupac next month. The docs, titled Biggie: The Life of Notorious B.I.G. and Who Killed Tupac? respectively, will both air on the network in June.
Biggie: The Life of Notorious B.I.G. will air on June 28. It is authorized by the rapper's estate and includes interviews with Biggie's mother, Violetta Wallace. Faith Evans, Diddy, Jay Z, and Nas also appear in the film as do Lil Cease and members of the Junior M.A.F.I.A.
The following day, June 29, A&E will begin airing its new miniseries, Who Killed Tupac?. The six part series follows civil rights lawyer Benjamin Crump's investigation into the 1996 shooting that killed the rapper. Pitchfork notes that A&E is actively telling more rappers stories as part of its Biography series. Kanye West and Chance the Rapper will be the subject of future films.
These two new docuemtaries are not to be confused with a wealth of film and TV projects based off the untimely deaths of Tupac and Biggie in the mid-90s. Violetta Wallace is also involved in the production of Notorious B.I.G.: One More Chance while there are also plans a film starring Johnny Depp.
Meanwhile, the estate of Tupac Shakur recently announced a new documentary about the late rapper's life directed by Academy Award-winner Steve McQueen. This will follow USA Network's Unsolved, an upcoming series centered around the murders of Tupac Shakur and the Notorious B.I.G. from The People v. O.J. Simpson director and executive producer Anthony Hemingway.