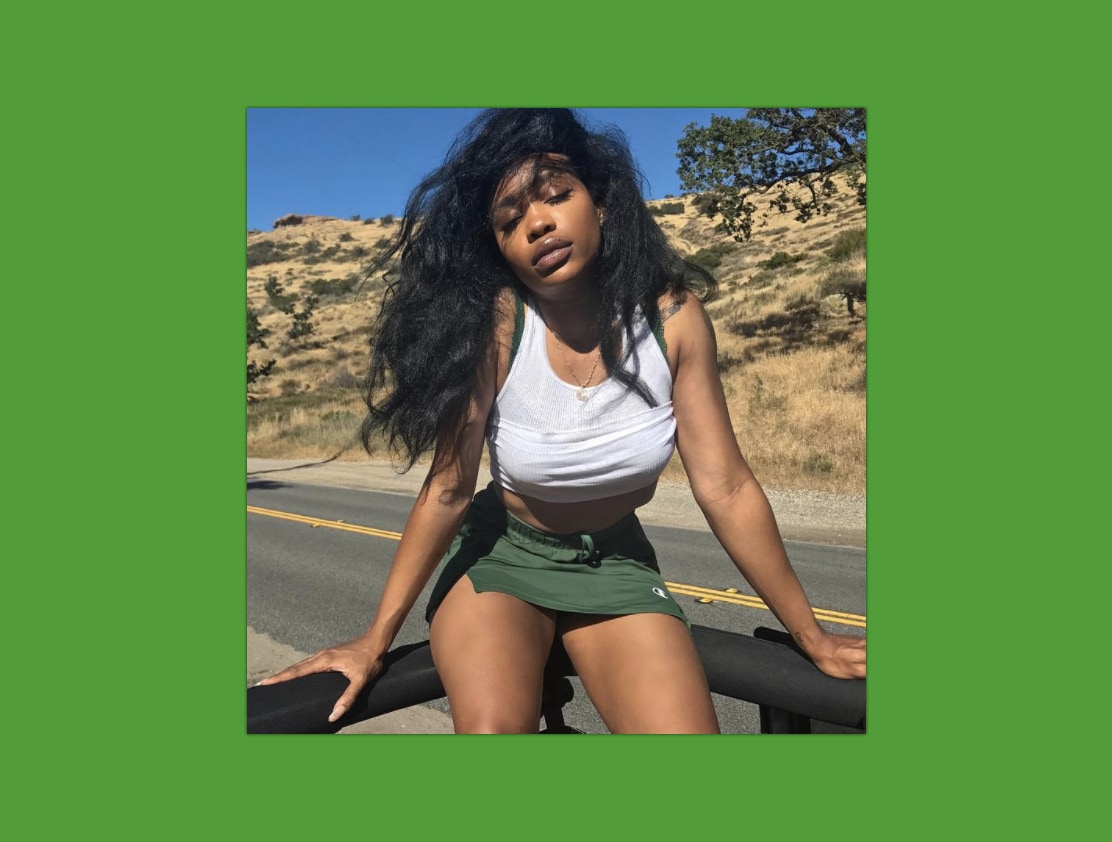 I'd been waiting so long for SZA's album. When we finally got a release date for Ctrl, I imagined she felt relieved and but also anxious about it finally living in the world. In the months prior to the release, she'd expressed her cynicisms around divulging such an anticipated project. "I have this weird thing where I think people genuinely don't care," she said during an interview on the Beats 1 show OTHERtone, speaking to hosts Pharrell Williams and Scott Vener. "I watch the rest of the world spin from the inside and I'm like, 'Man, this is incredible. I want to play something incredible into the universe that expands and magnifies the way I think and feel.' I'm more so focused on the magnifying and I can't get into thinking, 'I wonder if people even want this shit?'"

Despite SZA's reservations, I thought about what it must've been like for her, a blooming 26-year-old, to amplify her self-doubt and truth to the public. Was she nervous or at ease after she wrote a song that was so blatantly about an ex? Like on Ctrl's opening track, "Supermodel," where she unveils her insecurities and details a messy and unrequited romance with an unfaithful lover. "Leave me alone for prettier women/ You know I need too much attention for shit like that/ You know you wrong for shit like that," she sings. It can be hard to tell someone how much they've hurt you and, in the same breath, express how much you need them. For me, it's difficult to be that vulnerable. Even at 25, I struggle to navigate how to unlock that realness. I constantly hinder my healing. I've choked up many times, often conflicted about unraveling in front of a man who's hurt me — my chest tightening while my words fight each other in an effort to shove themselves back down into the pits of my gut. But for SZA, the risk of emotionally and spiritually exposing herself echoes her desire to be heard — perhaps, even, to finally hear herself.

It's okay not to have it all together when everyone thinks that you do or you should. SZA's need for clarity is evident but so is her grasp on it.
It's why it has pained me to watch SZA — who is signed to Top Dawg Entertainment — sit through mainstream media interviews where men half-listened to her, made sure to tell her to "keep showing more skin," and, prior to her weight loss, referred to her as "fat." Often times women, especially black women, have to contort into marginal spaces and molds just to be respected, even after we strip down and bare our souls. Following SZA's journey these last few years, I wanted her to know that I and other women really saw her. In recent days, as I played Ctrl, I imagined us sitting across from one another sharing an exchange that eased both of our spirits, a kiki among friends.

In unveiling her tumultuous romances, heartbreaks, and rocky path to self-acceptance — on songs like "Wavy" and "Go Gina" — SZA, in turn, celebrates her womanhood by focusing on the deep contours of her own self-evolution. She moved me to ask myself, How do you push forward without reflecting on where you've come from and what you've been through? She has showed me that talking about old feelings doesn't equate to harping on the past. It's okay not to have it all together when everyone thinks that you do or you should. Her need for clarity is evident but so is her grasp on it. And while SZA soars sonically, her willingness to admit and mend through beautifully honest lyrics delicately zaps the hearts of so many women, including me, who have for days on end struggled to get over something or someone. On "20 Something," the final track, she sings, "How could it be?/ 20 something, all alone still." My heart contracts as she goes on, affirming, "Ain't got nothing, running from love/ Only know fear/ That's me, Ms. 20 something."
Her words transport me back to the moments I battled bouts of suffocating anxiety, which were brought on by feelings of loneliness. It took me more than a few years, but I finally confronted and shed the insecurities that would manifest from the overwhelming sadness I frequently felt. Steering through these sentiments took time, and like SZA, I'm not ashamed about my journey. If we'd gotten the chance to have a heart-to-heart, I would've asked her now, after all of this outpour and cleansing, what self-love looks like for her? "What have you done to fortify your spirit in addition to the writing 14 songs that don't ask for pity, but instead deserve applause for your courage to sing them?" I would have said. The two of us may not ever get to be vulnerable together in a safe space about our insecurities and the redemptive moments of our womanhood, but I feel comforted by her offering. I hope she feels whole.

Through all of this, I thought about what waiting four years to relinquish control probably meant for the outcome of SZA's transformation, and was grateful that I'd been patient with my growth too. Even if people were waiting on me.