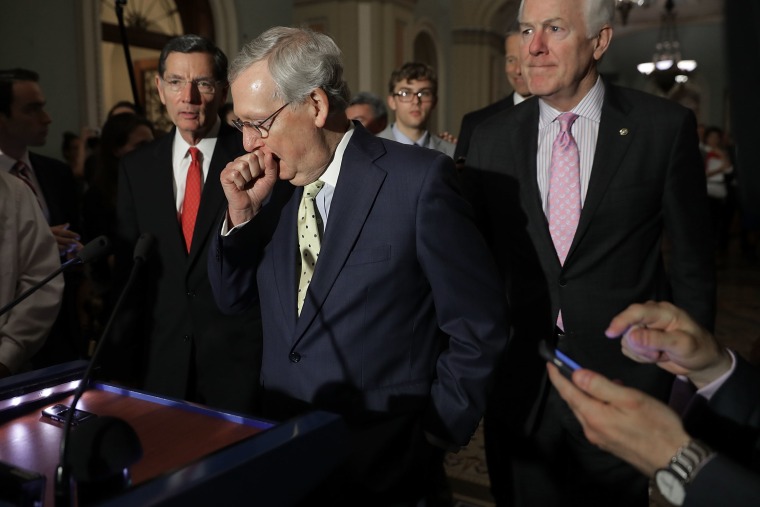 Despite its nationwide unpopularity, Republican senators are still working on a bill to repeal and replace Obamacare. For the past few weeks, the bill has been worked on almost entirely in secret, after a draft of the bill passed through the House of Representatives. The House bill drew extensive amounts of criticism, as much of it seem to reduce access to affordable health insurance for low income Americans.
From the draft the Republican senators released this morning, their version doesn't seem much different. Major policy changes, that would be harmful to many Americans, are still on the table. The bill still proposes cutting all federal funding to Planned Parenthood, which is a public health clinic that serves women, men and the LGBT community with affordable care and health education. Buzzfeed News reports that the bill also plans to cut Medicaid by nearly a trillion dollars over the next ten years.
Even Donald Trump thought that the health care bill, led by Mitch McConnell in the Senate, was "mean," and thought that the bill should be "a bit more generous."
Despite the statement, Senate Republicans have done little to make the bill less "mean." In the 142 page draft released on Thursday morning, the bill will still attempt to repeal most of Obamacare, including guartuntees on coverage for issues like addiction treament and prenatal care. The bill will continue to make cuts to public health services and create tax cuts for America's wealthiest, according to The New York Times. The Senate version of the bill will attempt to keep premiums lower, but only for people who don't need certain health services.
"By eviscerating Medicaid, this bill threatens the liberty of people with disabilities, who will be forced to live in nursing homes and institutions instead of their own homes," American Civil Liberties Union National Political Director Faiz Shakir said in a statement. "By defunding Planned Parenthood, this bill threatens the health of 2.5 million women and men in our country, many of whom rely on the health centers as their only source of care. And by throwing tens of millions of people off their insurance, this bill disproportionately impacts communities of color who will lose access to care and coverage."
Democratic leaders have already made the rounds condemning the bill again, with Nancy Pelosi and Chuck Schumer already making press conferences. To speak to your senator and demand that this bill not pass, follow The FADER's guide to contacting your senator. According to multiple reports, the bill is likely to be voted on in next week.
At least three GOP senators are reportedly going to publicly oppose the healthcare bill, which could be vital when the bill is voted on.

#BREAKING Senate GOP health care bill is called the "Better Care Reconciliation Act of 2017"

— Chad Pergram (@ChadPergram) June 22, 2017
This #Trumpcare bill strips away protections from the ppl who need them most in order to give a tax break to those who need it least.

— Chuck Schumer (@SenSchumer) June 22, 2017
BREAKING: Senate Republicans unveil health care bill scuttling Obama law; plan cuts Medicaid, slashes taxes for wealthy

— AP Politics (@AP_Politics) June 22, 2017
Wow. Older enrollees get screwed. They go from paying 6-9.5% of income to 8.3-16.2% of income. Above 350%: from 9.5% of income to FULL COST pic.twitter.com/8dD3gjp7YE

— Topher Spiro (@TopherSpiro) June 22, 2017