With Flower Boy, Tyler, The Creator Has Built A Pastel Kingdom To Flourish In
At Webster Hall, the Golf Wang mogul showed how much he's grown.
Last night, as I was walking through Manhattan to the surprise Tyler, the Creator show, it was pretty easy to spot who else was headed where I was. Young people of all colors and ages excitedly hurried down sidewalks and streets, easily identifiable by their brand new Golf Converses in bright pastel hues, or by a throwback Odd Future shirt. Following their footsteps and skateboard screeches, I found myself at The Studio At Webster Hall — the about-to-be-closed, 400-capacity basement venue where Odd Future played their first official New York show in November of 2010. This time around, the stage was covered in giant sunflowers, an homage to Scum Fuck Flower Boy, Tyler's super-beautiful, brand new solo album.
Released on July 21, Flower Boy is Tyler at his most himself, and best. Where 2015's Cherry Bomb was a strong effort in sonic self-discovery (despite at times leaning too hard into the sounds of those he admires), and earlier albums a conscious exercise in shocking and polarizing audiences, this new album is something different altogether. Flower Boy is a lush amalgamation of his influences with just the right amount of sharp-witted, introspective Tyler-twists. On the Frank Ocean and Steve Lacy-featuring "911/Mr. Lonely," he unknots what it feels like to feel helplessly alone: "They say the loudest in the room is weak/ That's what they assume, but I disagree/ I say the loudest in the room is probably the loneliest one in the room/ That's me."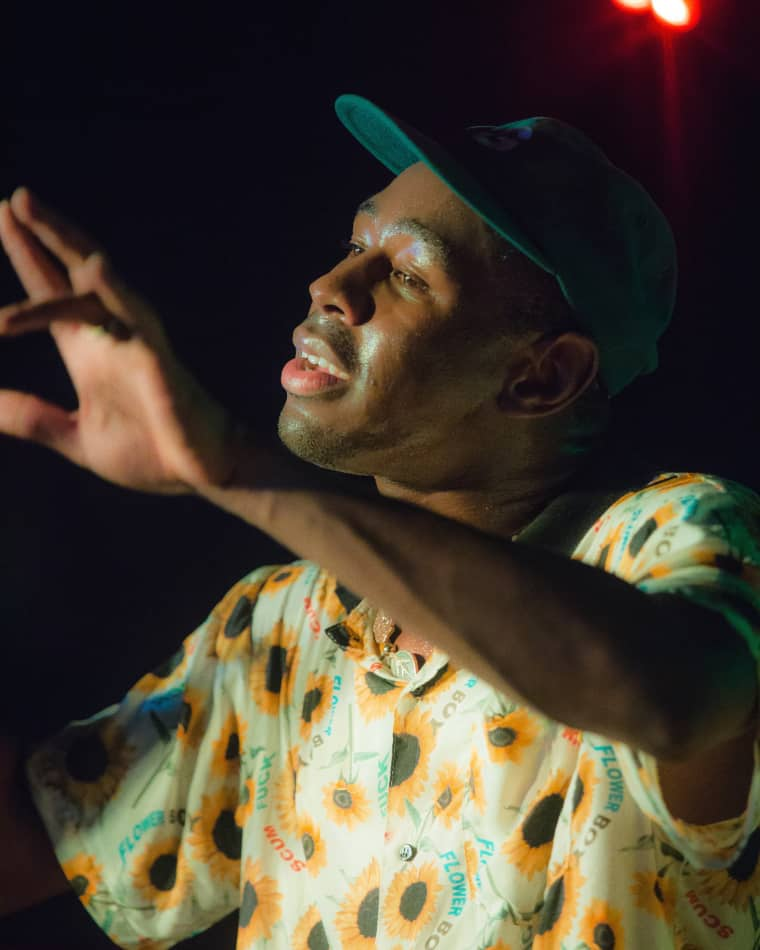 Flower Boy is a lush amalgamation of his influences with just the right amount of sharp-witted, introspective Tyler-twists.
On the Kali Uchis-assisted ballad "See You Again," Tyler dreams about his ideal love, something that still feels unattainable. Later, on "I Ain't Got Time!," he steers clear of fuckery — and warns it do the same with him. It's evident that he's got his famously chaotic energy more under control than ever before, but still, a familiar sense of internal unrest persists. A clue to that lies at the heart of "Mr Lonely": "Found myself long ago, but I haven't found someone."
Amidst this restlessness, however, is some release. Namely, on "Garden Shed," the mid-album soul-rock ballad on which Tyler candidly reflects on a deeply personal journey. The song speaks mountains, as much in its profession of his innermost feelings ("Garden shed, for the garden/ That is where I was hidin'/ That was real love I was in/ Ain't no reason to pretend") as it does in its moments of sweeping, sparsely worded melodies.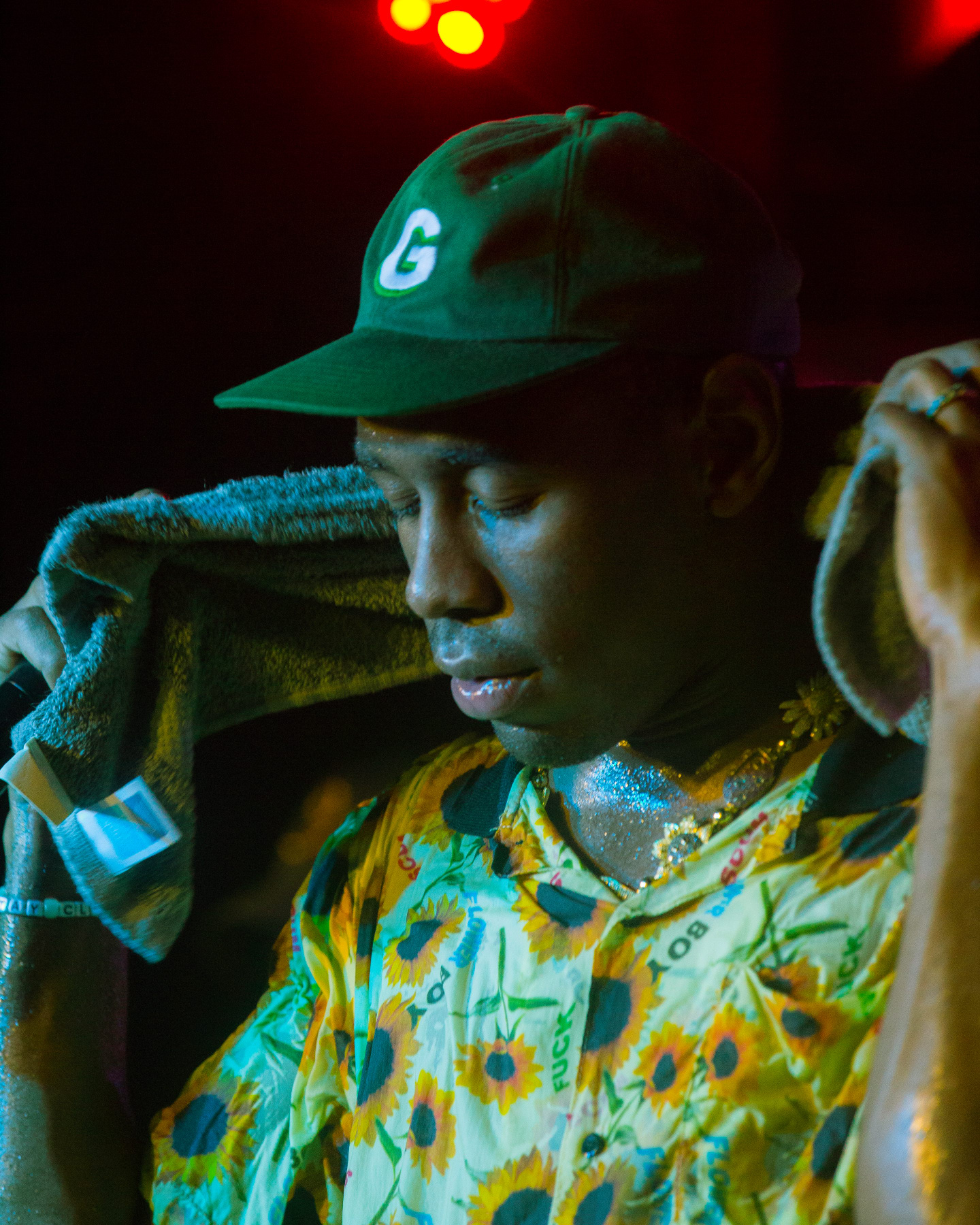 Live, Flower Boy translates beautifully. When he performed "Boredom," the gentle jam grew into a heart-clutching moment of bliss. With the surprise appearance (and double crowdsurf) of longtime friend and collaborator Frank Ocean, "Where This Flower Blooms" and "911/ Mr. Lonely" also got a boost — the audience's voices swelled along with the choruses, their smiling "chirp chirrrrrrp"s on the latter surely heard all the way down 11th Street. Kali Uchis even made a glamorous appearance for Tyler's personal top 3 album cut, "See You Again." Despite the record only being out for a few weeks, the audience seemed to know the words to every song — even catching the smiling and sweaty Tyler himself by surprise: "I haven't felt this kind of energy at a show since 2012, 2013."

Tyler's artistic trajectory has, since his 2010 beginnings, been steadily upward and outward — his music stronger with each release, and his other creative endeavors (fashion, TV, and beyond) increasingly far-reaching. Even now, in this peak creative moment, it feels like there's still room to grow. As he raps on "Where This Flower Blooms": "Rooted from the bottom/ Bloomed into a tree."