On the cover of her new EP, brainy pop singer-songwriter Samantha Urbani looks ready to start a fight. She's posed in black and white, her sleeves rolled up, with a stoic look on her face. And across five tracks of perfectly crafted pop songs on Policies Of Power, she backs that stance up: lyrics about control jostle with severe 808s and handclaps. On the EP's remarkable opener "Hints And Implications," she cuts off a disinterested lover for the last time: "Can't give this one more night/ I'm risking all my light/ If we live or die/ I won't beg like a child."
Urbani is known for her Brooklyn band Friends, and her collaborations with former partner Dev Hynes, but Policies Of Power is her first collection of songs as a solo artist. The project has been a long time coming. She dropped the glittery "1 2 3 4" in 2015 after exiting Friends and moving to Los Angeles. There she amassed a body of work in collaboration with a bunch of artists — including Test Icicles's Sam Mehran and Nite Jewel's Ramona Gonzalez — some of which is featured on this release.
The result of her efforts are pretty stunning — the EP is a tight group of heartbreak anthems that all have deeper messages about the way larger, institutional injustices affect our close relationships. In an interview from her car in L.A. earlier this summer, Urbani was excited for the world to finally get to know her better through a release she's genuinely proud of. "I'm so far from it and I can see it objectively now," she said.
Urbani also explained her songwriting techniques, her thoughts on percussion, and the larger vision behind her project.

How do you start writing a song like "Hints And Implications"?
I'll just unconsciously get a melody in my head with a lyric already tied to it. It will usually be what's happening in the moment. It's the way I converse with myself about shit I don't want to talk anybody about. Then I'll sing it into my voice memos and it will come out almost like freestyling. It's kind of like backwards songwriting because people usually start with chords and put vocals over the top, but I do the opposite.
I was working with my friend Eric who was a friend of a friend at first but we've gotten close. We got together in New York and we talked about New Order's "Bizarre Love Triangle," which is what I wanted the song to sound like. We started with that vibe and it felt unfinished. A few months later, I started working on it with my friend Sam Mehran who worked on the rest of the EP. We let it change into this really relentless guitar song. In my old band Friends I had a "no-guitar rule." I didn't want any rhythm guitar because I thought it took up too much space and now I'm the opposite of that. I'm obsessed with shredding and I'm obsessed with metal like when I was a kid. Sam is an amazing guitarist and I was like, "Shred please, tear through this shit with your beautiful shredding."
Then I brought it to Ramona Gonzalez. We share the same taste and reference points early post punk and 1998 nu-metal at the same time, so she and I worked together to do this bass line to toughen it up. I know that's a lot of info, but this EP has been more of an art project to me than, Hey let's get in the studio and make something good.

It's funny that you said drumming is easy because I think the percussion on the EP is so on point and complex.
The drumming is my most immediate companion in songwriting. Ever since Friends started. I started that by making Garage Band demos. I had secretly written songs as a kid but it had always terrified me to consider myself a songwriter because it means so much to me. I was like, There's this easy program on my computer and I don't have to show this to anyone and I can avoid doing midterms. I didn't grow up playing instruments so all I had to work with was my voice and Apple loops, the most basic shit possible. I grew up listening to a lot of music that's drum heavy — soul music and disco music. Even a lot of African music and South American music. Rhythm is really important to me.
What is the most important thing you've learned through this album's creative process?
I don't think an audience proves a piece of art, and it's important to do things for yourself. I started this band [Friends] and it sort of accidentally became a buzz band and I had a lot of internal crisis about whether I wanted to do anything that was popular or visible because on some level it taints making things and it's organic and compulsive in some natural way. Even though I missed playing shows and being in a community, I got back to a pretty zen place of writing song and not being visible. In that time I worked without a band. I definitely improved my confidence about executive producing and putting things together. I do have the resources, it does take time, and it's better than taking a shortcut or letting someone else doing it for you.
After moving back and forth between New York and Los Angeles and rebuilding a musical family around me, I feel like I'm in a flow and doing better. You go through these really uncomfortable reincarnations where you're like, I just died, I have to get reborn. I'm out of all my old contracts and I have a much better understanding of how things work and am in a place where I have my head on straight. I don't have any fucking time for bullshit. I can see things as they are and I don't need to be patronized or questioned.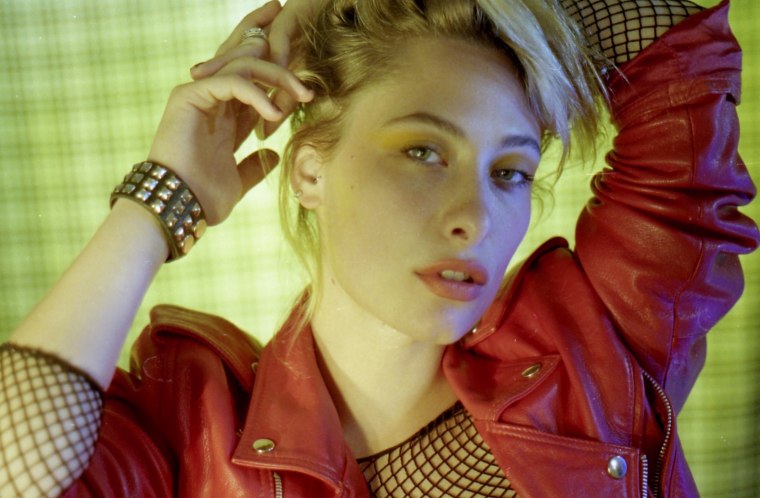 "I've been obsessed with justice, maybe in an overwhelming way."
Can you talk to me about this line on "Go Deeper" that I really love — "how much violence can silence create?"
Yes, it's really important to me on an interpersonal level, but also on an allegorical level as well. In our society, things don't get acknowledged and then they are oppressed or crushed. It is interesting to see on a micro and a macro level. All the songs are about power dynamics and hierarchical injustice. Within a relationship, someone has the upper hand in some way. If there's no compassion and love and desire and it gets competitive and unhealthy. That's abusive, even if it's not meant to be. It's happening in our culture, hierarchical systems are abusive. It's been a meditation that I've been thinking about since I was a kid — I've been obsessed with justice, maybe in an overwhelming way.
That was the last lyric I wrote on the whole EP before I mixed "Go Deeper." I was unhappy and I had to fix it. I thought it was a little heavy handed but if you see something say something. Stick up for your friends if somebody's fucking with them. If you feel like you're being pushed down in a relationship, it's so necessary to try to be heard or get the fuck out of there. I've been in abusive relationships before, definitively abusive. I said this before I don't have time for bullshit and I don't want to see anyone else go through that shit. I think it's the same on a larger scale with what's happening with systemic abuse, police violence, and violence towards women, POCs, trans people. Everything is happening right now and if you don't fucking talk about it at the very least, let alone do something, then you're contributing to it.