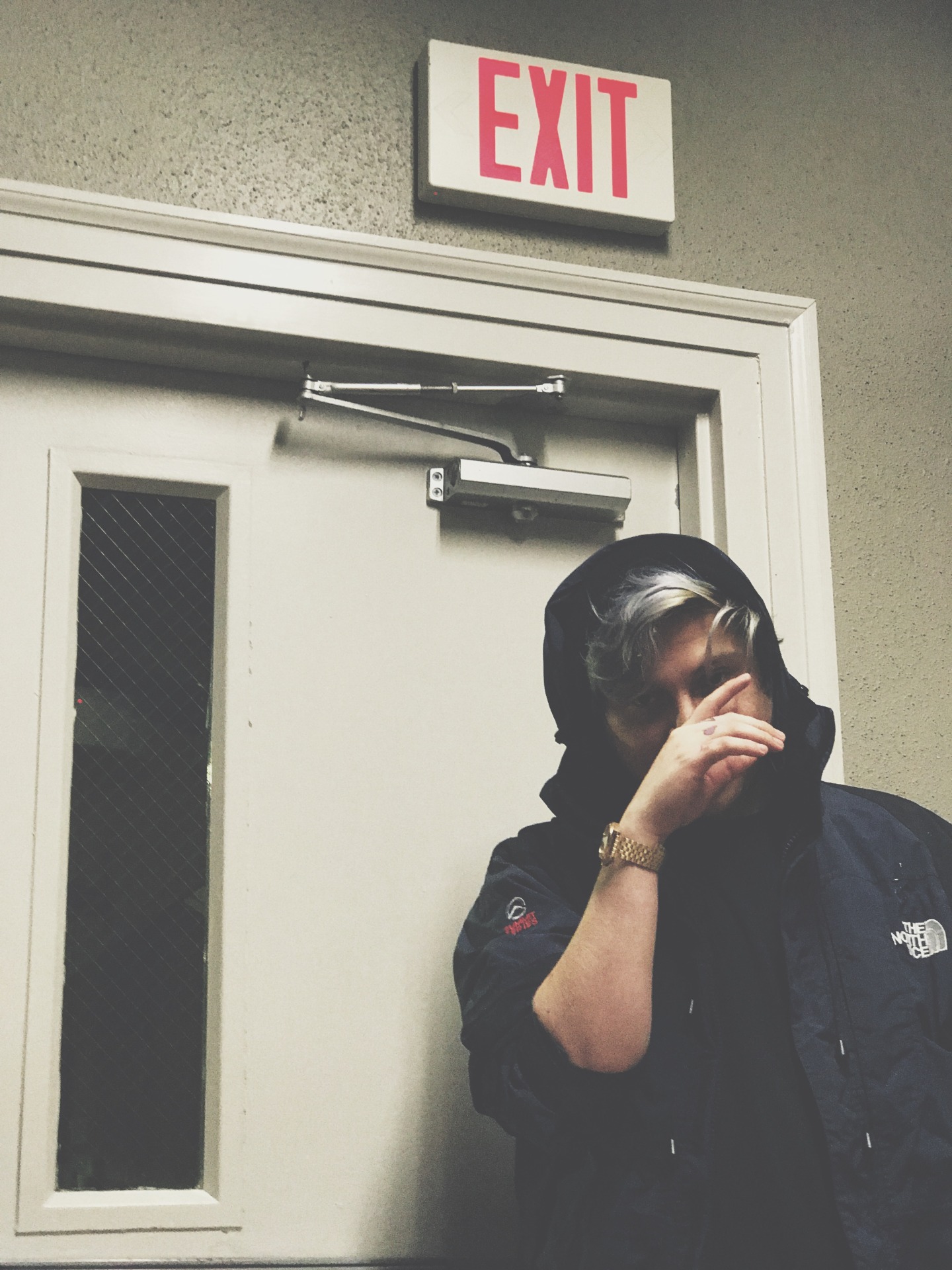 When Danny Wolf was 17, he quit his two jobs at Cold Stone and Wendy's for an internship with Atlanta music powerhouse Hoodrich Entertainment. You know what, fuck this, the music is gonna work out, he remembers thinking. There is no Plan B. If it doesn't, I'm fucked. He threw himself into whatever tasks his internship called for, from shooting and editing videos to updating the company's blog. In his spare time, he focused on honing his production style and sound. Eventually, with the help of some chance collaborations, his music reached the ears of his bosses — who ended up signing him in 2014. "They were like, 'You know what, we're going to sign you, because we feel like you're about to be a part of something big,'" he recalls, "and you know, they were right." Since then, he's lent his signature sound — deep, gut rattling bass, laced with eerily twisty melodies — to the likes of iLoveMakonnen, Ugly God, Hoodrich Pablo Juan, and Lil Yachty.
Now only 20-years-old, his risk-taking approach has proven worthwhile — a testament to the constant presence of faith in his life, both in God and in himself. Over the phone from his condo in the Buckhead suburb of Atlanta, Georgia, the Mexico City-born producer opened up about the origin and importance of that faith, being inspired by his mother, and why pressure has always brought out the best in him.
What was your upbringing like? You were born in Mexico City?
I've messed up on the age [in previous interviews] — I came to the [United States] when I was seven. Spanish was my first language. My mom is where I get my business side from, they're just all hustlers. My uncle never went to school, he dropped out in middle school and now he owns malls and stuff. My mom's side of the family is very business savvy, and my dad's side of the family, they're all really musical and creative; I got the best of the both worlds. My grandmother is a guitarist, she paints, she sells paintings — she's a well known painter in Mexico. My grandfather is a really artistic person as well.
When I first got to America, I didn't start picking up instruments until I was 12, and it was mostly for gospel — when we first came [to the U.S.] the church was very open to immigrants. I would see kids playing the drums and the piano and I wanted to get involved. My mom got me a drum set and then little by little, she started giving me more instruments, like guitars. When she went back to Mexico, she actually bought me my first production equipment to make beats with. She invested in me and was the first person to believe in me. I was like, "Mom, I want to be a musician. I want this to be my hobby," and she was like, "Alright, get it," and I got a midi controller and started going dumb, cooking up heat in my bedroom when I was about 16.
My two older brothers were [supportive] too. My oldest brother got me a Casio piano and was like, "Yo, you're gonna start going to churches with me and you're gonna play the piano. I need you to learn how to play while I preach." I would be like, What? I don't wanna do that [laughs], but I was like, "Yeah sure I'll do it," just to get the piano. We would sit down and he'd play me songs, and I would play them back by ear.
Did you ever have any formal training?
Nah, I taught myself — music theory, how to compose records. I YouTube'd everything. I Google searched it, How to be better at piano? How to compose? I studied a lot of symphonies. I was inclined to it, I really wanted to take it seriously. I would sit there and write piano scales every day and night, memorize scales, memorize piano music theory, basically putting music theory in my head to the point where I didn't have to look at a note or anything, I could recite and do it myself.
Do you feel like that was better for you versus taking courses or having private lessons, in terms of being able to learn at your own pace?
I wish I could've [taken courses or gotten lessons] because when my mom [returned to Mexico], she left with me with my older brother. He was like, "Listen, if you wanna graduate high school you can stay with me, and once you graduate you can go ahead." The thing is that my mom had put me in a private school for three years of my high school career. I never liked private school, but she basically put me there to not be in trouble as much — I hated it because it was so religious, and who I wanted to be was frowned upon there.
I went to public school my senior year because my mom had been struggling [financially], so she couldn't pay my tuition and ended up being in debt with [the school]. I wasn't able to graduate because I couldn't get my credits, so I went through a lot of shit with my brother. Eventually I worked two jobs and I paid [the debt] off and I got my diploma, but I never went and picked it up because I was like, This music shit is gonna work. My family used to get so pissed at me because I quit both of my jobs to start my internship with Hoodrich [Entertainment]. I was like, You know what, fuck this, the music is gonna work out, there is no Plan B and if it doesn't work out I'm fucked. I put everything I could into it, every day I was doing something at my internship to work towards my music, and I guess God saw my hard work, and it was a blessing.
Can you tell me a little about some of the music you listened to growing up?
My mom was a very religious Christian person, and she used to, like, baptize my toys. She would never let me listen to the radio, she always had to listen to Christian music and the Christian radio station. I was so tired of it. If it was Spanish music, like Cumbia and Bachata, she would be okay with it. But she would call Rap music "the devil music." I would be like, Cool, this is what I like, and I would listen to it in secret — rap and rock and all these crazy bands — after school or with my friends. I love '80s music too, like Earth, Wind & Fire and all this old ass shit people normally don't listen to, Curtis Mayfield. I really liked the melodies.
Your mom knows about how your career's going now, though, right?
Yeah, she's just now starting to understand it. I would throw a show and it would sell out and I'd be like, "Mom, I just threw a show and hella kids came!." I did a show last February with Lil Yachty, and Larry League and Pollari, I was hosting it and it sold out — this was before Yachty, the day before or after he'd done Yeezy Season, and I told her, "Mom, my shit is about to pop off." I just did "Gang," I did "Trust Me Danny" a year ago, I just [produced] the new kid Ugly God's "Water," so I'm tryna tell her and she's like, "Okay, are you going to college?" and I'm like, "No, I'm being serious, I got signed to Hoodrich — this is my job, this is what I do. It pays for my bills," and she's just now understanding, when I send her my interviews, songs, and music videos with millions of plays.
What got you into rap? What was the first taste of it that caught your ear?
Waka Flocka for sure. His whole Flockavelli mixtape, that shit was so hard. And "Hard In Da Paint" and "No Hands" with Wale and there was this one he did with Lex Luger that was so hard, "Luv Dem Guns Sounds." I was from Atlanta and I was going to middle school and all my friends were like, "Yo, you heard of this new rapper called Waka Flocka? Just google it when you go home." I remember I heard "Hard In Da Paint" on YouTube and it was hella censored, you could barely hear the song because there was so much cursing. So I googled his mixtape, and that's where I heard Southside and Lex Luger. I heard the tags and I would see "Produced by Lex Luger" and I'm like, What did he have to do with this song? I saw him cooking up a beat in ten minutes on Youtube, and I saw this little video with hella dudes behind him watching him make a beat. When I first heard him put that little melody in, it instantly clicked in my head and I was like, Oh my gosh, this is what I have to do. I love the feeling that making a beat made me feel. Back then it was so mind-blowing, like, This guy is a God, who is this guy? I've seen almost all Lex Luger interviews — I was studying everybody 'cause it was this little world I found by myself.
So you transitioned from playing music in church to focusing on rap production.
I never played instruments for church but I was practicing to lead up to that. I was supposed to be a church leader and I was like, I hate religion. Now, obviously, I don't hate what I did with religion. I believe in God and stuff but I don't like being a part of the church and the hypocritical part [of it] — making everybody feel bad and making everyone feel like they're all sinners and what not, 'cause I felt like I was that guy. I would've felt out of pocket if I was leading worship and I'm the one listening to Waka Flocka and all this crazy shit. I felt bad.
"How do you play such a hard melody that it makes somebody feel like a demon's been cast out of them? How do you become so good at music that you play a melody and it makes that person feel like they have all the pressure in the world relieved from them?"
How would you describe your sound?
Good feeling music. My melodies, I make sure they click with your brain. My frequencies are so... different from others. If I could play a melody and that sound alone makes you feel happy — not just hearing it but your body reacts, it will affect your daily life. I would say, "get away" music.
I feel like the melodies are so important. I would read in the Bible that King David would play the harp to cast out demons from King Solomon. And I thought that was so crazy, how do you do that? How do you play such a hard melody that it makes somebody feel like a demon's been cast out of them? How do you become so good at music that you play a melody and it makes that person feel like they have all the pressure in the world relieved from them? So I put that in the mind when I make my melodies.
What kind of equipment do you use?
FL Studio 12. I like going to studios, but I've made all my hits in my house, in my bedroom and in my living room. Every big song I've had has been made in a small room. I use some KRKs, just vibe it out. A lot of kids think equipment matters but it's the person behind it all. I've been experimenting a lot with drums and creating new sounds.
How did you get involved with Hoodrich Entertainment?
When I didn't finish high school, my brother sat me down and he was like, "Alright, you didn't get your diploma, so you're a part of the percentage that's gonna have it twice as hard in life since you don't have a diploma. So what're you gonna do about it?" And I was like, "I'm gonna hustle." I started emailing people about a bunch of shit like, "Hey can I intern?" and none of them were fucking with me. Even certain producers that had certain management teams, they would have meetings with me and they were like, "Nah you don't have what it takes to make it, your beats are ok." I would tell my friend that drove me, "Bro, fuck 'em, this is like Michael Jordan and his high school coach." I was so confident that they didn't know what they were missing out on.
I finally got a meeting with Nate from Mixtape Kitchen and Rip from Hoodrich Entertainment — Rip helped found Hoodrich. I was 17 and I came in there with my friend because I didn't have a car, because I was broke as fuck. They were like, "You know we got a thousand kids always asking us everyday if they can intern for us, but we're gonna give you a chance." I was so excited. Nate was like, "I need you to run our website, I need you to shoot behind the scenes videos" — I shot a lot of those for Bankroll Fresh and Young Thug, all the Atlanta stars really, Peewee Longway, everybody. I was editing videos for them.
Then I came across Makonnen, and I remember hearing "I Don't Sell Molly No Mo" and seeing it on DJ Spinz's Twitter. I'm like, Bruh this song is about to blow up. I was showing him hella love on Twitter and he followed me. I was like, "Yo bro I'm an intern for Hoodrich entertainment and I know Spinz and Hoodrich, they been fucking with you heavy. If you need any videos shot, let me know," and then boom. The next week Drake remixed "Tuesday" and he blew up. I didn't think anything of it, and a couple months later, I started to focus on my beats more and I was thinking of who I could send beats to. I hit Makonnen, and at the same time I'm shooting videos I met this rapper who introduced me to [Hoodrich] Pablo [Juan] — Pablo was the first person to rap on my beats. We made this song called "J Money" for Designer Drugz, and ever since then we been making shit together. Connecting the dots from there, that internship, it escalated into me making music full time.
It's not very common for an intern to get signed.
It was just me working hard, and [Nate and Rip] saw it. They were like, "You know what, we're going to sign you because we feel like you're about to be a part of something big," and you know, they were right. Now they trust me with whatever I do and they know that I have the ear for who's up next and who to work with. I'm always early-in with everybody's careers. I haven't been wrong yet.
It seems like faith and strong belief in yourself are pretty constant themes in your life.
I think God really blessed me with the gift of faith. I've always been a positive person, even when like my mom was going through shit, I was like, "Don't worry, it's gonna get better, I don't know how but it's gonna get better." I never been the type to sit down and pout, I just changed the situation.
I'm right in the heart of Atlanta where things happen. I feel that me being here, surrounded by so much talent and being open minded and accepting — I'm a big fan of the law of attraction, mental knowledge, and reading and understanding how the world and the universe works. That's a big aspect of it, too.
What kind of stuff do you read?
Four Agreements, The 48 Laws of Power, Thinking And Grow Rich by Napoleon Hill, man, there's so many. Reading stuff like that, you get to dissect what's the best and make the best out of it. Reading the Bible a lot, too. People are so sleep on the Bible, it has so much wisdom in it. I grew up in a religious household and I hated reading the Bible. My mom would make me read it — the entire bible. TWICE. It went through one ear and out the other, and I didn't even give a shit about it. But now, the older I get and the more I'm around certain people and certain energies, I'm like, Dang, this shit is pretty insightful. The Quran, too, and the book of Buddha — all these ancient books.
Having a bit of faith and speaking it out loud — so many people speak bad shit upon their lives, and they act so surprised when bad shit happens. I've been learning to stop judging others, to stop speaking bad into my career, focusing all of my energy on myself and it's actually been working out. I was even watching the NBA finals and I saw the Atlanta show commercial. I told this girl, "I really like that show, I wanna be on that show," and the next morning Atlanta emailed me being like, "Hey, Childish Gambino really likes your song 'Gang' with Max P and they want to put it on the show," and I was like, "Bet!" I feel like now when I say something, there's no doubt in my brain that it's not gonna happen. Then when it happens, I act grateful towards God, and I realize that it comes from him, and am not so egotistical about it.
Being so young, do you feel a lot of pressure, from family, yourself, others?
Not really. I feel like pressure has always been apart of my life even since I was little, because me and my mom — while she did have a business here helping Hispanics, she would go through so many different jobs get fired because she wasn't [a legal citizen] here. Freshmen year, while I was going to a private school, we were getting kicked out of houses, and she was hustling to keep me in that school. I couldn't even relate to the other kids because they were all hella rich getting cars when they're freshmen, and I'm over here trying to survive while my mom is getting kicked out of a house and we're tryna move out and I'm tryna play it off.
Even when I was 13 I was kind of hustling, becoming a businessman. Me and my mom would be sleeping and I was like, Damn I gotta hustle to get out us outta here. Hustling was the only way for us to survive and I feel like I'm so used to the pressure it doesn't really [affect me]. Nowadays I like it, because the pressure makes me better — anytime I was under pressure when I was little, I would do my best, so if nothing is pressuring me, I feel kind of off because I'm always trying to find the next big step.