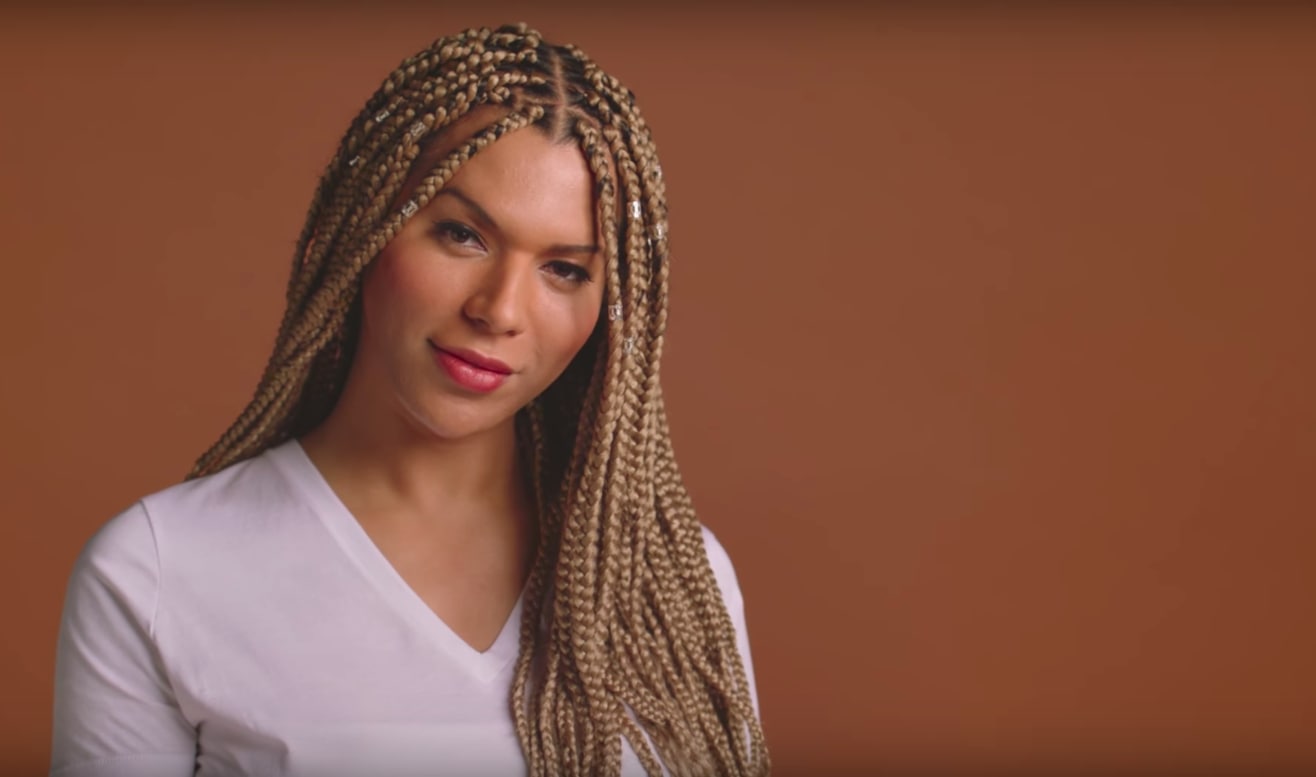 Just a few days after announcing the British transgender DJ and activist Munroe Bergdorf as one of the faces of a new campaign championing diversity, today, September 1, L'Oréal have ended their partnership with her. The announcement follows the U.K. right-wing media's unearthing of a social media post from Bergdorf in which she called out racism and white supremacy.
L'Oréal's campaign launched on August 27, when the beauty corporation uploaded a glossy YouTube video advertisement for True Match, a range of foundation that promises to match 98% of U.K. skin tones. True Match is the conglomerate's marquee fall campaign in Britain, and the brand recruited "23 inspirational individuals" as spokesmodels to promote the makeup range. An inclusive range of British personalities were featured, from radio DJ Clara Amfo and pop singer Cheryl Cole, to British Indian model Neelam Gill, and beauty YouTuber Amena Khan. Bergdorf was the only trans woman featured.
As well as the main campaign video, L'Oréal also produced short individual clips for each person featured. In Bergdorf's — which was removed from YouTube on the morning of September 1 — she appeared dressed in a simple T-shirt and jeans, which accentuated her creamy skin tone and long blonde braids. Over a tinkling piano soundtrack, she said: "It's great that L'Oréal are doing this now, because diversity is hugely important to me. I mean, it's why I continue to...do my bit to break down barriers." In an Instagram teaser, L'Oréal appeared to encourage this kind of self-expression, with a slogan that read: "28 shades, 28 stories. Write yours."
After the campaign's launch, the U.K. right-wing tabloid Daily Mail — which regularly gives platform to racist and transphobic hate-speech — did some digging on Bergdorf. With barely contained glee, the newspaper published an article on August 31 (which we won't link to here), detailing a Facebook post that Bergdorf made in the wake of the Charlottesville white supremacist rally this August. Bergdorf since deleted the post, but it's been widely circulated on Twitter, and is quoted below in full:

"Honestly I don't have energy to talk about the racial violence of white people any more. Yes ALL white people.
Because most of ya'll don't even realise or refuse to acknowledge that your existence, privilege and success as a race is built on the backs, blood and death of people of colour. Your entire existence is drenched in racism. From micro-aggressions to terrorism, you guys built the blueprint for this s***.
Come see me when you realise that racism isn't learned, it's inherited and consciously or unconsciously passed down through privilege.
Once white people begin to admit that their race is the most violent and oppressive force of nature on Earth… then we can talk.
Until then stay acting shocked about how the world continues to stay f***** at the hands of your ancestors and your heads that remain buried in the sand with hands over your ears."
Bergdorf delivered some home truths that some may have found hard to hear. But her statement was right on the money. Regardless, in the wake of the Daily Mail article — which ran with their headline "L'Oréal transgender model says all white people are racist" — the brand took swift action and terminated their partnership with Bergdorf. On the morning of September 1, the brand tweeted: "L'Oréal champions diversity. Comments by Munroe Bergdorf are at odds with our values and so we have decided to end our partnership with her."
Outrage on Twitter to L'Oréal's decision came quickly:

this trend of the dailymail literally trying to destroy the lives and careers of young poc is truly terrifying ngl

— sweet cee (@_christinecath) September 1, 2017
I notice that Cheryl Cole, convicted of punching a black toilet attendant in 2003, is also part of this campaign. Why not drop her too? https://t.co/NmLQCZcsIu

— Reni Eddo-Lodge (@renireni) September 1, 2017
In a statement to gal-dem on September 1, Bergdorf eloquently spoke about her rightful outrage at L'Oréal's decision, and reasserted that her Facebook post was addressing systemic white supremacy. She wrote: "If you truly want equality and diversity, you need to actively work to dismantle the source of what created this discrimination and division in the first place. You cannot just simply cash in because you've realised there's a hole in the market and that there is money to be made from people of colour who have darker skin tones."
Bergorf is right — it's certainly in L'Oréal's economic interest to provide makeup that works for a range of skin tones — according to a Nielsen study, quoted in Refinery 29, black women in the U.S. spend 80% more on cosmetics than their non-black counterparts. Bergdorf's inclusion in the True Match campaign also looked to be a step in the right direction for beauty brands, in the wake of model Andreja Pejić making history in 2015 as the first trans woman to front a major cosmetics campaign. But L'Oréal's knee-jerk dismissal of Bergdorf reveals a darker truth about the company's attitude: that they prefer their spokesmodels to sit still and look pretty, and they have little interest in engaging with the complexity of how trans POC lives are lived. L'Oréal's spineless actions and clear pandering to Britain's right-wing media is an especially grave issue when you consider the violence that persists against of trans women of color, and the overall lack of media representation for this community.
Going forward, Bergdorf will doubtlessly continue to thrive in her career. But in the wake of their decision, the question is whether QTPOC and LGBTQ consumers can ever trust L'Oréal again. Until the brand corrects its course and takes meaningful steps to remedy its actions, we should do as Bergdorf suggests, and boycott L'Oréal.