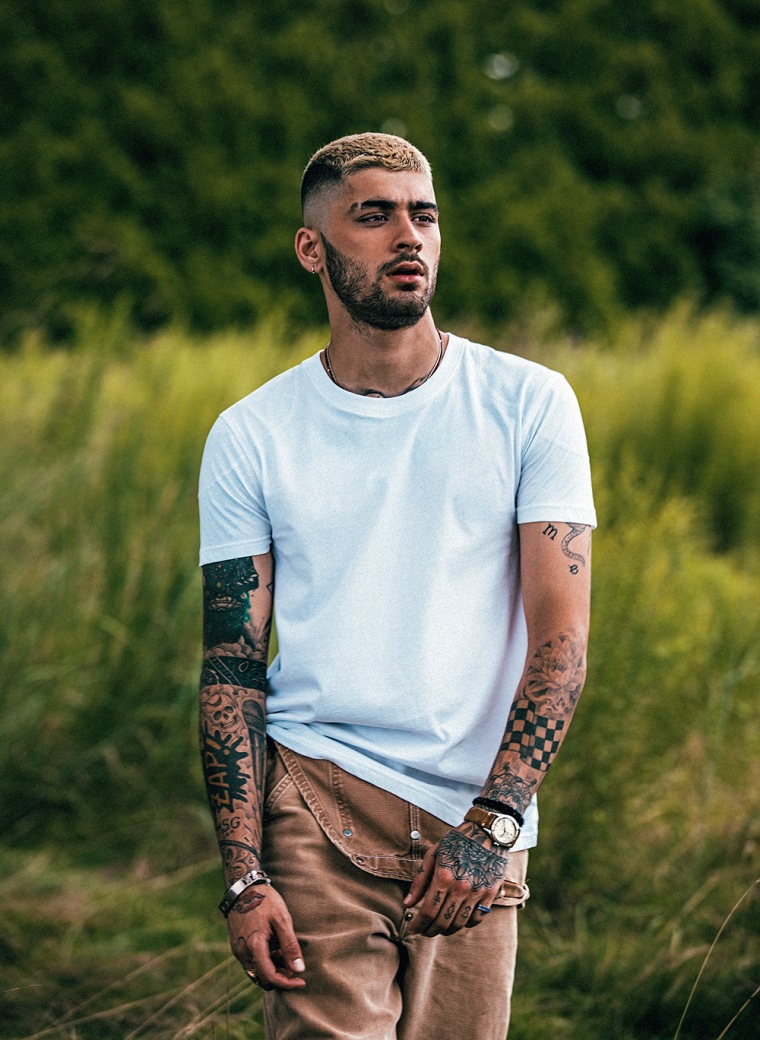 1. He's in a really good place right now
"I'm going to bed quite early at the minute. I've been working in the studio throughout the day and going to bed at a reasonable time, getting up at reasonable times. Eating all my meals. I've got a gym at the house, so I've starting doing a bit of training. My fans can rest assured everything is under control, haha."
2. He didn't want to tour last year because he didn't feel there was enough material to perform
"We did a few auditions for the band, and we got a band together, but I just wasn't feeling it. The first record, I didn't feel like there was enough material to do a proper show. So I just waved it off until the second album, so I can get the best of both. I think my confidence is definitely improved now, so a tour is definitely on the cards. I'm excited to start rehearsing."
3. He was working in the studio when he won a VMA
4. He thinks Taylor Swift is cool
"I rate her as an artist, I think she's cool, I think she's successful, and I think she deserves her success because she's worked hard. That's just how I look at it. I did a song with her, it was fun, she was professional. She gets on with my girlfriend, they're good friends. I don't have a bad word to say about her. She's cool."
5. His second record is almost done and it'll be out in "the next couple months"
"This record, I've kind of finalized it. But there's always ideas. Every day I find another song that I'm swapping out with another one. That's why the album date hasn't really come yet. Even though the album is pretty much there, and I have the material, I'm still changing things here and there. It's not necessary in my head when I work on a song whether it's for a new project or whether it's for this."
6. The album already has a name
"It does have a name, and I'm really excited about it. It's kind of going to be something weird with it — I don't want to say more. It's not your usual way of putting out an album, let's say that."
7. He worked with Timbaland on the album and also has a song with PARTYNEXTDOOR
"[Timbaland] was really fucking cool. I met him, he came down to the studio a couple times, and we did some cool stuff together. The song is really sick. It actually came from a voice note that I had on my phone and I sent it to him. He was like, "OK, let me do something with it." We sampled the voice note and made a song out of it. He was really cool. He's hip-hop, man. His drums are always Timbaland drums, so it was definitely in that pocket."

8. He plays some instruments, too
"I played bits here and there. I played a few chords of guitar, a couple keys, piano, some synth, some basic computer-pressing shit, when we try to pretend we're musicians and press buttons on keyboards, haha. I did a little bit of that. I've dabbled."
9. He's "enjoying acting" and his mom thinks he's great in the "Dusk Till Dawn" video
"I showed it to my mum and she said to me, "Ah, you look really confident, and it's really cool to see you like that." I turned and I said to her, "Well, I'm playing a character, that's not me." It's easy to be confident when you're being a guy who's such a badass and doing crazy shit."
10. He's a lifelong reader and spends "too much" time with conspiracy theories
"I am. I read a lot as a kid. I don't know if I've ever said this, but my granddad used to get me to read letters. He's actually first-generation Pakistani. He was born in India, before India and Pakistan were divided. He came over, and he didn't speak a lot of English, so he used to get me to read his letters to him when I was, like, 3 or 4. So I developed a real want to read things all the time. I would read books constantly as a child."
11. He's secretly an incredible gardner
I've got cucumber plants, tomato plants, onions, all kinds of crazy things growing. I just went to the local garden shop and bought seeds packets, read the instructions, and tried it at home...We've got some trees too — lemon trees and apple trees and grapes.