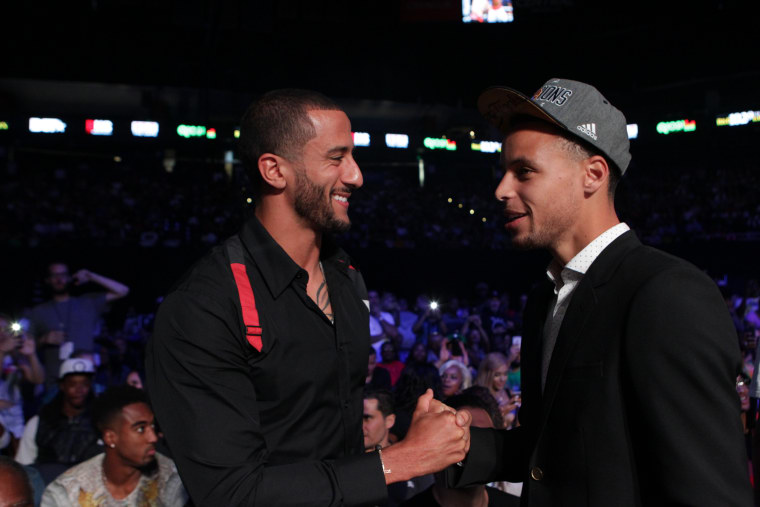 Kobe Bryant also weighed in on the ordeal and called out Trump for further dividing the nation.
Last night, Trump also attacked Colin Kaepernick by urging NFL owners to terminate players who kneel during the national anthem during a speech in Huntsville, Alabama.
"Wouldn't you love to see one of these NFL owners, when somebody disrespects our flag, to say 'Get that son of a bitch off the field right now, out,'" he said. "He's fired. He's fired!'"
This form of protest has served as an act of solidarity for the countless black victims of police brutality. (It's also a constitutional right.) Even though Trump didn't explicitly name Kaepernick in his outrageous remark, it was an obvious dig at him so the athlete's mother took to Twitter to respond.
The previous week, Trump demanded an apology from ESPN after anchor Jemele Hill called him a white supremacist in a series of tweets. White House Press Secretary Sarah Huckabee Sanders also argued that Hill should be fired for criticizing him.
Ultimately, Trump is publicly bullying black figures who refuse to partake in his shenanigans. The state of racial injustice in America increases daily and these athletes (and correspondents) are using their platforms to take a stand against an administration that clashes with their beliefs.
Update 9/23/2017 2:15pm EST: NFL commissioner Roger Goodell has released a statement in response to Trump's remarks about the organization during the rally in Alabama.
"The NFL and our players are at our best when we help create a sense of unity in our country and our culture. There is no better example than the amazing response from our clubs and players to the terrible natural disasters we've experienced over the last month. Divisive comments like these demonstrate an unfortunate lack of respect for the NFL, our great game and all of our players, and a failure to understand the overwhelming force for good our clubs and players represent in our communities."
Update 9/23/2017 5:00pm EST: The Warriors have posted an official statement regarding Trump's decision to withdrawal the team's invitation to the White House.
Update 9/23/2017 6:30pm EST: Trump has responded to the NFL commissioner's statement.
Update 9/23/2017 8:15pm EST: In a press release, Mayor Muriel Bowser welcomed the Warriors to come visit D.C. in lieu of Trump uninviting the team to the White House.