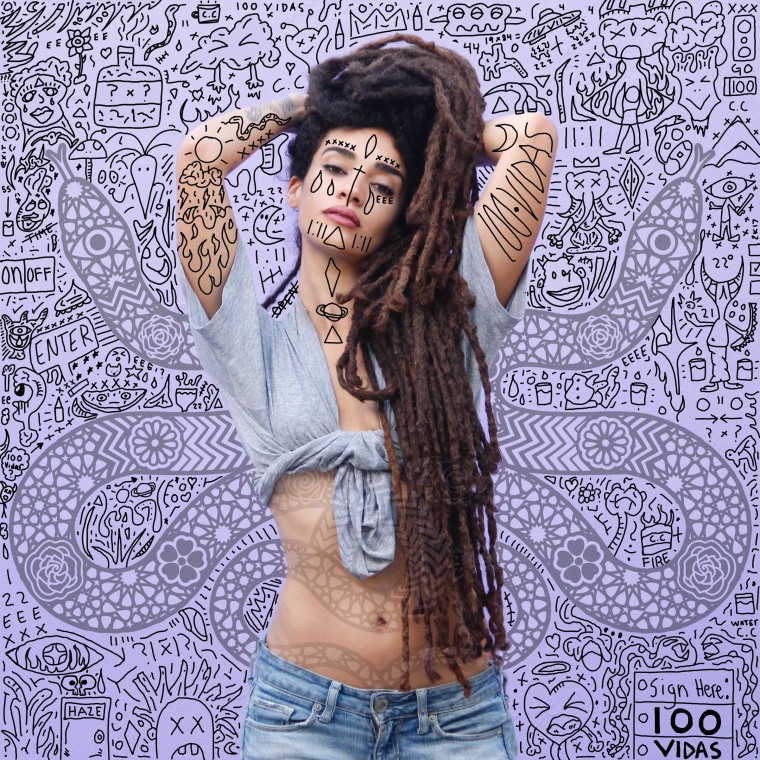 In her new video for "100 Vidas," Puerto Rican vocalist and musician Calma Carmona takes us on a ride through authentic San Juan after dark, from sweaty dance parties to late-night horse races. The Álvaro Aponte-Centeno-directed video sets Carmona's warm and sultry vocals against intimate scenes of boxers training in the ring and abuelos playing dominoes.
The Latin soul singer, who opened for Beyoncé during her Mrs. Carter World Tour in Puerto Rico, has lived in various U.S. states, Germany, and her home of P.R. as an army brat, a background which she credits her wide range of musical inspirations.
Over email, Carmona and I spoke about the inspiration behind her new video, and how her home is coping with the devastation and destruction caused by Hurricane Irma. Watch the video and read our conversation, below.
What was the inspiration behind the song "100 Vidas"?
"100 Vidas" is Spanish for "100 lives." It's a love song that plays with the subjects of past lives, déjà vus, and destiny. "100 Vidas no me dan para amarte como se debe" / "100 lives aren't enough to love you." Produced by Carlos Mercader, the guitarist, and I, we chose sounds that moved us, rather than choosing a particular genre: atmospheric electronic pads, soulful guitar and bass, and Afro-Latin percussions. [It's about] selecting and mixing colors that make you feel a certain way, until the painting feels complete.
The video for "100 Vidas" showcases the true, non-touristy nightlife of San Juan. Why was it important to you and the director, Álvaro Aponte-Centeno, to capture this?
The video shows a raw glimpse of where we're from, where we live, in the Caribbean. Although it only shows just a few subcultures in different towns, including San Juan, we wanted to remind people that Puerto Rico is an island in the Caribbean, that has so much in common with our neighbor islands. It's full of rich subcultures, yet within this coexistence it never feels divided. You can easily experience all these layers and always feel at home, welcomed.
Are there any musicians out of the Caribbean right now that inspire you?
It's so inspiring to see all the Caribbean-descendant women killing it right now — Rihanna, Cardi B, J. Lo, Nicki Minaj, etc. I also love Damian Marley, Chronixx, Busy Signal, and Omega, just to name a few.
Have you lived in Puerto Rico your whole life? How has P.R. and the Caribbean shaped you musically?
I currently live in Puerto Rico. I'm an army brat. I was raised between Puerto Rico, states in the south of the U.S, and Germany. Seven elementary schools, four middle schools ... I moved five times between three high schools. All private and public schools, two story houses, trailer parks, apartment complexes — you name it. All of these places, people, and experiences have shaped who I am. I have so many of these influences in the way I dress, in the way I walk, and more than anything in my music. It's taken me a long time to merge all these layers into a sound — my sound. And as any artist, I feel as though I'll always be working on that.
How are things holding up in Puerto Rico, and what can people do right now to help during the crisis?
It's been surreal to say the least. [As of] today, September 27th, it's been 7 days with no electricity, no running water, 6 to 12 hour lines for gas. I'm actually writing this in the car waiting for gas. It definitely shifts your reality and priorities. At the same time it humbles and grounds you to your core. There are others that lost homes and/or loved ones, and people that are suffering from health conditions. This really could happen to anybody at any given moment. That's why it's so important to empathize and help each other out, and start by being an example of what we would like to see more of.
What's next? Help each other rise. We could use all the help we can get. A great way to help is by donating to the Hispanic Federation, where 100% of proceeds go to recovery efforts. Also, [you can use] social media to keep this and many important issues relevant, preventing it from becoming old news in a few days, due to the lack of media coverage.