Listen to Suzi Analogue's radiant live score for Chromat's SS18 collection
The New York artist sang the models down the runway.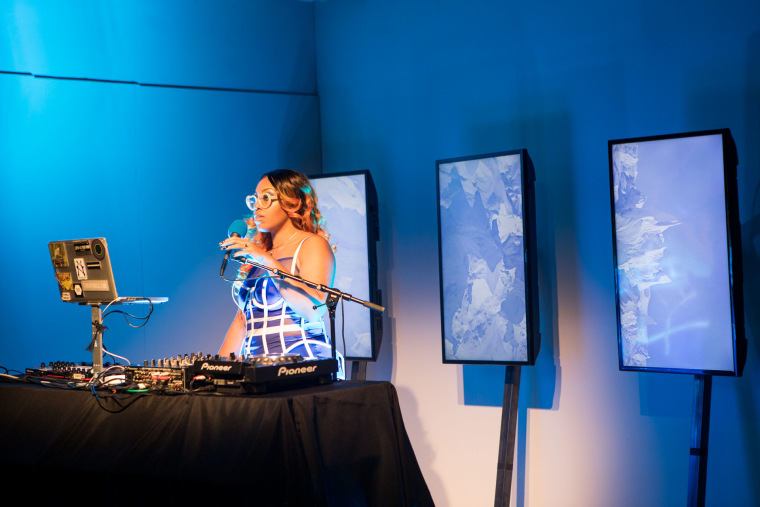 This past September, architectural activewear brand Chromat launched its SS18 collection SERENITY with a radiant runway show that featured star turns from br0nz3_g0dd3ss amongst others. I watched clips of the show on Instagram and was struck by the soundtrack — it was as wow as the garments. The mind behind the music is New York artist Suzi Analogue, who performed her invigorating score live. Over a patchwork of jungle, footwork, and ambient textures, Analogue sent her voice — and spirits — flying, before ending her set with UNiiQU3's remix of the song of 2017: Cardi B's "Bodak Yellow."
Listen to Suzi Analogue's Chromat score below, and scroll on for exclusive quotes from both Analogue and Chromat's founder Becca McCharen-Tran, and a short behind-the-scenes video.
"Making the Chromat score was such a treat for me, because in the last year as a songwriter and producer I have challenged myself to create music based on real life, and this show brought all my creative intentions full circle," Suzi Analogue told me over email. "Originally the score was created to parallel the stages of volcanic eruption and I found a lot of meaning in that. Each sound, note, and track used was intended to tell the story start to finish. The story of the music was one about self-discovery, the moment one becomes empowered, and filling the world with that power from within — how all of that makes way for more peace for yourself and those around you when it comes down to it.
"Performing the score was surreal — I used the same concept that DJs are taught: 'read the crowd,' but applied it to the performance, and in this case I was reading the model. As each model entered the runway, I caught her vibe and I sang the message out to her in order to give her energy and reassurance in the strength of her femininity. When I watched the show afterwards I realized how amazing that connection was — seeing each model channel the sound, it was priceless to me!"
Chromat founder Becca McCharen-Tran explained why she wanted to work with Suzi Analogue, and what kind of impact that her score had on the show. "I first saw Suzi perform at PS1 last year and it was like witnessing a lightning bolt descend to earth. As we started to design the Spring/Summer 2018 SERENITY collection in the studio, a lot of our inspiration was coming from a similar place of channeling higher powers through grounded-ness and elemental rocks. It felt like the perfect fit. Working with Suzi felt like a guided meditation. She brought so much soul and meaning to the runway. She channeled our inspiration and turned it into tangible feelings of empowerment and support."