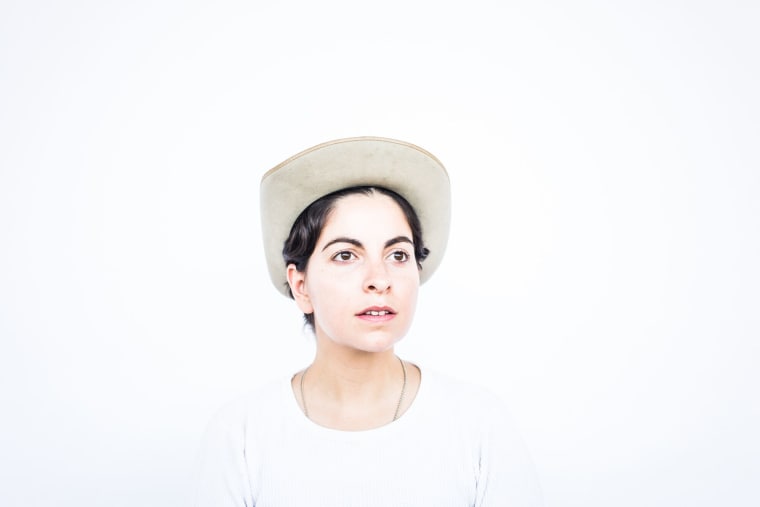 Becca Mancari had just stepped out of an Olive Garden somewhere between Asheville and Carrboro, North Carolina, when she took my call last week. Her debut album, Good Woman, was released only a few days earlier, while Becca was in the midst of a tour with Bermuda Triangle, her country-folk trio with singer-songwriter Jesse Lafser and Alabama Shakes's Brittany Howard, and she sounded giddy — like she was having the time of her life.
It's been a long time coming, this debut. Born in Staten Island and raised in rural Pennsylvania, Becca has spent the past five years in Nashville, "learning and and getting to really know what [she] wanted before deciding to release something," she told me, her speaking voice just as warm and resonant as when she sings her mellow, wide-open country songs. "Maybe that makes me a perfectionist, but I wanted it to be right."
And it's very right. Undulating from wistful heartache to glowing mirth, Good Woman is a truly transcendent reflection on love and friendship and self-evolution. Premiering today is the video for "Arizona Fire," a poignant track about the time Becca left her girlfriend, got on a Greyhound bus, "went off to India, lived in Florida," and "did this whole Eat Pray Love thing," to get back to her full self.
"'Arizona Fire' is probably one of the most personal songs on the record," Becca continued. "Very, very pointed to this one individual. My friend Calvin Brew directed the video and just killed it. It was just me and him. I had had this dream of going back to the place where I had my first real heartbreak. I know we joke about that — We're so young, we're in love — but there's something really important about the first one. And for me, it was a really big one. I wanted to go back as an adult woman and go back to that feeling. It's a really important video to me because it expresses a lot of the sadness and loneliness that I felt."
Watch "Arizona Fire," and read our conversation below.
You've been in the biz for a minute. Why did you decide this was the right time to release your debut?
BECCA MANCARI: I've been doing this for so long. There's a lot of reasons I think it made sense for it to come out at this time. I think if I would've waited any longer I would've missed that speed, or that momentum. It was a little superstitious. There's something about the numbers, even. And there's the relevance of being a woman right now. There's even a — I don't wanna say political aspect — but this year's been so hard on so many people and I feel like this record is gonna speak to people. It's been a long process, but it was what I wanted it to be and more.
All those years in Nashville, did you ever write on someone else's record?
I am pretty much just my own writer. I'm not very traditional in that way. I don't fall in line with a lot of the Nashville stereotype. I've always loved collaborating, that's normal to me, but that's more like getting in a room and just hanging out with your friends and letting sounds happen.
You've got this awesome co-sign from Paramore. How did you meet them?
Paramore is awesome. I met Zac Farro when he wasn't in the band anymore, and we became really good friends. Then he decided to get back in Paramore and he was like, "You and Haley would be really good buddies." It's Nashville — everybody kinda knows each other. It's one of those natural things that happens in Nashville. You just kinda meet each other along the way. They've been great friends. They deserve their success; they've been through a lot.
What we love about Zac is that he has his own label and his own band called Half Noise, and he's always like, "We look like a band that could be from like, Paris, we could be from New York. It doesn't look like we're from Nashville." And I think that's really cool. I had these photos done with some of Zac's friends, and it helped me break out of a certain mold. I think my music is outside of the traditional Americana. So we also wanted to reflect that in how I dressed and looked and stuff, too.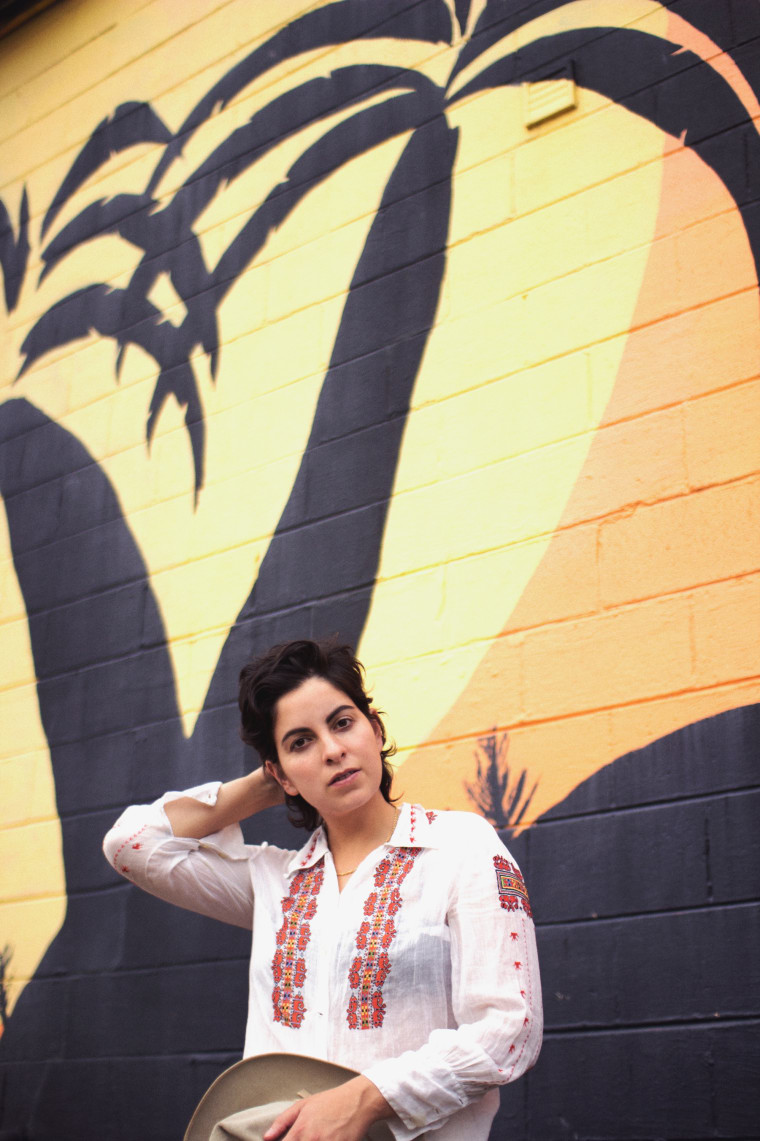 How's the Nashville scene right now?
We're having a renaissance of sounds. We have people like Liz Cooper, Music Band, rock 'n rollers that are just killing it. And I think that we're getting a reputation that's not just country music. There's a lot of cool shit happening in town, and you just have to go find it. It's very, very, very active, and it's not going anywhere for a little while. It will move, but right now the muse is pretty heavy on the city.
Speaking of muses, what's yours? How do you write your songs?
Writing, to me, is just... what a process. The words are just so hard to get right. It's so easy to be so cheesy. I feel like I'm a pretty minimalistic writer in a sense. I love sounds just as much as I love the words. So with the whole record, there's a huge emphasis of the instrumental parts also getting you to the feeling that you wanna feel. I spent a lot of time reading and traveling and meeting lots of people. I'm an experiential learner. I don't just learn from watching other people, I have to go and try it, too. I get in a lot of trouble sometimes!
What kind of trouble?
I just end up in weird places with weird people, a lot! I tend to less now, but I used to always.
What are some of your favorite places?
When I go out west I feel like I'm at my spirit home. When I'm in New Mexico, the scenery even fits my clothing. India was a huge change in my life. My sister lived there for five years so I spent a long time there. The good old Blue Ridge Mountains in Virginia will always be home, in a way. I love landscapes. I spent a lot of time overseas, and my family's always been really involved in service, and activism. That really impacted me.
What's your relationship like with your parents?
We have a really interesting relationship. My dad was an Evangelical pastor growing up, and then he became a missionary of sorts. I love him dearly, and I know they love me, and I respect them in a lot of ways, because they're very brave, compassionate humans in so many senses. But in the same breath, me being their gay daughter never has flown. We've had a really hard time. We've spent years not talking. But we're trying to figure it out. I'm a grown woman now. I don't let them scare me, you know? I try my best.