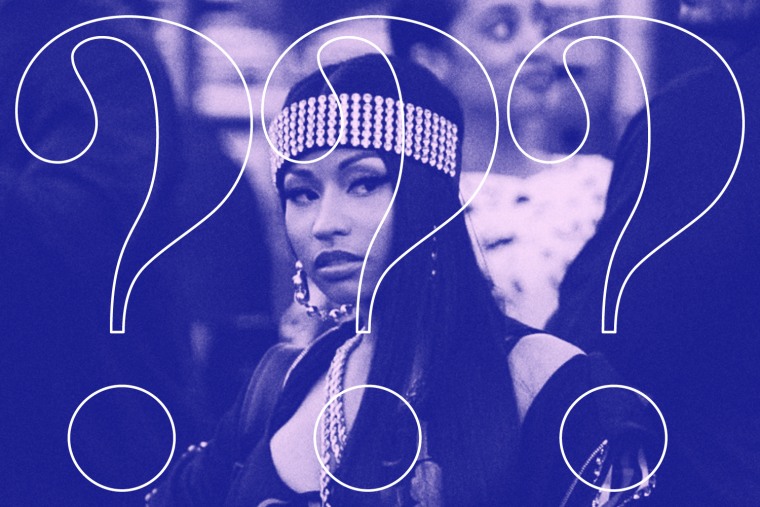 It's been nearly three years since the release of Nicki Minaj's last album, a fact that the rapper and mogul's legion of fans remind her of every day.
A decade into her career, Minaj has rapped circles around her peers, delivered colossal pop hits, created multiple alter-egos, and constantly reminded us that she has given birth to approximately one million sons. Now, as she said in a recent interview with DJ Whoo Kid, she wants to deliver "a classic hip hop album."
In recent months, the impending release of Minaj's fourth studio album has seemed closer than ever, as she's given in-depth interviews about the record, dropped new singles, and popped up on numerous guest verses. Below is a timeline collecting every detail that we know about the upcoming album so far.
At the beginning of October, after a long silence and much speculation, Nicki Minaj trolled the entire internet with a fake tracklist for an album called Pick My Fruit Out. Among the fake song titles for the album were "Mango," "Watermelon," and "Bananas (harambe interlude)."
The following week, the rapper called into Hot 97's Ebro In The Morning to explain the joke. When Ebro and Paul Rosenberg pressed for details about her actual album, Minaj said, "The album is so freaking epic, but it's a journey right. Before my first album came out, I was on everybody's song; I had my own campaign without realizing it. Right now, I have to complete a few things for other people."
Minaj also said that she had a collab with Remy Ma in the vault. "It was on a Diplo beat, but it was super-hood and hard," she said of the song. "It's only a matter of time before [Remy] and I do something."
After rumors of her breakup with Meek Mill, Nicki Minaj took to Twitter to confirm: "Yes I am single. Focusing on my work & looking forward to sharing it with you guys really soon."
After months of teasing and leaked snippets, Nicki showed up for a guest verse on Major Lazer's "Run Up" single. In her verse, she offers a pretty direct statement. "'Bout to drop an album, this is my fourth," she raps.
January 2017 — MYOB

Nicki responded to a fan who asked her for the initials of the album with "MYOB," which some people seemed to think was actually the album's acronym and others interpreted as "Mind Your Own Business."
After close to two years of not speaking, Nicki Minaj and Drake reunited along with Young Money founder Lil Wayne. Fans speculated that the meeting could mean new music and a potential reunion tour from the YMCMB crew.
Two years after her last single as a lead artist, Nicki Minaj delivered three new tracks in the same night: "Changed It" featuring Lil Wayne, "No Frauds" featuring Wayne and Drake, and "Regret In Your Tears."
On "No Frauds," Nicki seemed to respond to Remy Ma's shETHER" diss, which itself was a response to perceived shots from Nicki on verses from Jason DeRulo's "Swalla" and Gucci Mane's "Make Love."

In an interview with DJ Whoo Kid on Shade 45, Nicki discussed reuniting with Young Money and talked about the upcoming 2017 NBA Finals. She also provided the first major update on her album in months, telling Whoo Kid, "I know it's going to be my best body of work ... That's next on my bucket list — to deliver my fourth album and make sure that it's a classic hip-hop album that people will never forget."
In an interview with Dazed, Minaj spoke about her fourth studio album in depth, promising that her next album would bring about an era "a billion times more epic than anything "Anaconda" could have delivered. I think this era will definitely be the most memorable and the most impactful of my career yet."
She also gave an updated on the album's progress: "I can't say if I'm 50 percent, 80 percent or 10 percent done, because I don't know," she said. "Tomorrow, I might walk into the studio and decide that I don't like anything I've done in the last six months. Or tomorrow I might walk in and feel like the whole album is done. There's so much beauty in not knowing."
Roxane Gay profiled the Queens rapper for T Magazine, and Nicki opened up about her vision for the album. "Sonically, I know what the album's about to sound like," she said. "I know what this album is gonna mean to my fans. This album is everything in my life coming full circle...Now, I can tell you guys what happened for the last two years of my life. I know who I am. I am getting Nicki Minaj figured out with this album and I'm loving her."
A representative for Nicki Minaj was not immediately available for comment.
This post will be updated as new information becomes available.