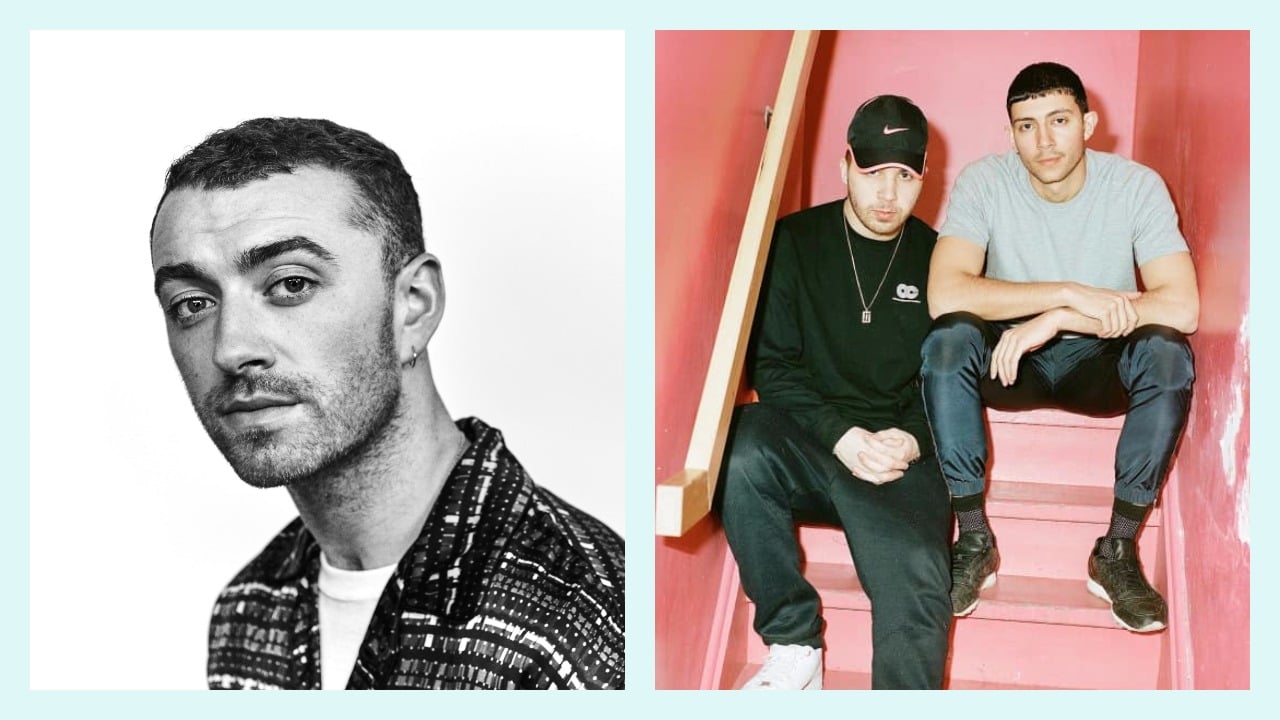 In his FADER cover story in 2014, Sam Smith launched a thousand think pieces with a now-infamous quote about his disinterest in using male pronouns in his love songs. "I've tried to be clever with this album, because it's also important to me that my music reaches everybody," he said at the time. "I've made my music so that it could be about anything and everybody — whether it's a guy, a female or a goat — and everybody can relate to that. I'm not in this industry to talk about my personal life unless it's in a musical form."
That quote made me realize just how much queer people like myself need queer artists to be queer on record. I listen to a lot of music and the vast majority of it features straight people singing about how much they like each other. With queer representation in the music industry being so scant, it makes it all the more important for queer artists to tell stories that queer fans can see themselves in. Fans are not the only ones to lose out when an artist bobs and weaves around every lyric in an attempt to not reveal who they really are — the music often suffers, too.
On Sam Smith's new album, The Thrill of It All, the anonymous subject is still at the forefront of his writing. I listened to the record from start to finish with my ear to the speaker, curious to see if he'd heard his critics. The cheekily titled "HIM" — all caps! — would seem to suggest so: it's Smith's first song that bothers to use a male pronoun. A maudlin confessional, it finds the U.K. singer narrating as a gay man from Mississippi, talking to a religious figure about the boy he can't help but love. It's heavy on the schmalz, feels outdated, and sounds like the story of a made-up queer person ripped from a book. It makes the song, which has good intentions, sound empty as a result. Similarly, on "Nothing Left For You," the "him" that "got everything" from Smith is a "fool," but it's unclear why and we never find out. He addresses a "boy" on the middle-of-the-road "Baby, You Make Me Crazy," but fails to tell us what it is about the boy that drives him crazy. In terms of storytelling, Smith rarely gives the listener anything to grab onto.
Elsewhere on the album, Smith continues to use his "clever" trick of obscuring the identity of his songs' subjects. Listening to The Thrill of It All, I had to wonder what Sam Smith actually gets excited about: on the tepid "Burning" he uses a tired metaphor about fire to explain his love, and on lead single "Too Good at Goodbyes," it seems like the only thing that gets him off is a breakup. I'm not looking for Sam Smith to make songs about poppers or bottoming, but it would be a real thrill to hear him make music that feels honest about his life and experiences. Less smoke, mirrors, and showmanship, and more artistry and truth. As it stands, his music lacks a certain spark — a spark that's impossible to ignore in the work of other queer artists like Syd, who captures same-sex lust better than anyone, or the insanely brilliant Sylvester, who didn't need details to talk about the joy you get from having amazing sex, or, of course, the master of talking about his sex life, George Michael, who Smith is often vocally compared to. Compared to such a canon, I realized that it's not The Thrill Of It's sparing use of pronouns that is the problem here, it's that the album makes no real room for queerness. The love stories Sam Smith presents on his album attempt to be broad enough for all listeners, but the stories he's sharing feel too hackneyed to get attached to.
That is all the more apparent when other R&B-centered albums do a better job of allowing listeners to fill in the blanks, like Majid Jordan's new album, The Space Between. The members of Majid Jordan are straight, or present as such, but the Toronto duo's songwriting is sophisticated enough to create room for listeners of every sexuality.
On early highlight, the sleek "OG Heartthrob," the narrative is focused only on "you," and there's no talk of a "girl" until the end of the third verse. "Heartthrob" is an interesting word to me, too. I'm not sure I've ever heard it used to describe anyone other than a hunky man who makes teens swoon. Of course, that's not to say it couldn't or shouldn't be used to describe a woman — but it creates enough mystery to go searching for clues. Every song on the album — all of them danceable as hell and really fun to listen to — is about sex and heartbreak but we never really learn anything about the duo's objects of affection. There's not a single song that describes what they look like, what they do, or say, but the other storytelling details are strong enough to compel.
The warp-voiced "Not Ashamed" centers a drunk man daring their drinking partner to "prove it," and "show yourself to me." It could be a song about two best friends getting open, but it also feels like they're about to kiss somehow. A slinky duet with their OVO labelmate dvsn, called "My Imagination," is way more fun if you picture its singers, Majid Al Maskati and dvsn's Daniel Daley, as two boys who fell in love, constantly reminding each other of "the girls that broke their hearts." Maybe that's just me writing insane fanfiction that belongs on Tumblr, but I feel like I've been given the room to explore.
But it's moments like the pre-chorus of "Asleep" that make me feel not so crazy about my wild theories. The lyrics make me think of the fear I had about the risks of sex as a younger man: "Bad news on the airwaves, we've all got a part to play / Guess they're trying to scare me, some things never change / Even on a good day, I can't help but feel this way / We've been making bad choices." It somehow feels like Maskati's been there before, or, if not in the exact same place as me, he's felt other fears, and isn't scared to say so. And that's relatable.
It's worth noting that Majid Jordan's lyrics take a very different approach from that of their OVO label boss Drake, who thrives in the ultra-specific. While gossip columns try and work out the women Drake sings about via clues about Cheesecake Factory dates and specific Hooters locations, his music can be alienating to some who just aren't interested in the stories that he's telling. On the complete opposite end of the spectrum is Sam Smith, a performer who offers so little about his life that there's no way any "guy, female, or goat" could meaningfully connect to it. Happily, Majid Jordan has found a middle ground with emotional accuracy — presenting a more interesting version of straight love songs than we've heard before — that creates spaces for queer listeners to relate, too, and have a good time.