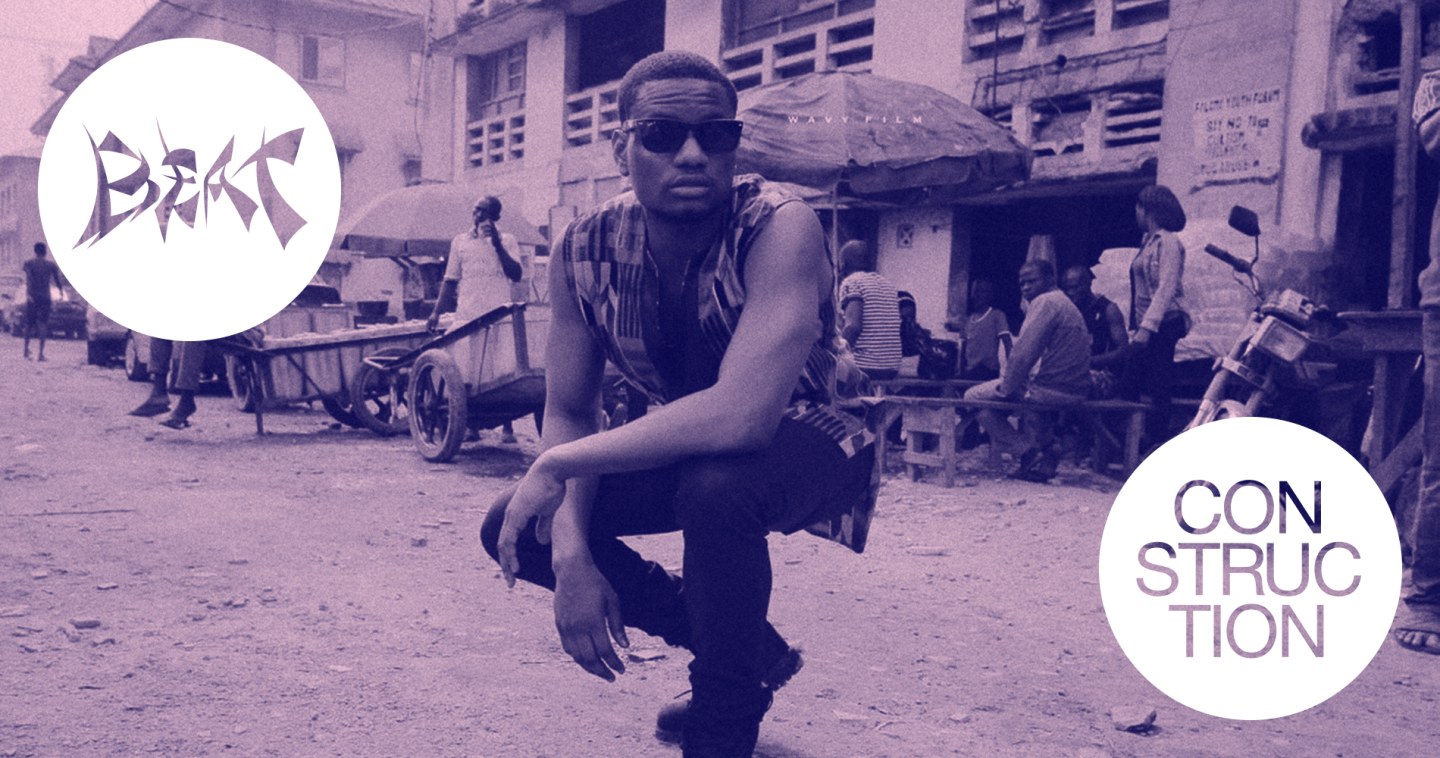 DJ Tunez's live sets are engineered to make your body move. During a given performance, one might hear the newest in rap, or the exact right R&B classic. But the foundation of his sets, and what the people come for, is African music. The 28-year-old has become a go-to DJ and dot connector in the African community of New York City and beyond, throwing some of the city's most anticipated and attended African music nights. In 2015, he was asked by Wizkid to join Starboy Entertainment, as the Nigerian megastar's official DJ.
Born Michael Baba Tunde Adeyinka, DJ Tunez's career began through word of mouth. After DJing his local church's Christmas party as a teen, his African community in South Brooklyn began to take a liking to his ability to play music with an afrobeats focus to crowds old and young — a byproduct of his musical curiosity, and access to his dad's record collection at home. This local attention encouraged him to start throwing parties of his own around the city.
"There weren't really a lot of Afrobeat nights at the time, or nights where you could hear African music," he recalled of New York in the late-'00s, when he was in his early 20s. "So I started to do my own [parties] to continue to move the culture, tradition, and passion for the music."
A handful of years later, after realizing the power he had over the crowd by playing the songs of others, and quietly working on music of his own, he made the decision to formally have a go at original production. The first real product of his efforts was late-2016's "Iskaba", a contagiously upbeat track featuring Nigerian singer Wande Coal, which grabs you at the opening "Oh my darliiiiiiin'!" It has become, as an MC at a New York Burna Boy show this spring justly yelled into the mic, one of the biggest afrobeats songs of 2017.
Over the phone from his basement studio in Brooklyn, Tunez talked about making the jump into producing, and how DJing continues to play a major role in developing a sound of his own. He also told the story behind "Iskaba," his whirlwind first hit.
Where did you grow up? What was your upbringing like?
I grew up around the Flatbush/Canarsie area of Brooklyn. Growing up in an African home is very different, compared to going outside, where all my friends are mostly Caribbean or American. I did a bit of junior high school out in Nigeria, then I finished high school here, and I graduated from Brooklyn College.
Both of my parents are Nigerian. My father's pretty disciplined and strict. So is my mom. I learned a lot through my culture; they speak to me in Yoruba. A lot of music that I've listened to in the house is from my father's collection. He plays King Sunny Ade, Fela Kuti. As I was raised, I was also listening to a lot of older afrobeats, like more of the juju style.
You said you went to junior high in Nigeria.
I went to school in Nigeria for about three years, between the ages of 14 to 16. There's this thing with Nigerian parents, in their household: [laughs] they believe that if the child's too bad to be taken care of in America, they send them back home. I wouldn't say it's a punishment, but a way of building my character, confidence, and learning the culture even more. [Going to school in Nigeria was] quite a different experience — it's hot out there all year round, the electricity is not consistent, the water is not consistent, so for a lot of things you have to be timed, disciplined. You have to be on point. We had to fetch our own water. I think I owe my parents that honor for going out there. I learned a lot, and it built a lot of character in me. I was definitely open to a lot of sounds [while I was] out there. I also played the drum set in my school band, and the native drum.
Was there a particular moment when what you were doing with music clicked for your family?
Before I dropped "Iskaba," I had played it for my father — and he doesn't really back this [music] stuff that much. He was like, "This is a really great song, you should put this out. I love it." To get that kind of energy from him was very overwhelming, and made me feel good about the track. Another moment for me was playing afrobeats at the Brooklyn Museum. I was happy to be a part of that; it was a moment. When I went on tour with Wizkid this year, at his Wireless Festival performance, there were about five minutes remaining in his set. I played "Iskaba," and 60,000 people just yelled out "Oh my darliiiiing!" I couldn't believe it.To get so much love in another country was mind-boggling.
How and when did you start DJing, and getting serious about music?
I was about 16, 17. I used to do it once a year at my church Christmas party for the kids. That was all I used to wait for. My father made me do it. I would use two different stereos, but they both had CD players, and I had both of them connected to the same speaker. When I would finish playing one song, I would play the next stereo, and when I finished playing the other song, I would switch back. I always knew what the kids wanted. I had the tunes — that's how I got the name.
From there, people in my church started hiring me, so I started doing sweet sixteens, weddings, adult parties like 50th or 70th birthday parties, because I was familiar with the adult's music because my father used to play it in the house. For my generation, I knew what they liked because I was always into music. I could go up with any crowd, and that was real different. Then I started to enter the club scene, started to pick up a fanbase of people coming out to watch me DJ.That's when I started doing my own events.
Blackout is one of my annual events. That was us moving the wave of African music and afrobeats here. [I do] college shows as well; I've done over 25 schools, universities. African Student Associations within schools will contact me and I'll go out to them. I got well-rounded, hitting different markets of people.
What else did you listen to growing up?
Definitely Dancehall, Vybz Kartel, Buju Banton. A few older guys as well, like Barrington Levy and Beres Hammond. I definitely like hip-hop. Michael Jackson as well. Chris Brown. '90s R&B is definitely a part of my movement too. Hip-hop growing up out here — Bad Boy, Puff Daddy, Biggie Smalls is number one. I'm also a fan of kompa, zouk music from Haiti. I got the chance to meet the ex-president of Haiti, Sweet Micky, who's a musician. He makes awesome live music, and he's definitely an inspiration to what I do. My mind was open to a lot of music. The sounds... you hear a little bit of Africa in all of them.
What's it been like watching african music become more popular in the U.S.?
It's amazing. The sky is the limit for this. It's above and beyond. Africa is now. It's crazy — when we were in festivals and shows in different places, I had people of different races run up to me singing "Iskaba." It's a warm feeling, and it just shows me that the spirits, the sounds, are moving, and what we're trying to do is getting to the people.
"I just want to represent the best of Africa and put out great music, so people understand that all types of music is from this place. All types of styles, flows, and melodies are from here."
How do you describe your sound?
Afrobeats is everything. That's the root. You can hear it in anything — jazz, funk, dancehall. You can hear it in Soca, calypso, hip-hop. It's the root. Just showing a piece of the root in different lights and forms is what I'm trying to do — with the best artists around the globe. It's important to keep it as authentic as possible. It's just a feeling, a deep feeling. And it's within me.
Why have you, with your first few releases tended more towards making uptempo music?
To get the dance started and get the energy up more. DJing, [I noticed that in] the new music a lot of the tempos are being slowed down, [with] the Mr. Eazi's of the world, the highlife music, the Runtowns, Teknos. I felt like the fast tempo, the dance music, was missing., "Iskaba" and "Get Up" were the two fastest tempo songs to come out of Africa that year. With afrobeats, it's all about the dance, it's all about the body. The body must move.
With "Cotton Candy," with Burna Boy and Leriq, I wanted to show a different side to the music. A lot of people wouldn't know that patois is really heavy in Africa; it's being spoken in Nigeria and how it's moving within the younger generation, especially in West Africa — Nigeria and Ghana. So Burna Boy, Stonebwoy, Shatta Wale — they're the guys that speak heavy patois. I just want to represent the best of Africa and put out great music, so people understand that all types of music is from this place. All types of styles, flows, and melodies are from here.
What equipment do you use when you're producing?
I use Logic Pro. I work with my team, and artists I work with who are under me who I'm bringing up. For some time, I've been working with guys like Spellz, I've been working with Sarz, Leriq, Legendury Beats, Del B, Guilty Beats; those are key guys I've been working with and building my sound. I play a little bit of the drums, I could touch the keys but I'm not crazy. I know the mood for the room, I know a tune. It's been a blessing since getting into production, it's a lot of fun. I always felt it from the other side, being a DJ.
Tell me about "Iskaba." How did the idea for the track first come about?
Wande Coal is a legend. He's definitely a part of the people that started this whole second generation of afrobeats, with the P-square's and D'Banj's of the world. Wande Coal worked hand in hand with D'Banj from the beginning. He's Africa's number one vocalist, and talent-wise, he's definitely that guy. He has done so much with the music, and to have this track with him is like history in the making. It's like, Wow, these two energies are great together.
I linked with Wande Coal years ago. I got called for a show at Penn State University and they wanted me to bring a surprise artist. I had reached out to Wande and I was able to get him in, and he stayed in New York with me for about two weeks. Before this, his latest track was two or three years old, and when we were in the studio in East New York, I kept telling him, "We need an anthem." Everyday, when we were in that studio, I was like "Iskaba, Iskele bete." I'm talking about everyday. I was nagging him. And we got in the studio and ripped it. By the time we heard it we formed a dance to it. Everybody we played it for was feeling the energy from it. We finished recording it at the end of April last year. The Blackout party this year will be one year celebrating the record. To have him with me in Brooklyn and perform the track [together] is going to be an amazing feeling.
"Iskaba" has been a life-changer for me, and for him as well. It's still my number one record, and it's his too. We built the track just to make people happy. "Iskaba" means love and energy. We don't really know how to change the world, people are getting shot, things is blowin' up, Trump is president — it's crazy I feel that Fela [Kuti]'s one line that I can always quote is, "The music is the weapon," and we're using music as the weapon to cure people, make them feel happy and embrace positivity and good energy. "We just wanna party, we don't wanna hurt nobody." That's what we preach, and that's all we wanna do.
What was the moment you decided to go into production?
It was realizing the effect I had over people while DJing at parties, by playing other people's music. I had people coming up to the booth, throwing money at me, congratulating me — seeing that when I play for hundreds or thousands of people, at a wedding or a gathering, a sweet sixteen or a club, having the crowd scream at you with everyone enjoying, it's like everybody forgets about their stress, sorrows, sadness, and you're just setting an element in the vibration where it's just straight positivity and good vibes.
Like, I can't think about anything bad right now because the music is so good! It becomes a part of people's life-long memories and moments. Being a part of those moments, people never forget. I have kids that come up to me that are seven now, and I DJed their one-year-old birthday party, or baby showers. Having that kind of impact means a lot to me.