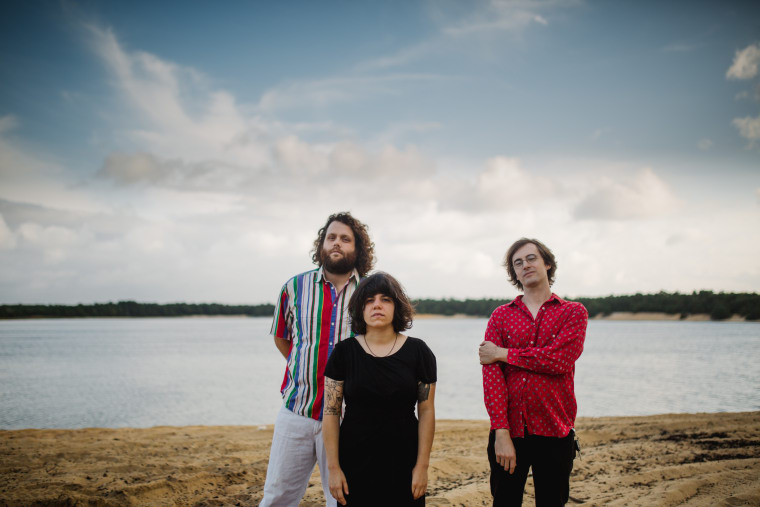 Storied New Brunswick lo-fi group Screaming Females are prepping the release of their first album since 2015, All At Once, out February 23 on Don Giovanni Records.
The latest single off the record, "Deeply," is a mournful-sounding track that's boosted by a steady march of percussion and steeps Marissa Paternoster's voice and songwriting in a gentle fuzz. Premiering today on The FADER is the lyric video for "Deeply," which features Marissa and the band painting the song's defiantly gloomy words on the wall of Springfield, IL's Black Sheep Cafe.
"'Deeply' was originally demoed entirely by [King] Mike," Marissa wrote over email. "We tried to emulate the style he had in the original demo, but it wasn't really working, I so I took some very dramatic liberties with the feel of the song and the slow, dirgey incarnation is what made the album cut.
"The Black Sheep Cafe in Springfield, IL was kind enough to let us use the outside wall of their venue to create this video. All ages spaces like the Black Sheep Cafe are amongst our favorite to play because they cultivate community togetherness and have a deep appreciation for the arts!"
Tour dates
2/22: Jersey City, NJ @ Monty Hall - Release Show
2/23: Jersey City, NJ @ Monty Hall - Release Show
2/24: Jersey City, NJ @ Monty Hall - Release Show
03/02/18 - Strange Matter - Richmond, VA
03/03/18 - The Pinhook - Durham, NC
03/04/18 - 123 Pleasant St - Morgantown, WV
03/05/18 - Northside Yacht Club - Cincinnati, OH
03/06/18 - The End - Nashville, TN
03/07/18 - The Bishop - Bloomington, IN
03/08/18 - Cactus Club - Milwaukee, WI
03/09/18 - Turf Club - St Paul, MN
03/10/18 - Lincoln Hall - Chicago, IL
03/11/18 - Pyramid Scheme - Grand Rapids, MI
03/12/18 - Roboto Project - Pittsburgh, PA
03/13/18 - Mohawk - Buffalo, NY
03/14/18 - Smiling Buddha - Toronto, ON
03/15/18 - La Vitrola - Montreal, QC
03/16/18 - Monkey House - Winooski, VT
04/04/18 - Rock and Roll Hotel - Washington, DC - w/ Thou and HIRS
04/05/18 - Union Transfer - Philadelphia, PA - w/ Thou and HIRS
04/06/18 - Market Hotel - Brooklyn, NY - w/ Thou and HIRS
04/07/18 - The Space - Hamden, CT - w/ Thou and HIRS
04/08/18 - AS220 - Providence, RI - w/ Thou and HIRS
04/09/18 - Sue's - Rollinsford, NH - w/ Thou and HIRS
04/10/18 - SPACE - Portland, ME - w/ Thou and HIRS
04/11/18 - Flywheel - Easthampton, MA - w/ Thou and HIRS
04/12/18 - The Haunt - Ithaca, NY - w/ Thou and HIRS
04/13/18 - El Club - Detroit, MI - w/ Thou and HIRS
04/14/18 - Grog Shop - Cleveland, OH - w/ Thou and HIRS
04/15/18 - The Mothlight - Asheville, NC - w/ Thou and HIRS
04/16/18 - Masquerade - Atlanta, GA - w/ Thou and HIRS
04/17/18 - The Wooly - Gainesville, FL - w/ Thou and HIRS
04/18/18 - TBA - Tallahassee, FL - w/ HIRS
04/19/18 - City Arts Center - Pensacola, FL - w/ HIRS
04/20/18 - TBA - New Orleans, LA - w/ HIRS
04/21/18 - Barracuda - Austin, TX - w/ HIRS
04/22/18 - Dada - Dallas, TX - w/ HIRS
04/23/18 - Proud Larry's - Oxford, MS
04/24/18 - Sluggos - Chattanooga, TN