Kelly Rowland, BbyMutha, Angie Martinez and more on why Kelis is a true visionary
Your favorite musicians love her as much as you do.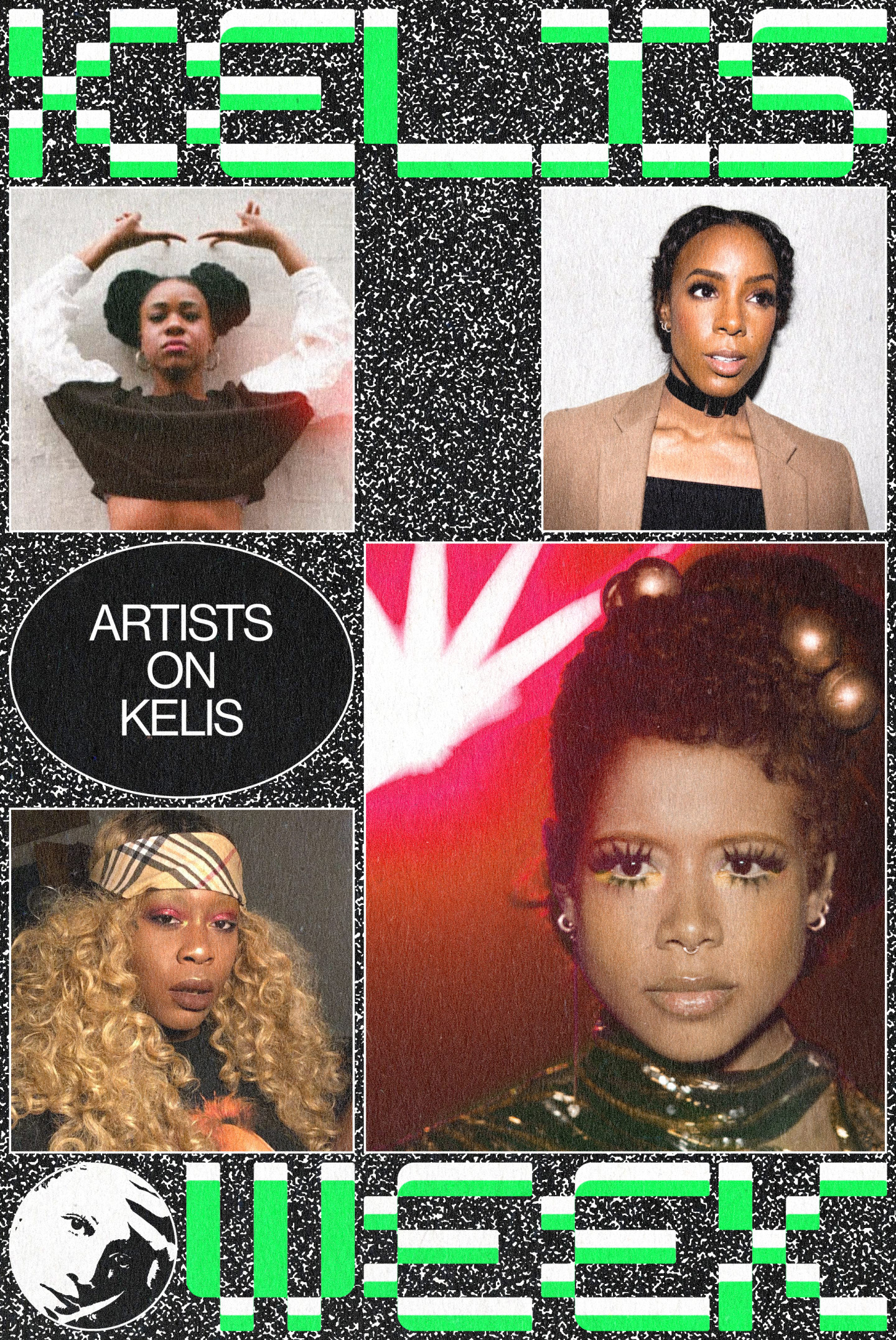 Remember the first time you saw Kelis rock bright green hair or do NSFW things to a frothy milkshake? Chances are, your favorite artist does too. The Harlem-born star's eclectic career has inspired a bunch of musicians to embrace their freakiness, try new genres, and feel comfortable in their own skin. Scroll down to read Kelis's trusted collaborators, fans, and fellow artists on what makes her so unique.
"What I admire the most about Kelis is how real and honest she is. What she offers as an artist and a person is authentic and genuine, you don't have to guess. Kelis is adventurous, never afraid to try anything. Within music and fashion, she's daring, bold and doesn't care what anyone thinks. She does what she wants and there are no rules."
2. Mhysa, artist
"My favorite Kelis song is 'Get Along With You,' because it's so excessively emotive in this beautiful dark way — it's like quintessential R&B; she's willing to give everything for the person that she loves and that sentiment just made so much sense to me growing up. Seeing the lengths my mother was willing to go for my dad...Kelis was making music for that life.
"Kelis is not afraid to be weird as an R&B singer, and be punk and scream and find her space, rather than trying to cater to what the mainstream wants. She defined pop rather than being defined by it, that's major for me. Kelis made me feel like I could be a performer — she doesn't look like Mýa or Whitney Houston, she didn't move like normal black pop stars, and yet she had hella presence and got a lot of love in the U.K. I feel like the way she used her voice for dance music with the help of producers like Pharrell allowed her to be more of herself, which made me want to do the same. I don't think green hair would be as sexy if not for Kelis, [and] big curls on black girls, but also how she adorned herself both with experimental clothing and tracings of the hood like shiny lip gloss. She was iconic."

"Kelis is an extraordinary woman with her own unique sound and style. I was thrilled she agreed to [feature on "Take You Home"]. Kelis showed up and was down for whatever, and also came with ideas. On the [video] set, she had just got some new gold grills and had the camera guy shoot them up close, with this funky multi-colored lipstick. That moment wound up being the most memorable image of that video. She's just dope."
4. Dave Sitek, artist and producer of FOOD
"[Kelis and I] had a meeting and wound up talking about cooking for the entire time. We booked a session to write, and we spent that whole session talking about growing your own ingredients...the next session, we actually started working on music.
"Who's not a fan of Kelis? She checks all the boxes. I have so much admiration for her exploratory spirit; she's one of my favorite collaborators. She's always interested in 'the unknown.' She has no allegiance to the past. That's not very common in this current version of the music biz — most people try to repeat past success. Her version of success could probably be defined as 'growth.'"
"I can speak on what impact she had on me: courage. She reminds me of Bowie in that way — always push a little bit further, beyond your habits."
"I was approached to do ["Do It Like Me," with TCTS] and laid my parts. A couple weeks later I get a call from my manager and he says, 'Guess who got on that TCTS track?' When he tells me Kelis, I think he's lying 'cause he knows how much I respect her work. It was an incredible opportunity to be able to be on the same song as her. I was most definitely a fan before, from first hearing 'Caught Out There' and 'Got Your Money.' I love all her concepts, but I most admire her originality and ability to stay true to herself in this industry."
6. NAO, artist
"​I was about 12 when I saw this crazy green-haired princess from outer space on [U.K. music show] Jools Holland, and I fell in love. I'd always loved R&B, but indie music was the look and sound of the time. Kelis was the blend of the two. Even today, the cover of Kaleidoscope, where she's multi-colored and hugging herself, is inspiring. It's ageless, raceless, and beautiful.
"She ticks every box for a modern artist and she's not afraid to take risks, whether it's in her look or sound. To go from 'Caught Out There' and 'Good Stuff' to '4th July (Fireworks)' and 'Acapella' shows the breadth of her abilities. Flesh Tone is one of the best ever house music albums — to switch it up in that way 10 years into her career is just incredible.
"After all the Auto-Tuned vocals and Photoshopped gym body photos of '90s R&B stars, Kelis was such a tonic. She gave real women a role model, she challenged every stereotype and didn't conform to any of the expectations on her as a black woman in the media spotlight. Her impact was to say you can look beautiful with a healthy body shape, wear whatever feels right, combine any styles of music you like, and rock your natural hair — which is something the world always needs!"
7. David Guetta, artist and producer on Flesh Tone
"We met in L.A. — I went to her place and was surprised when she picked the most underground tracks that I played for her, especially 'Acapella.' I said to her, 'Are you sure you want this to be a single?' Even though I loved the record, it sounded like an rare choice.
"It was great working with her. She was coming with a completely different approach than other artists. My sound was quite new at the time but like I said she wanted to work with [my] more experimental side and was really going for it. I respect that, it was brave.
"Of course, I was a fan before. 'Milkshake' is so so amazing. It's cool, fun, and sexy. It's easy to remember, DJ-friendly for the club but also a cool song to listen to at home. It really has everything."
8. Todd Simon, co-writer on FOOD
"She is what it means to be fierce, and to really be unique. To me, looking up to her, she really inspired me. I know other people that really try and work hard to do what you want to do. I don't think she's ever really tried to do something to cater to the mainstream or to the media. She does what she feels is right."
"'Caught Out There' was my first Kelis experience, as I'm sure it was everyone's, and even at my young age I remember feeling like, Wow, this is how I wish I could yell at these niggas. When I saw the visuals I was like, This woman is a rockstar. I love an artist that doesn't sound like anyone else. They may not be your favorite, but they can't be duplicated, and that matters to me over anything else.
"She definitely doesn't get the credit she deserves as the OG alternative black girl of our generation. She made it okay to switch it up so often, in the way that Rihanna does now. Kelis has inspired my hair since the first time I saw her. I've always wanted big, curly, colorful afros, you can credit my infamous big blue afro to Kelis, my big pink curly afro to Kelis, my experimentation with different hair colors period — Kelis. Growing up being told that color on black girl hair is 'unacceptable,' and seeing her rock it so flawlessly was everything to me, because color is a huge part of my self-expression."
"I loved playing remixes of her earlier work in the club. She always added so much to any songs she featured on as well; it was clear that it was her and not some session singer brought in to add a hook to a rap track.
"FOOD was really amazing — this super soulful side to Kelis. I thought it was a very natural sound for her. Seeing her do something very personal and honest was very refreshing, especially considering the fact that most pop records these days are very manufactured-sounding.
"Ninja Tune asked me to remix a FOOD track and I instantly connected with 'Running.' The song itself is so good, and doesn't really rely on strong production to carry it. It allowed me to make simple decisions that let the song breathe rather than completely flipping the original on its head. I wanted to make less of a remix and more of a new version of the song, how I would have produced the original track if Kelis had brought me the song."