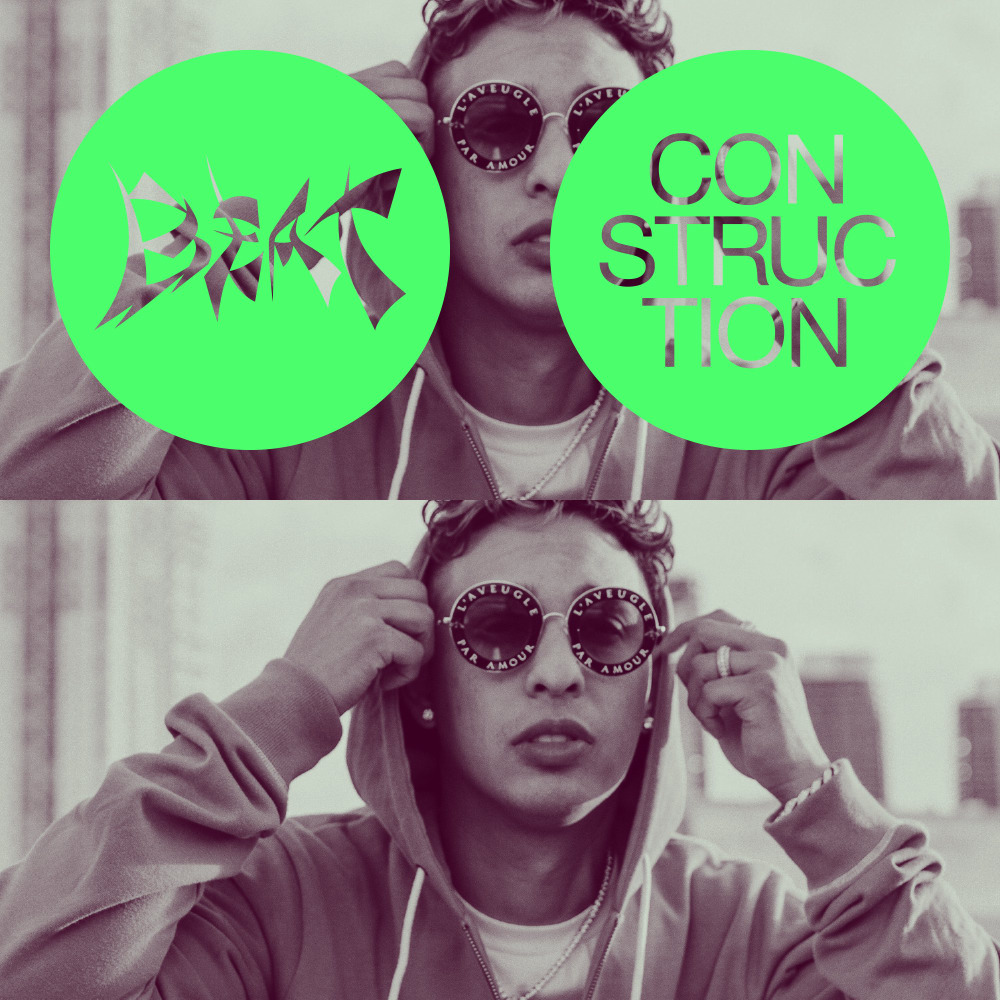 Tarik Johnston doesn't want to be held back by genre. Recording as Rvssian, the Jamaican producer is best known for his head-busting bass and ominous yet uplifting melodies. Early on in his career, he became a go-to sound crafter for dancehall legend Vybz Kartel. Their first big hit together — and Rvssian's second song ever — was "Life Sweet," a single later included on Vybz's 2010 project, Pon Di Gaza 2.0. Since then, he's maintained a steady output of dancehall tracks for heavy hitters and rising artists alike, even continuing to release new Vybz tracks while the artist has been in prison, like 2017's "Highest Level" and "Kremlin."
In recent years, Rvssian has also accumulated a handful of production credits in the rap world, and made a hugely significant foray into a new space for him: Latin music, specifically reggaeton and rap. Since bringing together Sean Paul and reggaeton singer Farruko for a crossover heater in 2014, "Passion Whine," Rvssian's dancehall-rooted sound has become highly sought-after within the Latin rap scene. In a matter of a few years, he's already worked with stars like Arcángel, Bad Bunny, and Nicky Jam. He even produced one of the biggest Latin-crossover smashes of the year, "Krippy Kush."
Though he's branching out into different musical worlds, he hasn't lost sight of where he's from, and the culture and sound that made him. "I always try and bring the dancehall culture, whether it's the artist or the beat," he shared over the phone from Miami, where he's now lived for three years. "Almost all the collaborations I've done, there's always some form of my culture in there. I'm not trying to go into a genre to do their music, I'm trying to blend everything." When working with Vybz, the two made it a point to help bring together their culturally distinct worlds of uptown and downtown Kingston, Jamaica. Now he's helping bring other musical worlds closer together, too.
Over the phone from his car in Miami, Rvssian shared his story, from his do-it-yourself beginnings in dancehall to becoming one of the most exciting producers in Latin pop. He also dives deep into his working relationship with Vybz Kartel, and the current state of dancehall.
Where did you grow up? What was your upbringing like?
Kingston, Jamaica, uptown to be exact. Cherry Gardens. I grew up in the same house with an older sister and two parents. I went to a public school. I played football all summer and soccer and cricket in high school. My father was involved [in music], but they never told me to go and do music. He helped out his family business, so he went into the corporate world and then did music as a hobby. I guess it was like in my blood, a calling.
How did you get into music as a kid?
I used to collect cassette tapes, before even CDs. Because I'm from Jamaica, dancehall and reggae is the main focus, and then after that was hip-hop. Sizzla, Beenie Man, Capleton, Bounty Killer — those are my four favorites in dancehall. I used to listen to other people, too, in reggae like Barrington Levy, Dennis Brown. In hip-hop there was Tupac, Biggie, Wu-Tang Clan, Big Tymers, and then in the 2000s it became Lil Wayne, Vybz Kartel, Eminem, for sure, and people like that. Stone Love is a legendary sound system and I used to collect their cassettes, or I used to listen to sound clashes a lot, like Stone Love, Mighty Crown, Kilimanjaro, or those songs and sound systems. I used to be interested at first in being a DJ. Actually, before high school I had a sound system called Nokturnal. A sound system is a group of DJs who had a crew — that's how I first started out. I decided I didn't really love it that much because I wanted to create the music, not play other people's music.
When did you decide that you wanted to make your own music? How did you go about doing that?
I always used to mess around with music on my own as a kid — [I was] self-taught in piano and making beats — so after high school, I had a year off and I got admission to NYU in New York. I didn't really want to go into IT or computers, though I was good at it at. I said to my parents, "I'm gonna do this music and give it my full try, and within this year if I don't make it, then I go to college." It was a wrap after that.
I started to network, try and meet the artists. My first riddim had Konshens on there, Vybz Kartel, Shyno, a few other people, and it did good. Then I had my second song that I ever released, called "Life Sweet" with Vybz Kartel that I have that tattooed on my arm, to remember my first breakthrough sound.
While I was doing that I was literally, every night, in the streets promoting it. Taking CDs, meeting DJs, "Yo, I'm the producer behind this, here's my new song." I was doing that through the whole of Jamaica, literally every day leaving the parties at 9 a.m., go to three to four parties at night, go to sleep, wake up at 2 p.m., go to a studio, meet more artists, network, do the same thing. Every song I had I used to do that. That's how I became successful — the artists respected me because I didn't just take the song and release it on the internet. I used to actually go and promote it myself, walk in the streets with CDs in hand. I bought CD duplicators. If I'm promoting a song, I do 5000 CDs for it across Jamaica, [getting them to] the DJs, or anywhere that was playing music where people could hear it. It could be a guy with a loud car system, the taxis, the bus, bus stations, all of that.
I was on my own, but I had one or two friends who helped out. At the time they weren't even involved in music, they were just hanging out and they saw the vision. I didn't have no team, no signing, no label, or nothing. I had my own little label which I still have now which is Head Concussion Records. But then, it was just really just me and two of my high school friends.
Was there any blueprint or example you followed?
I know there's people who do some things similar to that, but I didn't see an actual producer at the time doing it. Especially when I came into Jamaican music at first — that's why I emphasize I'm from uptown. There was a big stigma between uptown and downtown, which is like the ghetto. When I was in high school, it was like, "Oh you're from that area? We don't really mess with you." At the time I was coming up, there was a few artists [from downtown] that used to be like, "What do you know about this kind of music?" and kind of fight, and then they saw how I worked and I went in the street because I even though I came from uptown I didn't really focus on uptown, I went to the gutters. From Tivoli Gardens to Maxfield, to you name it, they all knew me. That's what I did and I got a name for myself after.
"Life Sweet" with Vybz Kartel was your big break, and it was only your second song ever. What came after that?
Every following song I did was a hit, but I think a bigger break for me was when I did "Straight Jeans And Fitted" with Vybz Kartel. I sang on that one with him.
Our goal in making that big song was what we did with it: we bridged uptown and downtown culture. It never happened before. Before that it was like a segregation, like a division between the two. There even became parties where the uptown people were going to the downtown parties now, because it was a whole unification of the two areas. So, other than being a huge success, as music it helped the culture.
At the time that was the biggest dancehall video because of the quality, how it was shot. It had the most views at the time. In dancehall, everybody has a producer so everybody knew how I looked. I had a unique image to the culture. They were like, "Who is this dude, the light skin guy in dancehall music?" From there I was getting shows booked as an artist, and my fanbase grew as a producer-artist, like in Trinidad, for example. I remember it was Trinidad and Panama that were the first countries in 2009-10, where I would go there and I would have a fanbase and if I go to the mall I'd have to leave. Where I could say "I'm at this venue" and I'd get 800 people or more.
You've sang on several tracks. What made you decide to try that out?
I have like four with Vybz, every song I sang with him was big. Then I did a song with Machel Montano, which was big in the soca market. It was more of a groovy soca. I wasn't really trying to be an artist, I was just doing it for fun, and because the first one worked, the fans were like "Yo, where's the next one?"
It was just "Yo, it can't hurt." You're already hot as a person, everybody is already fucking with you, and they like what you're doing so let's try it. I think I'll do it again because people still ask for it. I've been so busy producing a lot of people, but I think I'm going to do one in the next few months.
How and when did you first meet Vybz Kartel?
I met him in late 2008, while I was doing that year of let me try and make it. I met him at Chimney Records and Jordan [McClure] introduced me to him. He was like, "Yo, there's this kid. He's dope. Hear his beats." He heard one right there and he recorded on it. Next day, I remember at like six in the morning I was in my studio, and it wasn't a real studio, it was my setup. I got a text, and everyone who knows Kartel knows he types words in numbers and symbols. I got a text like, "Send some more riddims," so I'm like "Who this?" and he said, "Adi." I was like "Oh shit," and from there, the connection was set in stone to this day.
Since he's been in prison, he's released a bunch of music, and a handful of tracks with your production. What's that process like?
I still have recordings [of his], so I just release them whenever I feel the time is right, and promote them via the internet and the street. It's pretty much the same process, I just don't have that much [music from him] anymore because he's been in there a few years. I still have quite a few [songs] but I have to time them.
How do you think the scene is doing without him?
It definitely hurts because he was the biggest. I think he was going to be the next biggest explosion in America, but overall the culture is like in hip-hop, where you've got 12-15 artists dominating. I think in dancehall at the moment, him missing is just one less gladiator on the battlefield to help the culture.
The culture is still growing and doing good, but the main problem I think with the dancehall culture is that most of the artists can't travel to the U.S.A. because of the government not granting them visas, so even if they have a big song sometimes and want to be signed or taken to another level, they can't travel. There's a lot of fight in the culture itself, you know? And I feel like the Jamaican government doesn't support dancehall as much as they should, because there's people who fly from Japan and come to the worst slums and ghettos just to learn to dance or learn the culture. That should tell you a lot. And also that everything right now has that dancehall vibe. Jamaica is such a poor country and culture, and it's so small, and I don't think the government really targets that, which they should.
How do you feel about hearing dancehall trickle into mainstream music?
I have no problem with it, I think it's good for the culture because it makes people aware and interested and want to do it. The only thing I do wish sometimes is the big artists who [incorporate the sound] try sometimes to incorporate the people who are from the roots of it, you know? You see the dancehall chart, you want to use a foreign producer or come up with a local so that way it helps the culture, it's not just "we taking it." Even if they don't want to do that, it still makes the music grow, so nothing negative.
Recently, you've been producing more for Latin artists. How did that happen?
The thing about it is that Latin music really comes from Jamaican culture — there's reggaeton, and it's the same culture of Spanish culture and the islands. I had a song called "Wine Slow" with Gyptian, which was a big success. I was a producer who listened to every kind of music. Even in Jamaica growing up, I listened to Latin music. Around that time, the song was big, especially in Latin America, and a lot of the artists started to reach out to me because they saw that songs were doing good and they liked the music.
The first Latin artist I ever really met was De La Ghetto around 2009, when he came to Jamaica to shoot a video with Mavado. I took him to the ghetto of Tivoli gardens, he saw the real culture, nothing censored. I never worked with him but we was always cool, and then I met with Farruko, who was the first one I actually worked with in Latin music. We did the remix to "Wine Slow" and just put it on the net, because at the time, the label Gyptian was signed to didn't want to clear the remix. They tried to bully me out of my own song, so I was like Alright, cool, whatever, and me and Farruko worked on some other music.
At the time Farruko was big, he had the streets, but he wasn't on the radio yet so we worked on "Passion Whine," and we were like, Sean Paul would kill this, and it would definitely be good for radio. I flew to Jamaica, I put Sean on it, showed Sean the vision, because I've always worked with Sean over the years and he trusts my vision. Two weeks later, it was a smash. That was Farruko's real breakthrough song to international success and to America. From there it was a wrap. I always say that I always try and bring the dancehall culture, whether it's the artist or the beat, to the music I do. Almost all the collaborations I've done, there's always some form of my culture in there. I'm not trying to go into a genre to do their music, I'm trying to blend everything. I think music is limitless, where everybody can collaborate and once it feels good, it will work.
What's the biggest difference you've noticed when working between both genres?
They're pretty much similar in the culture and the people, but the difference is probably the Latin sector has a bigger industry — they have Sony Latin. Dancehall doesn't have a division of a major label. All genres to me are kind of the same. Even though I do Latin [music], I do trap music too. I don't see a major difference. Just the language is a little different.
What are your plans for the future?
Right now we're still promoting "Krippy Kush," because we did a remix with 21 Savage and Nicki Minaj. We shot the video so we're waiting on that, and they're going to put it on mainstream American radio. Then, hopefully, we feel it's going to blow up, and it will help my vision, where I believe music can be done with any and everybody, and we don't have to be stuck to a corner in genre. If it's good music and it feels good, it's what people want. It's not about politics, it's not about any of that.