Here it is: the only new Christmas music video you need this holiday season. In Marching Church's booze-soaked new visual, Iceage frontman Elias Bender Rønnenfelt slurs "it's Christmas on earth" while staggering along L.A. roads at magic hour, and sways alone in a kitschy living room decked with gilded garlands. It's a surreal and bittersweet vision, bringing out the loneliness that sometimes lurks during the most wonderful time of the year.
The video is the directorial debut from Sky Ferreira, who closes out a year of being in front of the lens — with parts in David Lynch's Twin Peaks and Edgar Wright's Baby Driver — with a first-time stint behind the camera. "I didn't want it to be a [typical] Christmas video," Ferreira said in a recent phone call. "There are elements of everyday life to it, but I wanted the video to have a magical quality to it, as well."
"Christmas on Earth" is a menacing yet pathos-driven tale of parental kidnapping at the holidays, but Ferreira and Rønnenfelt wanted to avoid a literal interpretation of the lyrics. "There is quite a clear story running throughout the song, but we chose to elaborate on the general atmosphere of the music," the Danish artist said. In the video, he's an electric presence. He ballroom dances along candy cane lane; he lies recumbent, legs splayed, on a car bonnet draped in fairy lights; he glugs vodka from the bottle and cozies up with an older dude in a Santa suit.
Watch the video, produced by The FADER, via the embed above, and read on for an interview with Ferreira explaining the hectic shoot day, the visual inspirations behind "Christmas on Earth," and her plans for an EP dropping in spring 2018.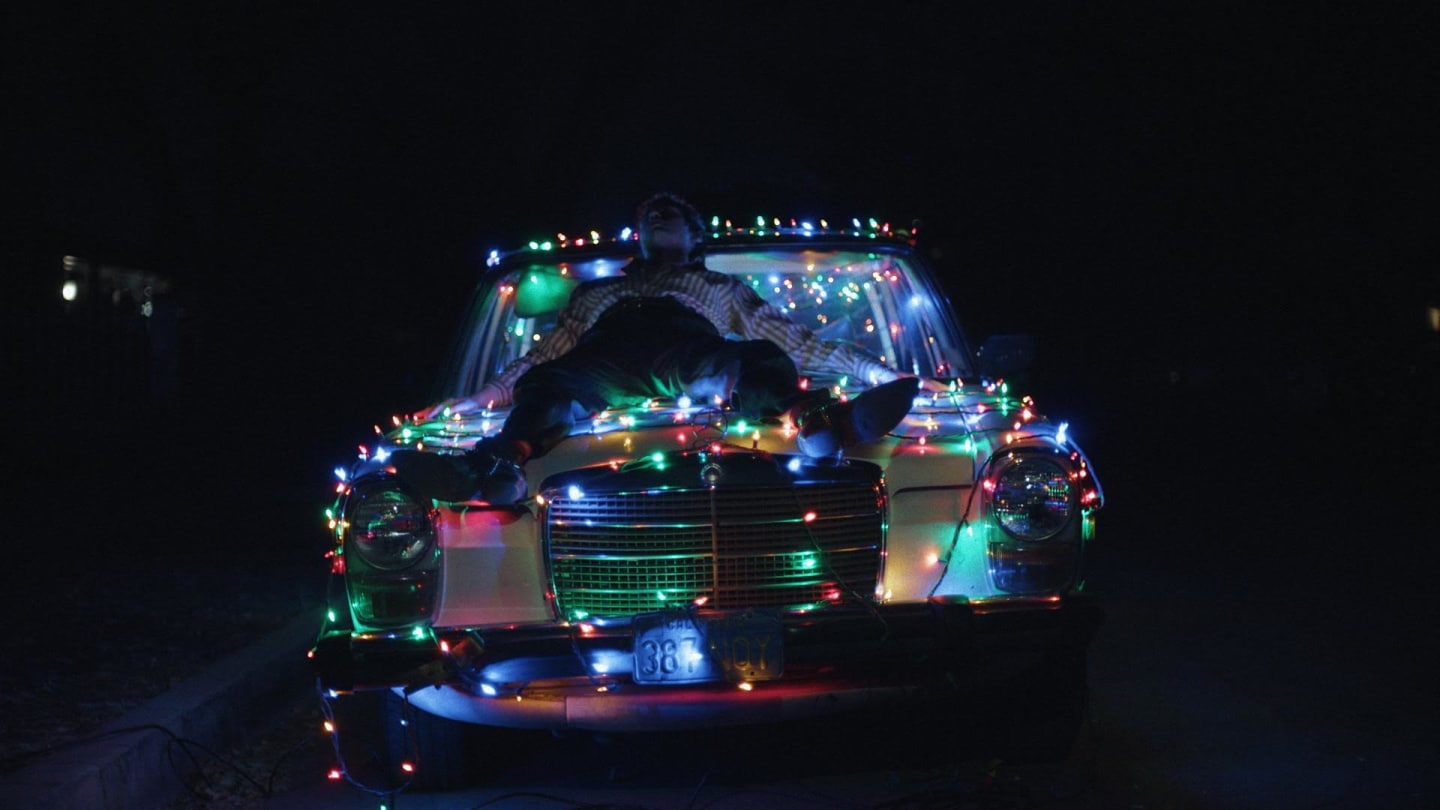 How did the idea for this video come about?
Me and Elias go back and forth between Denmark and L.A., and we were in L.A. and he asked me if I would make a video. I've been wanting to direct more in general; I know stuff from a bit of a technical level too. I'm heavily involved in my own videos, but it's always more of a collaborative thing. I saw the idea in my head. But by the time it was able to get made and we had the resources, I literally had 16 hours to make it. The issue became how to do it that amount of time — someone helped us wrangle the locations, and my friend got a strobe light.
What was directing Elias like?
It doesn't take much work with to someone like Elias. Obviously he looks fantastic in every shot; he makes it really easy. He's very charismatic, and that was the reason that I was able to do this kind of [DIY-style] music video. The way to get the best stuff out of him was to be hands-off, and just say little things like, "Stand over there," or "point your eyes in this direction" once in a while.
Were there any visual references for the video's style?
Even if it was bleak, I wanted to make it beautiful. The idea was mainly in my head, but the one thing I would [cite as a reference] is, in the Valley, there are all these lit-up houses, like the Griswold house or something. [laughs] There's one that I had seen that was kind of like A Nightmare on Elm Street. I wanted the video to feel real, and not too stylized. I had to make the living room we shot in a bit uglier. I didn't want to make it look like Mad Men. I added plastic [covering] to the couch to make it look more like a granny's house.
Even the motel room...you know in True Romance when Alabama gets beat up by James Gandolfini? That's the exact room that we filmed in, and I had no idea! It was a really funny and weird coincidence. And that's one of my favorite scenes ever — when she's covered in blood and laughing in his face.
Elias has a close relationship with the guy in a Santa suit — did you want the video to have a homoerotic element?
There could be a bit of romance! I see what you're saying, for sure. It was supposed to be a little bit of love, in any way. We're friends with [the actor] in real life, actually, and he's just someone that would do it and could deliver. I think Elias's scenes with him show a bit of the video's bittersweetness.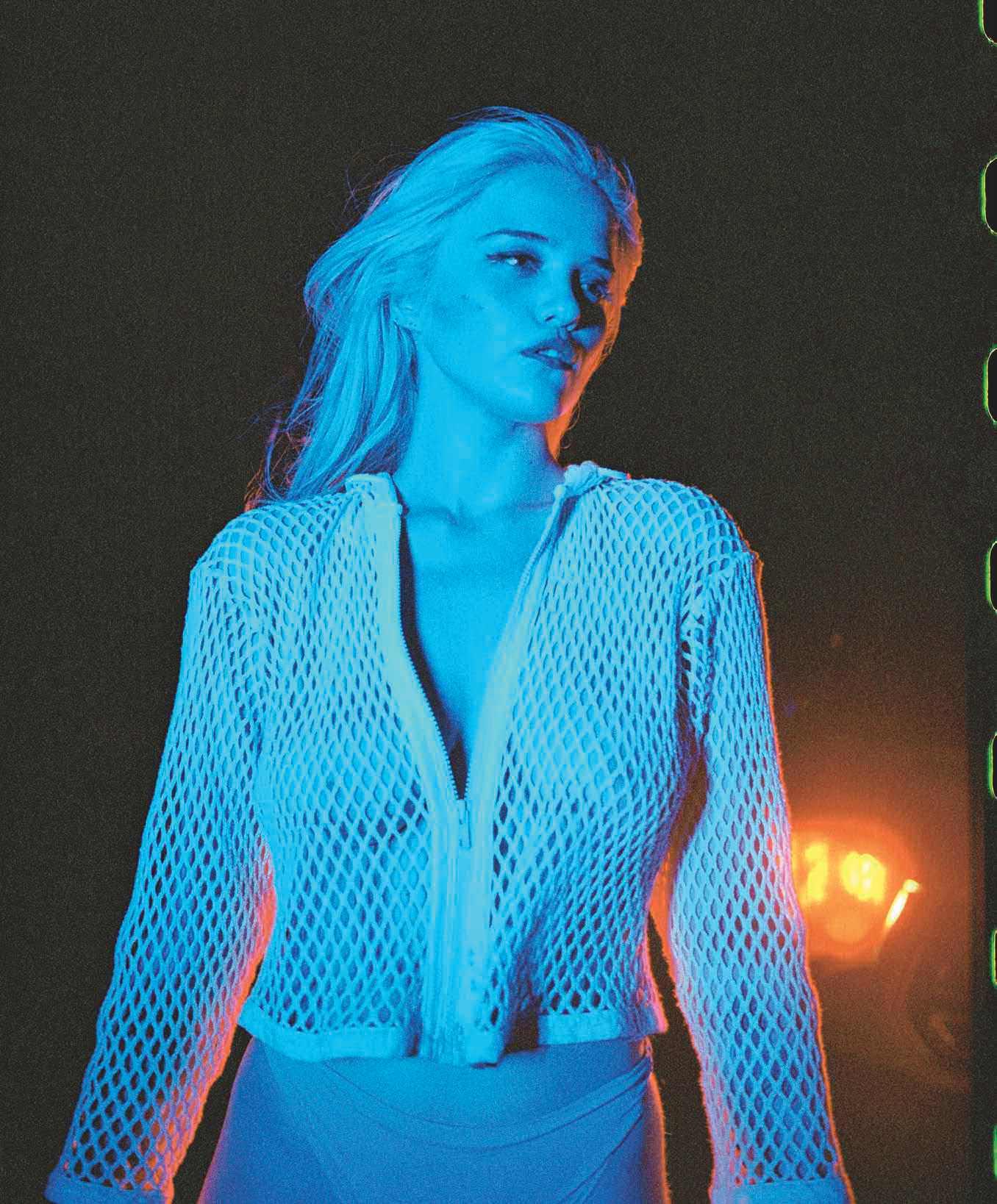 "Even if it was bleak, I wanted to make it beautiful."
Has your film and TV work this year inspired you to do more video projects?
Yeah. Well, I've always wanted to, I just didn't have the money. Also, there was a bit of self-doubt I was feeling sometimes [about directing]. I was nervous that people would roll their eyes if I was to direct something, thinking that I didn't know anything about it. So I've sort of been pulling back from [directing videos] when I could have done it, even though I knew I was ready to. It was just a matter of who I was going to do it with, and how.
I've worked with quite a few directors that are in a league of their own, but the one thing they have in common is that their voice is always present in their body of work. It is always them. David Lynch has always been a big influence on my life, since I was 15 years old. There's no one that does that better than him.
I can see a Lynchian vibe to this video.
I think my work will always have a bit of him in it, even if it's not in the most obvious way. He's the ultimate goal for me, in terms of the kind of artist I want to be. His work comes from the core of himself, and even if you don't understand it, you can feel it. He's open to his surroundings, and he knows what he wants.
With David Lynch, sometimes it doesn't make sense to you in that exact moment. On Twin Peaks, you get the scene two days before. I didn't know my [character's] name until I got on set the first day. It's kind of daunting, but it forces you to work out of a different part of your brain. You're just doing exactly what is in front of you. I would walk [off set] and not really know what I said, but it started making sense as time went on. That's what I love about his work — I can always interpret it in different ways. It always has new meaning.
When can we expect to hear new music from you?
I'm going to put out a series of songs before my album. I have been dealing with health issues, so I don't feel ready to put out an album, because it requires a lot more [work]. It's an EP that is heavily visual, and the videos will all connect to each other in an abstract way. The visual component isn't necessarily a concept, it was more of an excuse for me to make videos for all the songs. [laughs] I do think my songs stand on their own with or without a music video, but I feel that my work represents me more when I get to do the visual stuff [too].
It'll be starting to come out in February, or March, for sure. There's a group of people I'm working with, and it's exciting because I've never written with so many girls before. There's a girl that's writing the EP with me. There are very specific things I wanted to write, and I could write on my own, but I knew she could bring another element of what I wanted to the music. I am experimenting a little more, and that's why it's an EP, too — [so I can] have fun with it.