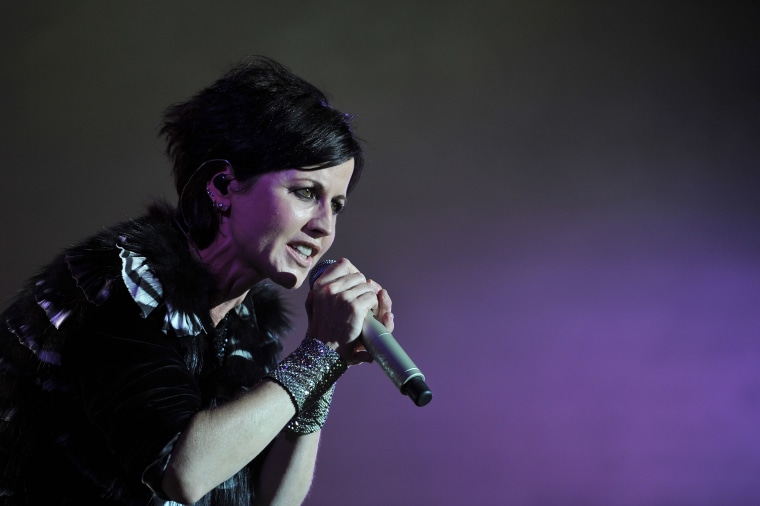 Tributes from across the world of music have been paid to The Cranberries singer Dolores O'Riordan, who passed away on Monday. O'Riordan's body was found at a hotel in London, her death is being treated as "unexplained" according to police.
The remaining members of the Cranberries, Noel Hogan, Mike Hogan, and Fergal Lawler, shared the first tribute to their band mate.
We are devastated on the passing of our friend Dolores. She was an extraordinary talent and we feel very privileged to have been part of her life from 1989 when we started the Cranberries. The world has lost a true artist today.
Noel, Mike and Fergal

— The Cranberries (@The_Cranberries) January 15, 2018
Producer Stephen Street, who worked with the band on their 1993 debut album Everybody Else Is Doing It, So Why Can't We? and again on their second album No Need to Argue, followed.
I have just heard the new regarding #DoloresORiordan I need a little time to process what has happened. Suffice to say, I am very sad to lose someone who meant so much to me and to many people across the world. RIP my songbird

— Stephen Street (@StreetStephen) January 15, 2018
Perhaps best know for their songs "Zombie" and "Linger," the group went on to sell over 40 million albums worldwide over the course of its career. The Cranberries released three more albums following No Need to Argue before taking a break in 2003. O'Riordan went on to record two solo albums until the band reformed in 2009.
In 2017 the group released Something Else. However, a European tour was cut short due to O'Riordan suffering from a back problem while a run of U.S. dates were cancelled on her doctor's orders.
Many musicians, including Adele, Duran Duran, and Questlove, have paid tribute to the late singer following her death. Read on for a selection of the messages.
Delores O'Riordan ❤️ pic.twitter.com/HnRcn2ULMQ

— Adele (@Adele) January 16, 2018
We are crushed to hear the news about the passing of Dolores O'Riordan. Our thoughts go out to her family at this terrible time. https://t.co/6p20QD2Ii5 pic.twitter.com/vXscj0VGHS

— Duran Duran (@duranduran) January 15, 2018
Dolores O'Riordan's voice helped me understand my place in the world. Blasting linger a little louder today pic.twitter.com/JvoqRT5imP

— Maggie Rogers (@maggierogers) January 15, 2018
Devastated for fans and her family- Dolores O'Riorden had such an exquisite voice, so distinctive and defining of an era. She would have continued to be a rare musical treasure late into a long life #gonetoosoon https://t.co/2QH2cPgRf6

— Liz Phair (@PhizLair) January 15, 2018
My first time hearing Dolores O'Riordan's voice was unforgettable. It threw into question what a voice could sound like in that context of Rock. I'd never heard somebody use their instrument in that way. Shocked and saddened to hear of her passing, thoughts are with her family.

— Hozier (@Hozier) January 15, 2018
REST IN POWER #doloresoriordan - a voice like no other, a beauty like no other, a fierce resister that inspires all of us. 👑 pic.twitter.com/RExVMBnTbg

— Margaret Cho (@margaretcho) January 15, 2018
I'm sad to hear of the passing of Dolores O'Riordan RIP.

— Zane Lowe (@zanelowe) January 15, 2018
So sad to hear of Dolores O'Riordan passing. I remember as a young girl, hearing The Cranberries for the first time and wanting to be just like her.

— Michelle Branch (@michellebranch) January 15, 2018
So saddened to hear about the sudden death of Dolores O'Riordan. Our sincerest condolences to @The_Cranberries and all of her loved ones.

— Garbage (@garbage) January 15, 2018