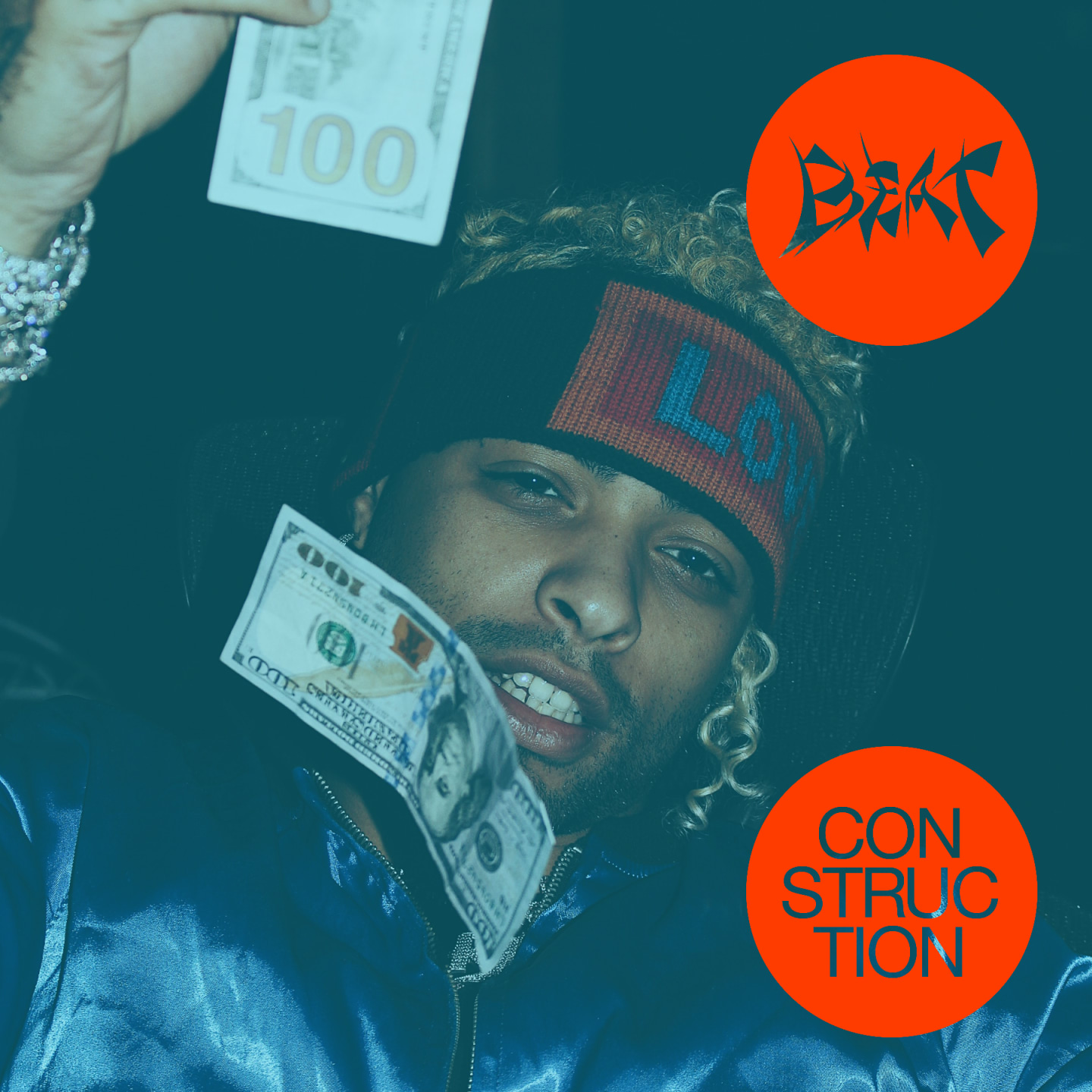 Over the past few years, no rap producer's name has been more synonymous with distortion than Ronny J. Though born in Camden, New Jersey, the 25-year-old is best known as the sonic anchor to South Florida's rambunctious hip hop scene. There, he found a kindred spirit in Carol City rapper Denzel Curry, and together they pushed the natural limits of loudness with songs like "Threatz" and "Ultimate." Those tracks would go on to rack up millions of Youtube views despite — or perhaps because of — their abrasiveness and, in the process, they set the decibel level for an entire generation of SoundCloud rap oddballs to follow.
Since then, he's been creating similarly cranked bangers for the likes of Smokepurpp, Bhad Bhabie, and Lil Pump while also prepping his own solo project, Oh My God Ronny, on which he'll be rapping as well as producing. We recently caught up with Ronny to talk about growing up in the church, punching holes through doors, and why it's bigger than beatmaking.
Can you tell me a little about your early musical influences?
I remember being like five years old, taking out the pots and pans from the kitchen and setting them up as drums. That turned into my mom and dad buying me drum kits. Then the older I got... I grew up in church and stuff so I used to play for the choir, stuff like that. Basically I grew up on Christian music, church music. I didn't grow up on 2 Pac and Biggie and all that. Respect to them though, and all the greats.
Who were some of the Christian artists you were listening to?
Uh... like Donnie McClurkin, Fred Hammond, stuff like that.
When did you start getting into rap then?
It was around middle school. I started growing up and I was able to make my own decisions, whether or not I wanted to go to church or not, stuff like that. I had more freedom to do shit on my own. I just remember every summer I would watch music videos. The first album I ever bought was the Clipse album [Lord Willin'] with "Grindin'" on it. That beat was just so amazing.
You played in your high school band as well, right?
I was in concert band in middle school. In high school, I was in marching band for like two years. I ended up quitting my sophomore year only because [of] my homie Good Work Charlie [aka Charlie Heat], who's another producer, that was like my best friend growing up. He was in the marching band with me. We both ran it basically. But he was two years ahead of me so once he graduated I was just like, Yo fuck this band shit. It just became wack.
When did beatmaking come into play?
I started making beats in like the end of 2011, very early 2012. I started on Reason. Good Work Charlie came and put Reason on my desktop computer. Then I ended up buying a Macbook off of eBay for like $500 and that was when I got into Logic. I was literally at it every single day, I wanted to master it. I wanted to create something that people felt like they needed. So in order to do that I understood that I had to put in mad time. 10,000 hours or whatever the fuck people say. So for a very long period of time I thought I'ma focus on mastering a sound. I made sure I had the product and then I went into the field — I went to war.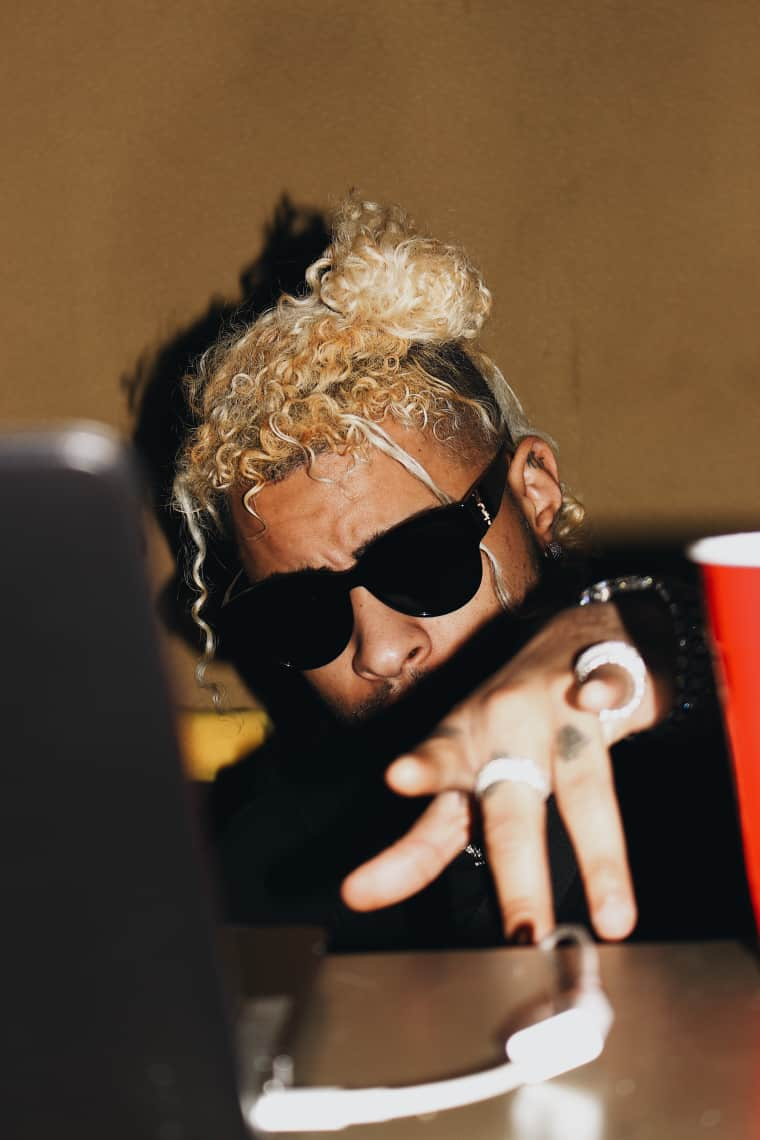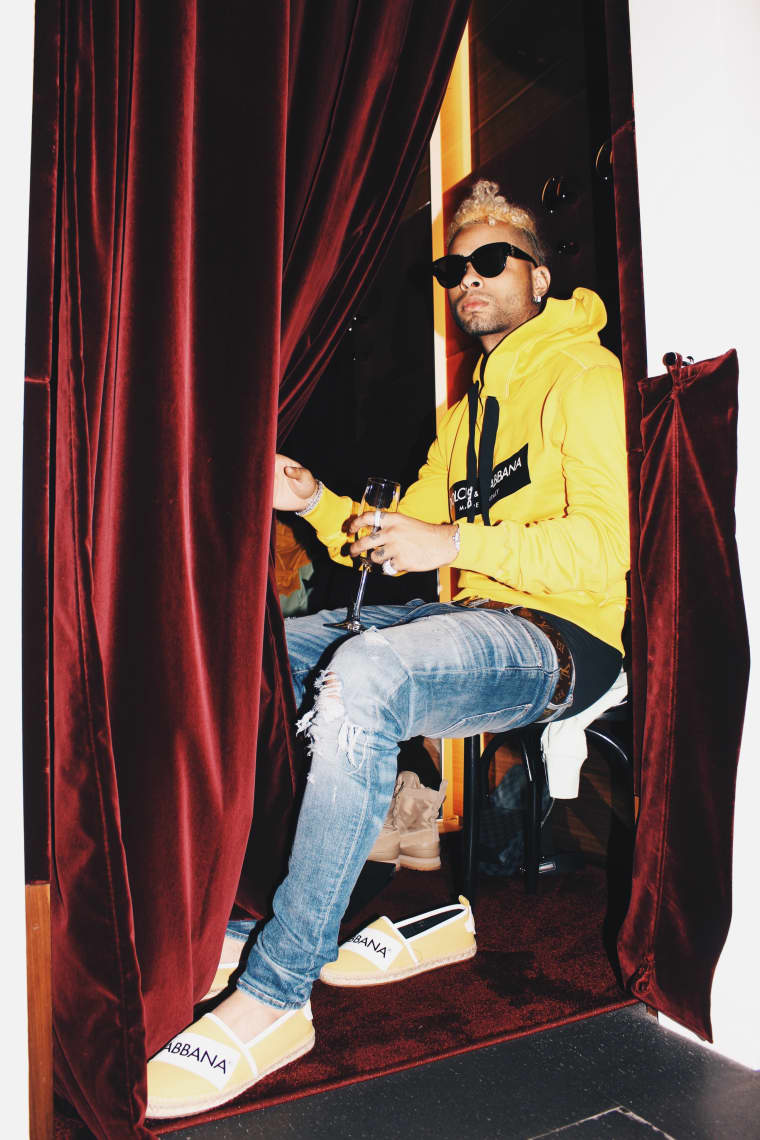 "To be honest, if [you] really want to be a legend, don't ever make a "type beat'."
Now how did you go from having a laptop full of beats to getting them in the hands of artists?
Basically what I did was...straight out of high school, [in] 2010, I came to Miami for college to a college out here. I didn't like the school, but I definitely loved Miami, and I noticed that [there were] more opportunities. I didn't look at Miami as a music place but my thing is... I'm from Jersey so... anything out of Jersey is way better. And I wanted to start something of my own rather than trying to go where the hype was. When I first came here I wasn't even making beats. I was going to school for criminal justice. I didn't know what I wanted to do. To be honest, my dream was never to be a producer. I was never a nerd, no offense to nerds or nothing like that, but I never wanted to be on the computer all day. But then I understood you can make something out of it, you can make it cool.
For a while I didn't really know anyone. Basically one of my friends, he knew of Denzel Curry. Then he met Denzel and ended up linking us up and the rest is history. I kept going hard, kept with my grind every day. I was still trying to do school but it got to the point where I was literally going to school just to have a dorm to sleep [in]. I never lasted in the school more than one semester. Honestly I was never able to afford to go back anyway. It was always a struggle down here, I don't have no family down here. I still don't to this day. I'm down here by myself, it's crazy.
It seems like you and Denzel went in and basically invented a whole subgenre off a couple songs.
Exactly and it was natural. The whole distorted thing... we never sat down and said, "You know what we're gonna distort shit." I don't work like that. I appreciate all the people that are making "Ronny J Type Beats" but bro to be honest if [you] really want to be a legend don't ever make a "type beat." Make your own beat. You don't have to put this in the interview by the way.
You sure don't want me to put this in there? Because that is really good advice!
Nah 'cause the ["Ronny J] type beats" is promotion.
I don't think you have to worry about this interview putting an end to the "Ronny J type beats."
Alright, fuck it, put it in. But I don't want to be like nobody. I don't want to be no clone, I don't want to be nobody's background dancer. I'm me, bro. However, I do get influenced by [other producers]. I love Southside, Metro Boomin. All these niggas, they hard. But of course I think I'm the best.
What do you think it is that draws people to that heavily distorted sound?
Kids just want to go crazy now. And it's all about the kids. The more time goes on the younger our listeners are. The younger kids are doing drugs and all this crazy shit. A lot of my fans are kids. Everybody nowadays wants to go crazy. And I want to go crazy too! I love going to raves, bro. EDM raves, I fucking love it. We just fucking go crazy . It's just like the music... AWW. Hard hitting, fast shit. I love it. At the end of day that's just who I am. I literally just put a hole through my door right now.
Doing what?!
I don't know. I just got mad, so I hit my door and put a hole through it. That's not the best way to handle things but I feel like it comes out in the beats.

On the subject of EDM, you've been doing some work with Skrillex?
Yeah, I love Skrillex. That's my brother. He's so cool and so humble and he has so much. Like bro, this nigga had a crib in the hills it was like...four stories high. The studio was underground. There were four different studios in there. He's just a real inspiration.
What's your process when you get into the studio with another producer like that. How do you divide the labor?
A lot of times people just want me to do my drums on their stuff, do post-production type shit. And I'm okay with that because I'm a drummer. That's my strong point. But with him...How did we collab? We definitely made [some] shit in person. He'll have an idea, then he'll send me the idea and I'll load it up on my computer and I'll just add and take away. Then we'll just bounce back and forth. Whoever I collab with they just let me do my thing because they believe in it. They believe in my ear and the sound.
Do any artists ever struggle to rap on your beats? Or do they ever tell you that you've gone too far left-field with the sound?
Nah, nah, nah. At this point it's demand. It's like crack, it's like dope. I need it, I need it. Every day I'm getting hit up. I could wake up and be like, "Oh I want to make money today, let me get a placement." I'm not bragging, but this is motivation. I'm thankful for it too. I don't take advantage of it. I want longevity. This is not some quick, in and out shit. Even the sound that I have right now this shit might not always be the sound. I can't tell you. You never know. I might switch it up. I already switched up.
How do you choose which rappers to work with?
Anybody that has good energy, they could get a Ronny J beat. We could definitely make some shit happen. I'm working with almost everybody - Swae Lee, Travis Scott, X[XXTentacion], Lil Xan...
You're a little older than a lot of the artists you produce for. How does that affect the way you guys work?
It's kinda regular. Bhad Bhabie — she's 15 but she talks about grown up things. She's crazy. All these kids are like little grown ups. You [would think] that they're 18 or 19 just by their actions. I don't come in trying to play dad or nothing like that but I definitely have more life experience, I can for sure shed light on them and give them advice. But it's not like weird or nothing if that's what you're thinking!
Back to the beat making side of things do you use a lot of other gear or are you just in your laptop?
Oh, I don't use anything. I literally just make beats on my laptop. I use laptop speakers for the most part, honestly. I've done it so much to the point where I know exactly what the levels should be.
What's the story behind the "Oh My God Ronny" drop?
I was in L.A., and I was at a house party and there was this little blonde girl there. One of my homies just told her to say "Oh My God Ronny" on the mic. She said it one or two times and I was like, Yo fuck that, I need that, that could be a tag. It's lit. It's the calm before the storm.
So tell me about this new solo project you're working on?
Oh My God Ronny was originally supposed to be a compilation of all the South Florida artists I've been working with. But then I ended up signing with Atlantic Records as an artist and so the whole direction kinda shifted a little bit. Once I signed, it was like, OK Ronny, you might as well just introduce some of your own records on there as well. So, basically, what I did was I'm doing a couple of features then you'll also get songs from me, dolo. It's just an opportunity for people to see me as an artist, not just a producer. I bring so much more to the table - ideas, hooks, songs, all that shit. I don't even really call myself a producer. I can paint, I used to want to be an architect, I'm an artist overall. But you can call me a producer for now.