How 03 Greedo became a living legend
At home with the leader of L.A.'s rap renaissance.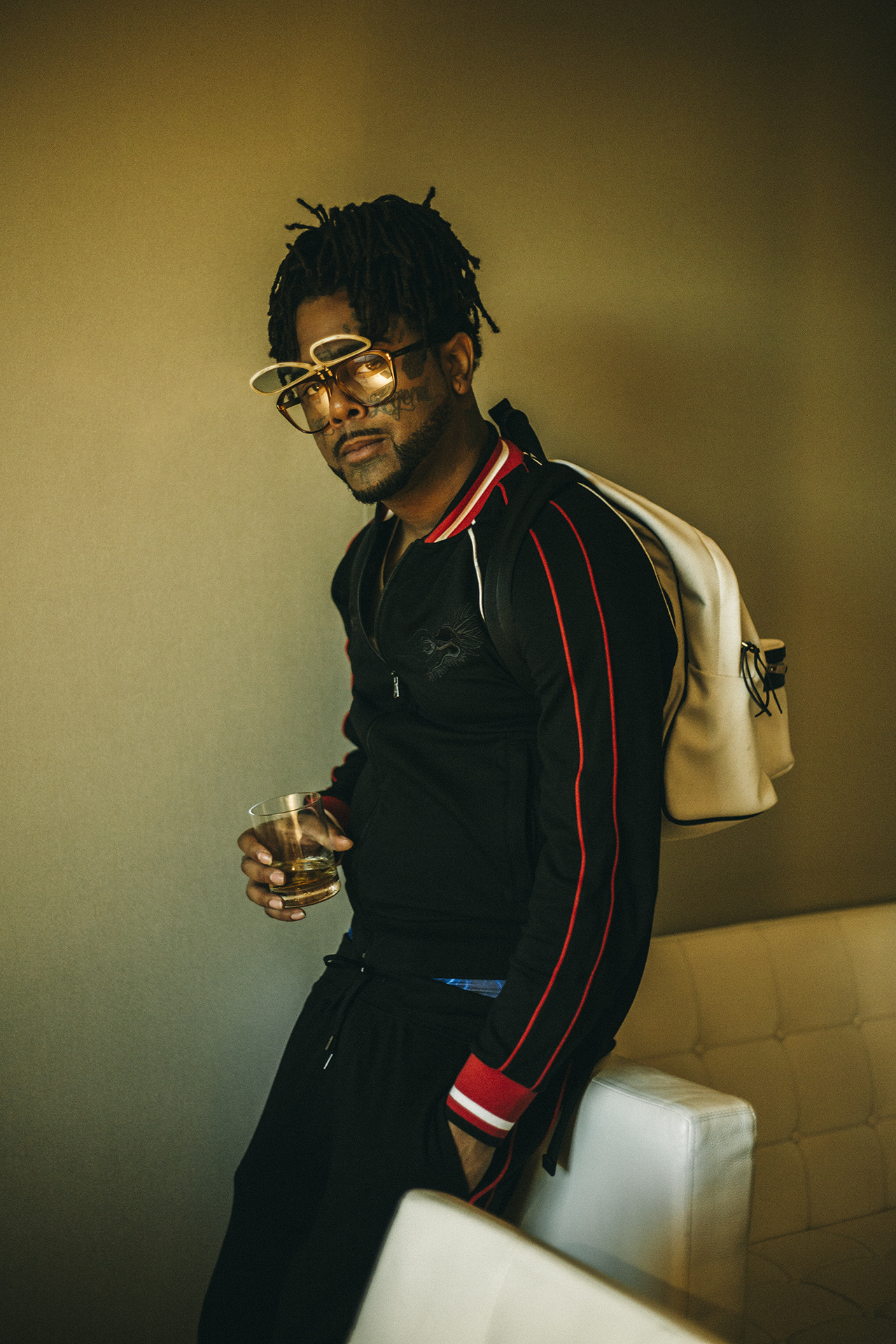 The FADER's longstanding series GEN F profiles emerging artists to know now.

Eleven years ago, the Los Angeles rapper 03 Greedo had a face fit for a boy band. This was just before he got the words "Living Legend" inked below his eyes in large, gaudy cursive. He didn't yet have the spindly dreadlocks that occasionally fall down the front of his face, he hadn't been shot in the leg, nor had he served the majority of the sporadic jail terms that would later delay an extremely promising rap career. "I got this when I knew I was a living legend off some street shit," the 30-year-old rapper says. "This was some blatant shit to do. This was some, Nigga, I ain't gotta work!"
Speaking over coffee in the back corner of a French café on La Brea Avenue, Greedo's aesthetic is aggressively conspicuous: gold-framed eyeglasses, a navy blue Moncler bubble jacket and matching skit hat, distressed denim, and a pair of Gucci boots with red and green tweed and a buckle across the toe. All of his visible teeth are covered with bright gold caps.
03 Greedo is roughly three weeks out of jail, released on Christmas Day after being locked up for missing court dates. Unfamiliar with the specifics of his case, I ask if his legal troubles are behind him. He breaks into a pained smile and gives a slow, deep shrug. "I got the money now and that's why I was able to come home," he says. "I realized jail isn't about the conviction, it's about the fucking money."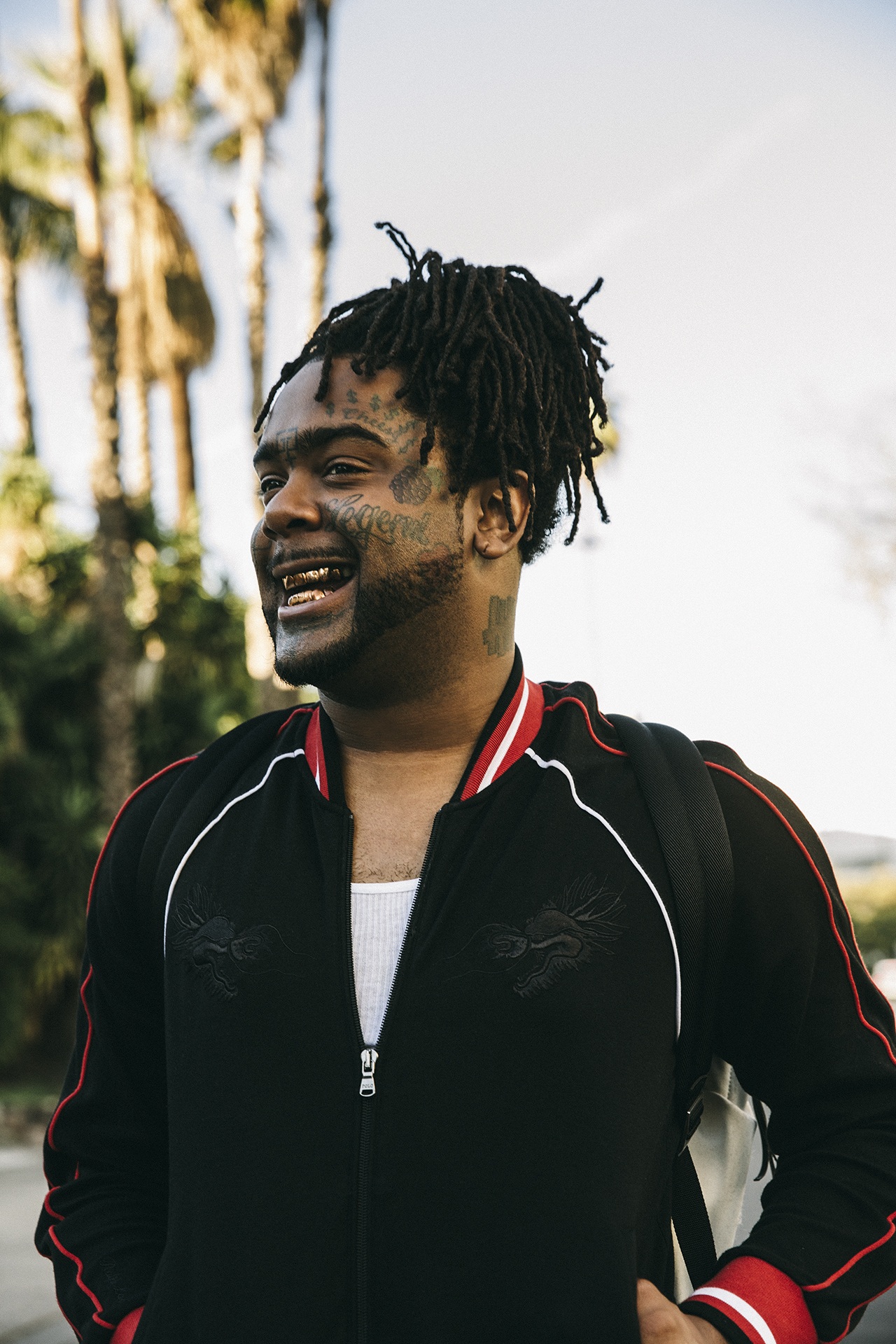 Greedo's star has been rising since late 2016, and this past December he signed with Todd Moscowitz's Alamo Records. He released three projects in 2017: a 33-song tribute to murdered friend and rapper Lil Money called Money Changes Everything; the 37-track Purple Summer 03: Purple Hearted Soldier; and First Night Out, the shortest and most recent of the bunch, recorded the same night he was released from a stint in jail last fall. "At one point somebody shot my house up after I made First Night Out," he says, explaining how success has only provoked more issues. "It just be hating ass shit."
Though billed as his R&B project, First Night Out doesn't deviate much from a great deal of Greedo's catalog: it details the complexities of street politics and their often tragic ends. A lot of his early work in the late '00s, though less experimental, bears his trademark degenerate charm, his gift of gab, and his ability to find unique pockets in production, a lot of which he was responsible for himself. The most notable example might be 2016's "Mafia Business," a song Greedo created as a tribute for fallen friend and Watts OG, Raymond Lee Arnold, a.k.a. Mafia Ray. On the song, Greedo repurposes his friend's best-known catchphrases, upholding him as a bastion of honor over an eerie synth warble and some sparse drum kicks. It's essentially acid G-funk. The video — which features Arnold's family and friends in the Jordan Downs housing projects, singing along with a cardboard cutout of their dearly departed friend — is a thing of unique beauty.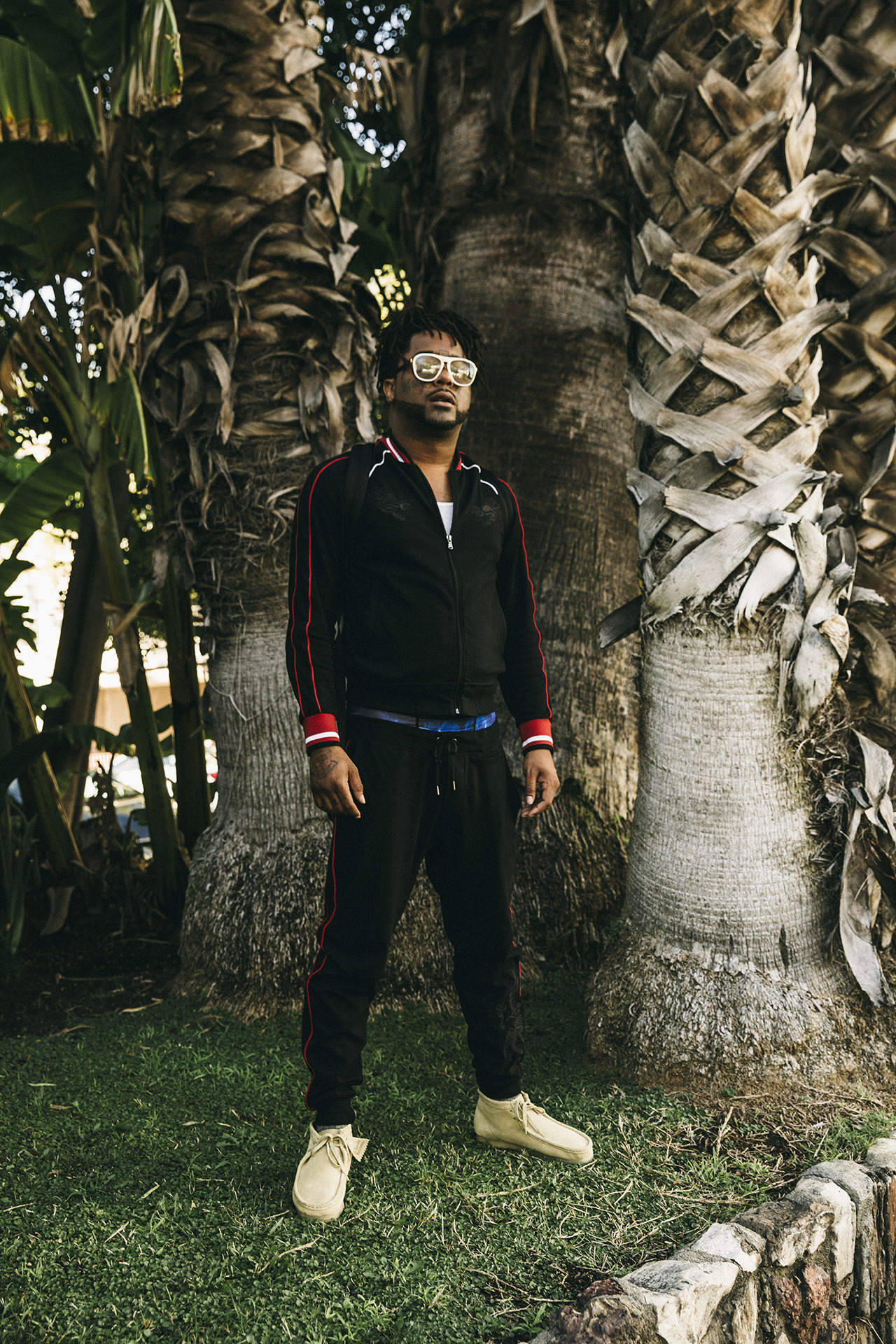 "I realized jail isn't about the conviction, it's about the fucking money." — 03 Greedo
Melody is very nearly a requirement for rappers in 2018, but Greedo's penchant for singing predates the trend by some decades. "I used to listen to Stevie Wonder like a mothafucka," he says. "Cause he had a nasally voice, and when I was young, I had bad ear infections so I got a fake eardrum. That's why my voice nasally like that, 'cause I'm partially deaf." He can't sing in the traditional sense, but he's got a melodic whine, plus a knack for slick (and sometimes nasty) turns of phrase that recall currently incarcerated East Coast cult hero Max B. First Night Out's opener, "Like a Nigga," is a remix of Kacy Hill's minimalist ballad, "Like a Woman". Greedo, an apt producer himself, inflates DJ Mustard's subtle synth twangs into speaker-rattling blaps, layering his slurred howl over Hill's voice to pledge his adoration to a lover, wondering, "Are you just here cause I'm a drug dealerrrrr?"
In a recent video for the "No Good Freestyle," Greedo roams the same old Jordan Downs housing projects with a pint of cognac in hand. At one point he makes a bee line for an incarcerated friend's house, waking the same friend's mother to break the news about his deal and gift her nearly a thousand dollars. "I remember being mad in these bricks, sad in these bricks, scared in these bricks, happy in these bricks, horny in these bricks," Greedo says, the music stopped. "I don't care what y'all try to take from me, I really lived this Grape Street shit."
Watch 03 Greedo's "Never Bend" video:
From The Collection:
GEN F