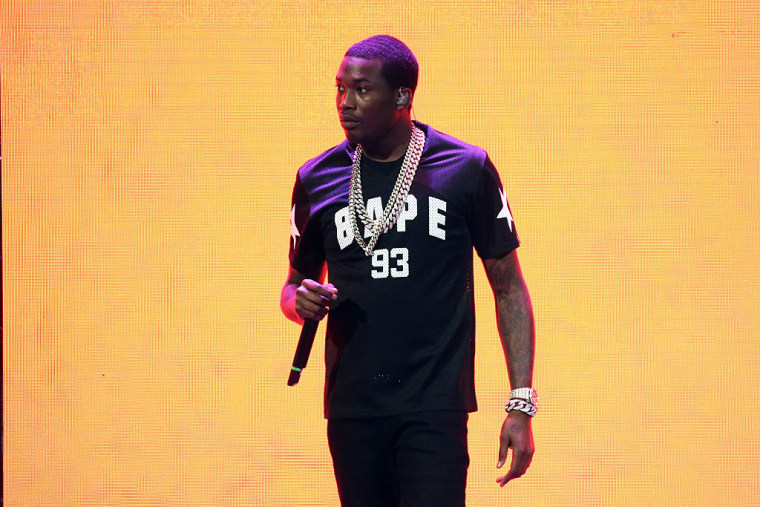 A new Rolling Stone interview with Meek Mill contains previously unreported information on the legal career of Judge Genece E. Brinkley, the Philadelphia official who convicted Meek Mill ten years ago on gun and drug charges, and continues to oversee his probation.
Detectives from Quest Research and Investigations, a firm focusing on wrongful convictions, discovered purported correspondence Brinkley allegedly initiated with a witness in a case unrelated to Meek Mill's. In 2010, Brinkley launched a civil suit against Richie Pacell, a detective and part-time construction worker Brinkley hired to build an addition on her house. Brinkley alleged that Pacell had been "burglarizing her house to take back his tools," after she had fired him, though police found no evidence of a break-in and a complaint Brinkley filed with Internal Affairs was dismissed.
Bill Nicholson, another worker hired by Brinkley, claims that the judge sent him an email attachment with questions she would ask him in small claims court, along with the answers she expected him to deliver. Nicholson says the answers, which were reviewed by Rolling Stone, contained falsehoods. If the allegations are true, Brinkley's message could constitute "subornation of perjury. It's a felony-level offense in any state," according to a legal expert consulted by Rolling Stone.
Brinkley is also a landlord, owning several properties in Northern Philadelphia. Rolling Stone spoke with former tenants, who allege neglectful and litigious behaviour from Brinkley who was the plaintiff in many of the "dozens of civil lawsuits" found on Brinkley's record. They include: a woman named Anna Torres who sued Brinkley for damages after her one-year-old son was diagnosed with lead poisoning, and building inspectors found "dangerous levels" of lead in her apartment. Brinkley sued to evict Torres in 2007. Torres alleges that a Brinkley courtroom staffer tried to intimidate her over the telephone, saying "Don't show up in court. You are going to lose, because she knows people in the system." Brinkley declined to comment when reached by Rolling Stone.
In 2017, Brinkley sentenced Meek Mill to two to four years in prison for probation violations, sparking public outcry and newfound interest in Meek Mill's decade-long struggle with the parole system. Meek Mill's lawyers have repeatedly petitioned for Brinkley's removal, alleging that she asked him to remake a Boyz II Men song for her and citing an ongoing investigation by the FBI.
In February, it was revealed that the arresting officer in Mill's original 2007 case, whose testimony led to the rapper's imprisonment, was on a list of "tainted" police officers kept by the Philadelphia District Attorney's office. These cops were discouraged from testifying due to "a history of lying, racial bias, or brutality." After the news broke, Meek Mill's attorneys filed a Post-Conviction Relief Act petition for the rapper, asking for his release on bond.
When reached by The FADER, Meek Mill's attorney Joe Tacopina issued the following statement:
"Today's article in Rolling Stone provides further independent corroboration of the numerous troubling aspects of Meek's wrongful imprisonment based on the conduct of the arresting officer Reginald Graham and Judge Brinkley, and again points out the need for Meek and others wrongly sitting in jail to immediately be released from prison on bail, and for their convictions to ultimately be overturned."