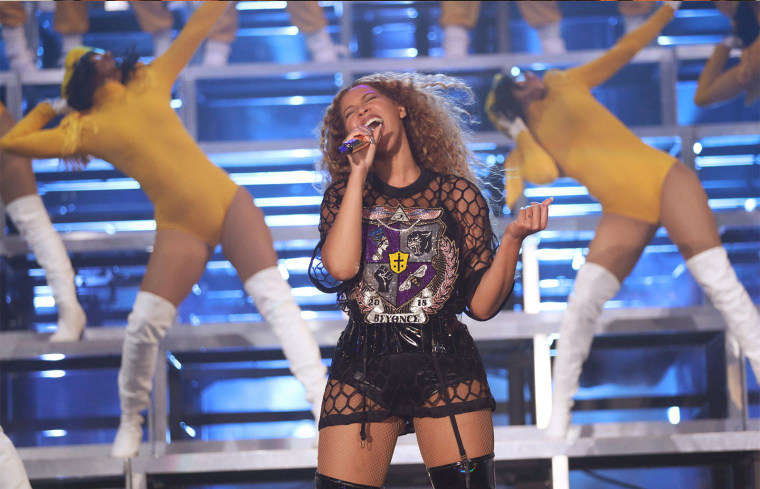 Beyoncé made history as the first black woman to headline Coachella on Saturday. The set, postponed from the year prior, saw Beyoncé dance with Solange and reunite Destiny's Child as well as preview this summer's On The Run II tour with brief cameo from JAY-Z.
Addressing her ground-breaking status during her set, Beyoncé said: "Thank you Coachella for allowing me to be the first black woman to headline. Ain't that 'bout a bitch?" She then praised those who went before her. It capped an instantly iconic live performance and one that represented Beyoncé's return to the live arena for the first time since she gave birth to twins, Rumi and Sir Carter.
The stage was filled with a marching band and huge numbers of dancers with Beyoncé opening with "Crazy In Love." Dressed in a bright yellow hooded top twinned with denim shorts and silver-fringed boots, the opening section of her set focused on 2016's Lemonade with "Freedom," "Formation," and "Sorry" all featuring early on. During the latter Bey interrupted the song to ask women in the crowd and audience watching at home, "Are we smart? are we strong? have we had enough?"
JAY-Z did not appear for either "Crazy In Love" or "Drunk In Love" with the latter performed from a crane suspeded high above the Coachella crowd. "Drunk In Love" also saw Beyoncé interpolate Nina Simone's "Lilac Wine" into the track. Hov did eventually make an appearance too, stepping out on stage to perform 2006 single "Déjà Vu."
Never scared to make a political statement through live performance, the Coachella set included a snippet of Malcolm X's Who Taught You To Hate Yourself speech during "Don't Hurt Yourself." Bey also performed James Weldon Johnson's "Lift Every Voice and Sing," often referred to as the "Black American National Anthem, during the opening section of the performance.
After JAY-Z, the guest second guest stars of the night were Kelly Rowland and Michelle Williams. The first Destiny's Child performance in over three years saw the trio play "Lose My Breath," "Say My Name," and "Soldier" together. Younger sister Solange also joined the party, dancing on stage as the marching band performed the Timbaland remix of "Get Me Bodied."
"I was supposed to perform at Coachella before but I ended up getting pregnant," Beyoncé said before finishing with "Love On Top." "I had time to dream with two beauitful souls in my belly and this this is everything I dreamed of and more. I hope y'all enjoyed the show, we worked very hard."
However, it was the isolated voice of DJ Khaled which perhaps summed up the historical nature of the headline set the best. Mid-way through the performance his unmistakable voice cut through the musc and said: "After Coachella perform they gotta rename it Beychella."
Check out Beyoncé's full Coachella setlist now.