Ty Dolla $ign is still the hardest-working man in music
Dolla took his first-ever vacation this year. He definitely earned it.
Ty Dolla $ign is at lunch at West Hollywood's Sunset Marquis Hotel when inspiration hits. "I study music and it doesn't matter what situation you throw me in," he says, pausing to acknowledge the charging guitar line of Bachman-Turner Overdrive's classic rock staple, "Let It Ride," seeping from the restaurant's speakers. "Like even if it's this shit right here. I could come up with a hot-ass verse to this shit, or a hook or the guitar part, whatever you want to do."
We've been discussing his versatility as a feature artist and songwriter and Dolla is nonplussed at any perceived lack of acclaim. His Beach House 3, one of 2017's most complete albums (and somehow made even more complete with a new deluxe version) didn't manage to lift his profile much higher than it already sat. Confoundingly, his ability to bounce between moods and genres — for example, 2 Chainz's traphouse love ("Lil Baby"), the pop balladeering of Nick Jonas' "Bacon," Wizkid's groovy afrobeats ("One For Me"), LeCrae's trunk-rattling gospel ("Blessings"), or the minimal slap of Fifth Harmony's "Work From Home" — is far less acclaimed than that of, say, a Charli XCX (who Dolla has, of course, also collaborated with).
Dolla doesn't order any food despite having squeezed a workout in this morning, a daily necessary evil for maintaining the shredded abdomen he flexes regularly on Instagram. His chest-length dreadlocks are dyed bright green, his fingernails are painted black, and white diamonds twinkle loudly from a bevy of necklaces that rest atop a form-fitting nautical shirt.
Our location, renowned for a continuous influx of celebrity clientele, is a business-convenient home away from Dolla $ign's actual home in Long Beach, and the place where he stays when needs to bounce around LA proper for days at a time. Later this evening, he'll play the final show of his Don't Judge Me Tour at downtown venue The Novo. And then he'll host a private birthday dinner and afterparty that will bring out his TGOD label boss, Wiz Khalifa, frequent collaborators YG and DJ Mustard, a host of assorted family members, and his girlfriend, Fifth Harmony's Lauren Jauregui. He's got a long day ahead of him, but in the moment he seems happy to be back home.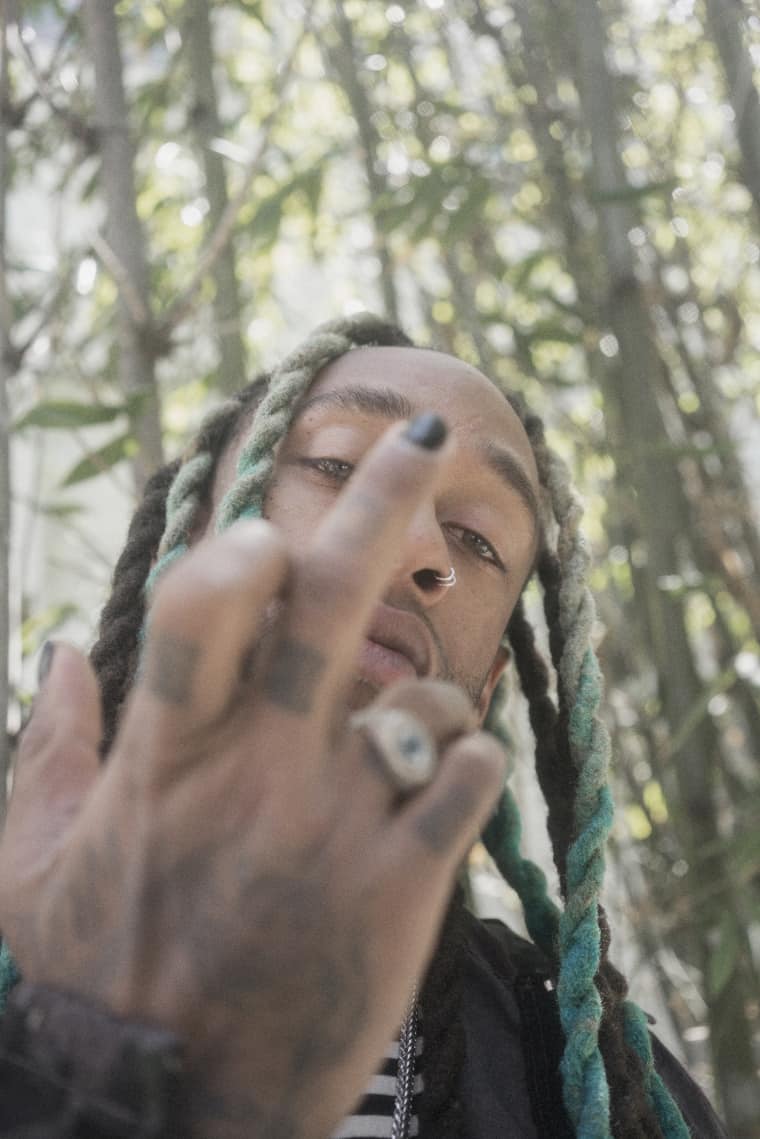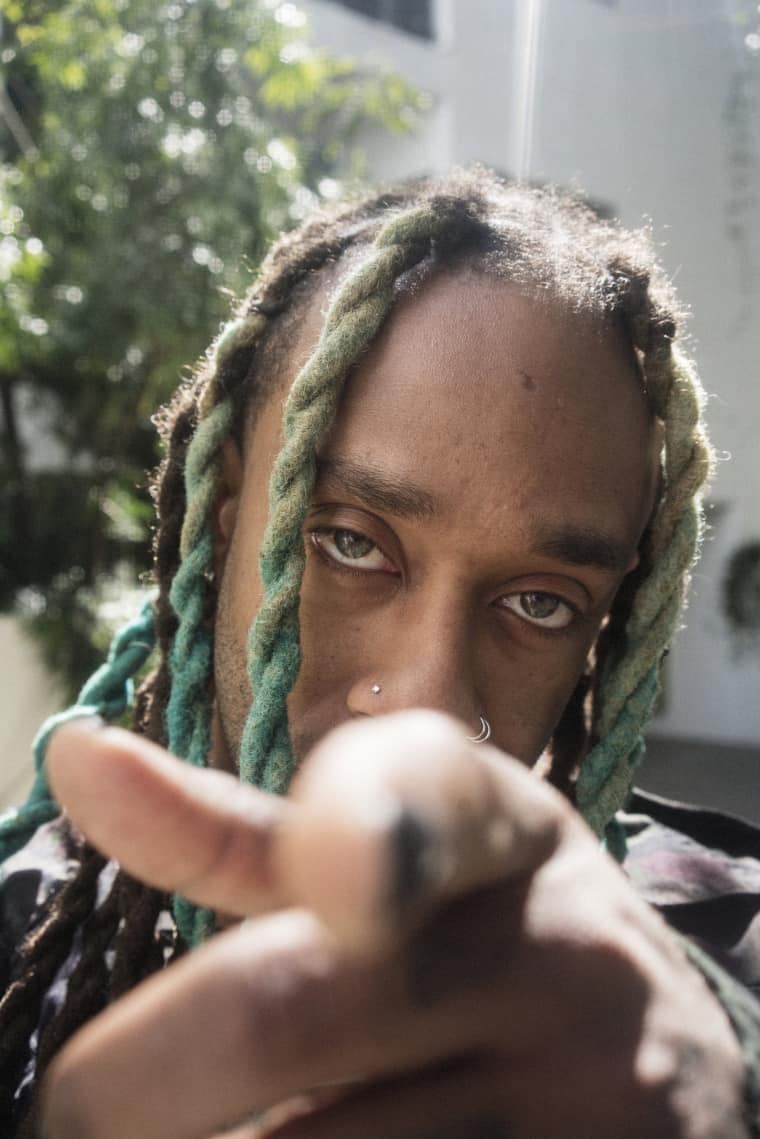 Is being in L.A. hectic for you?
This is the first part of the day where my phone hasn't been going crazy, and that's good for this interview, but all day long it's been going nuts and I haven't answered it once. That's what happens at the L.A. show. It's not personal, guys, whoever's reading this! It's just, you know, go buy a ticket, my nigga. I know it's sold out and all that but you knew it was coming so you should have been on point.
How are things with your brother, TC?
TC is still in jail. They moved him to another jail cause he got too famous at the last one. I think we did a interview with y'all, if I'm not mistaken, and after that, it got back to the warden, he got super famous and they put him on, what do they call it? The lockdown shit...
Solitary?
Solitary confinement for like two, three months and shit. He couldn't talk to nobody. And then once he got out of that and moved into a whole 'nother prison. You know, he's alive, he's well. He's healthy and prayed up. And who knows what God might bless us with.
When you speak to him are you exchanging music ideas or is it just like catching up on life?
Catching up on life, music ideas, same shit. When we did "Miracle" or any of the songs that we've dropped, that was from somebody recording him and it got leaked on the internet. I'll just take it right off the internet and make a song out of it. Who knows, we might do Free TC 2 or something with more songs with me and him.

I feel like there was a point not too long ago when everybody felt like they needed your voice to get on the radio or to ensure themselves a hit. Did you have to temper the amount of collaboration eventually?
Yeah. At first I was just being the homie and every time somebody would ask me, I was like, "Yeah." Then [my publicist] started complaining and other people at Atlantic like, "Yo, we need to save some of this shit for your shit." I'm like, "Fuck y'all man, just let me do music." I'm still doing features. I just did like four last night. Like now, it's more about time and I've been touring.
That's impressive to me that you can just knock out by four different features over the course of one night. That's normal for you?
If the shit bangs, man, and I catch a vibe then I'm going to just knock the shit out. New shit on the way, new shit coming.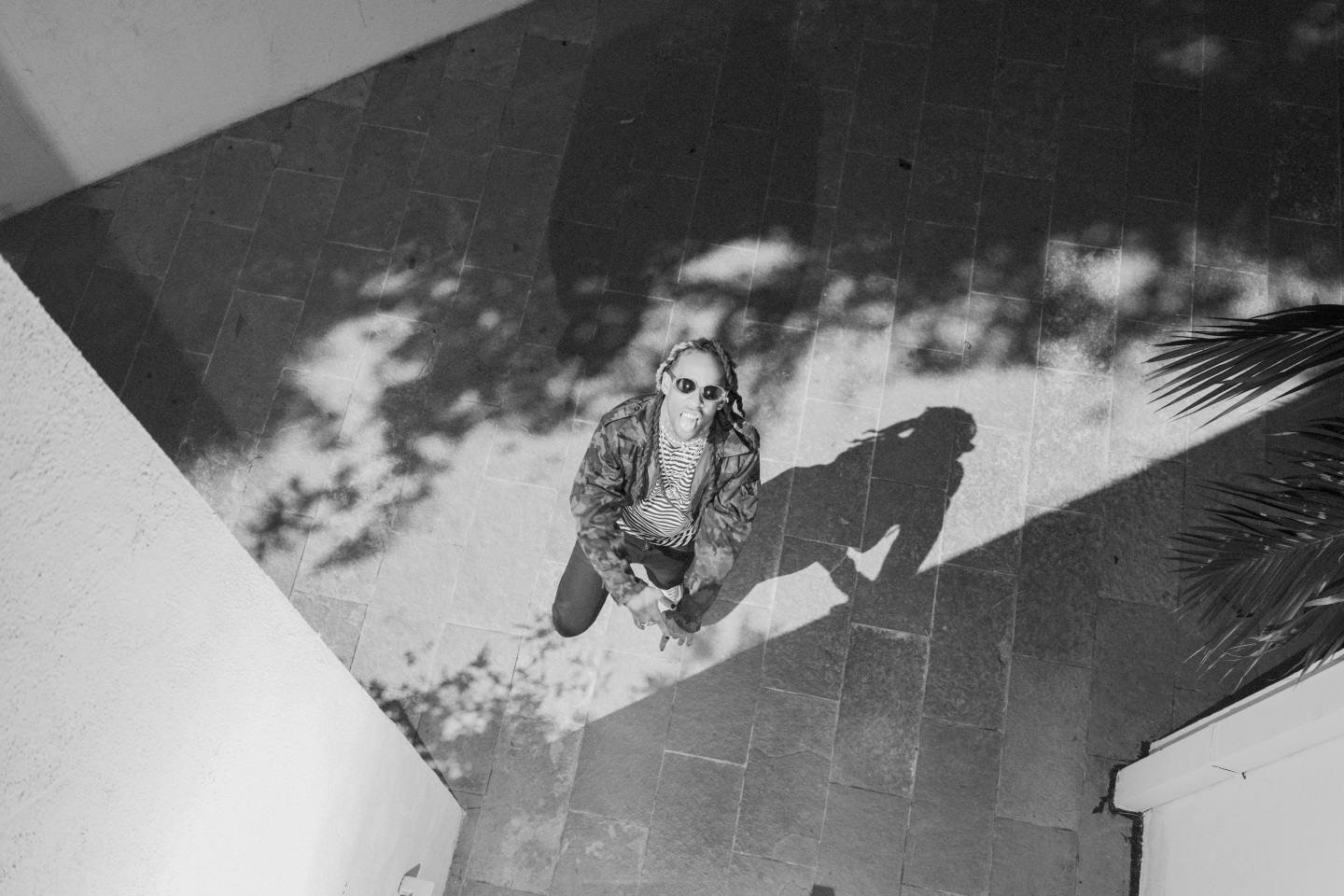 "You have to go in to have a career like this." —Ty Dolla $ign
In a manner of speaking, you have "new shit" out right now: The Beach House 3 album. But I feel like it didn't really get the love it should have.
Thank you. I appreciate that. And I feel like the people that were supposed to hear it, heard it. Or if you didn't hear it then, bitch, you better ask somebody cause you know we going and I got more to come. If you didn't hear that, I know for sure you hear [me on Post Malone's] "Pyscho" right now cause that's top 10. I'm just having fun. For me it's been baby step after baby step. And I've had a slow-going, long-lasting-ass career that started back in muthafuckin '09 wit [YG's] "Toot It and Boot It." And now it's 2018, so we good. I don't need to, like, jump right to the top and be one of them dudes that next year you don't hear em. You gon' always hear my shit, so it's cool.
How's 2018 been for you so far?
The whole January I took my first vacation I've ever taken in my whole lifetime. I went to Egypt the first two weeks of January and then I went to Thailand the second two weeks. Just experiencing life. Learned some shit, hung out with my girl, and then I came back and got right back to work.
That's a different look for you, being in a very public relationship. Does that affect the way that you make music?
Nah, I'm solid, she's solid. We encourage each other and uplift each other. So I'm making some of the best music I ever made. And so is she.
How did the Jeremih project come about?
I was kicking it with Hitmaka a lot over there in Glenwood, which he calls Motown because everybody that comes through there gets a hit, basically. We just got a whole bunch of the homies over there, writing and producing and it's an all-day thing. So Jeremih is there and we did like two songs, four songs, eight songs, 12 songs. All of a sudden we got like 42 songs and we're like, we might as well do a project.
Normally, I'd ask what it is about the connection you and he share that allows you to work so well together, but I feel like it's easy for you to vibe with different voices.
I just do music. And I study music and it doesn't matter what situation you throw me in, I'll be able to snap. I put my sauce on whatever it is. Since I've been a sponge to all different types of music, it's just going to come out exactly the way it's supposed to sound because I'm not like forcing anything on it, and I'm just giving it exactly what it is.
Other musicians, in particular, really fuck with you heavy. Do you feel like it takes a certain musical IQ to appreciate what you're doing?
Nah, certain people adapt to certain frequencies and I like toying with all of them. So it's all good, one day I'll reach your frequency… if I haven't yet.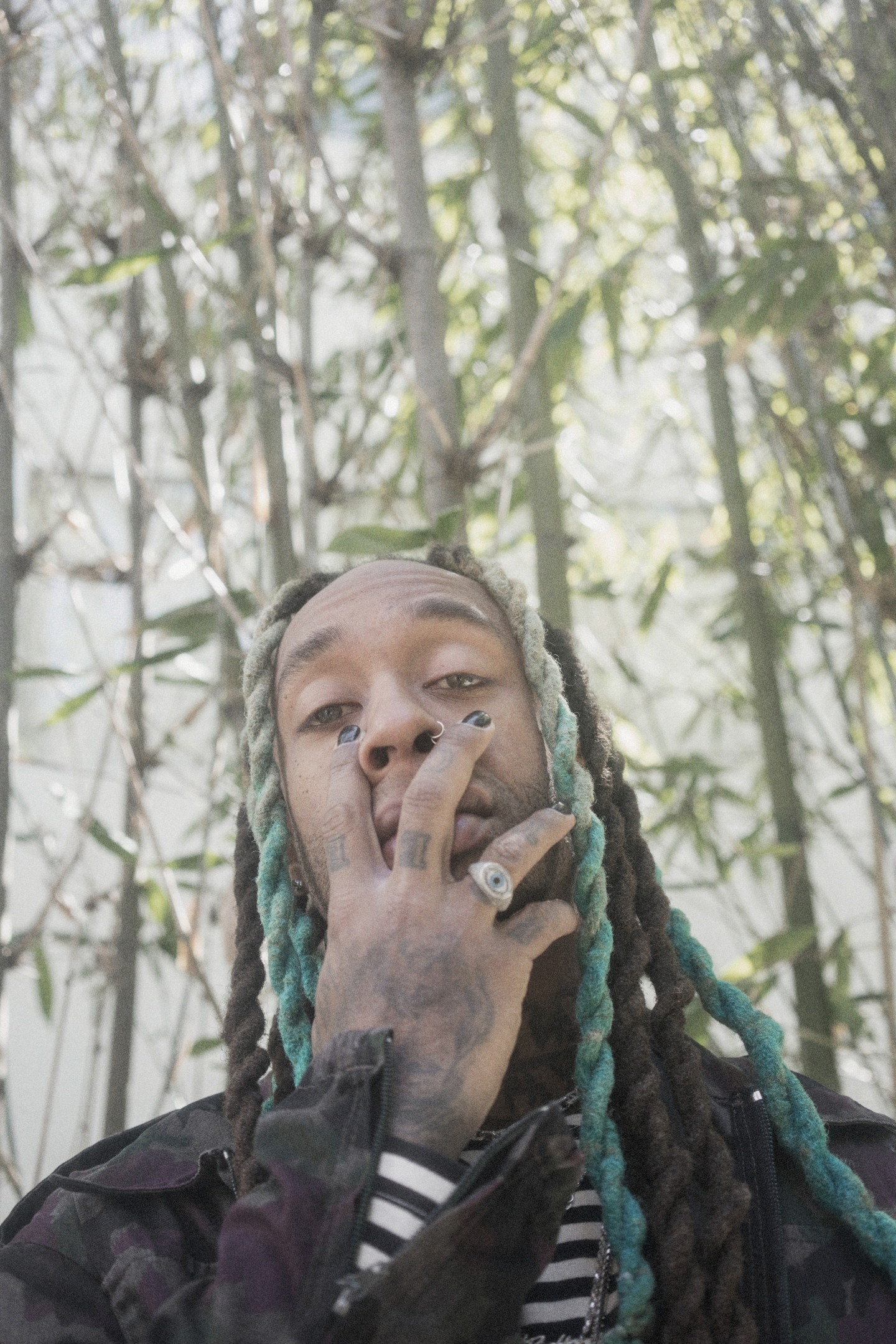 "At first I was just being the homie and every time somebody would ask me [for a feature], I was like, 'Yeah.'" —Ty Dolla $ign
Rap is in an interesting place right now because everyone is incorporating melody into their delivery. Even if they can't sing, they're going to try, and I feel like you were at the forefront of blurring those lines.
Yea, but I'm a singer that crossed into the hip-hop world because I can make the club songs and all that. I was listening to this old Wu Tang album where the RZA was talking about that shit. He was saying that this was going to happen to hip-hop: All these niggas out here singing hooks, not real MCing, like they're using melodies to have a song, and it's sad that that happened and people think that's what it is, but now, a lot of that gets on and it's popular for about a month and then in the next three, six months, year from then, you never hear from those dudes again. People do see what it is and respect good shit like J. Cole, like Kendrick, like all the people that are at the top… Drake.
Well, people used to get on Drake for that too, for toeing that line.
Yeah, but Drake is really good at rapping.
He's great at rapping.
I feel like music is in a good place and it's just going to get better because people do notice quality. The good thing about the internet is that it made it to where everybody has a chance now. Anybody could drop and it's not like when they [used to] force-feed you and shit. But like I said, that shit don't last. You have to go in to have a career like this.
In that same vein, do you hear yourself in these younger artists? Your influence?
They're definitely influenced from the old sound and that's why it's important to switch to the new sound, constantly. I always admired people like Pharrell that since I was a kid — I heard he did Wreckx-n-Effect ["Rump Shaker"] and shit back then, so he's been in it since I was a kid all the way onto like Uzi's new album, the Migos album, my shit. Like, he's that guy. That's what I strive to be: somebody that does what they love forever.
Have you always felt like that?
I always knew I wanted to do music and that I was good at it. I had a lot of people like Moms, everybody, telling me that it was a hobby and I needed to figure out a real career, or something to bring in money other than weed. But now the weed is booming and the music. Hello! Believe in yourself.
Weed has always been a heavy part of your brand. Do you need weed to make music?
No. When I made a Beach House 1, that was weed-free, the first half of Beach House 3 was weed-free. "Famous," all the songs that I did with Pooh Bear, that was weed-free. That month, I went to Dubai. December is usually when I go to Dubai. For some reason it seems like they always book me in December, so I'll just take off the whole month from weed and just reset.
Don't you have your own strain?
Yeah, I got Dolla $ign OG Kush. And I'm bout to do this little farm situation with the homies, so everything is good. Lotta seeds planted.
Literally.
Literally.