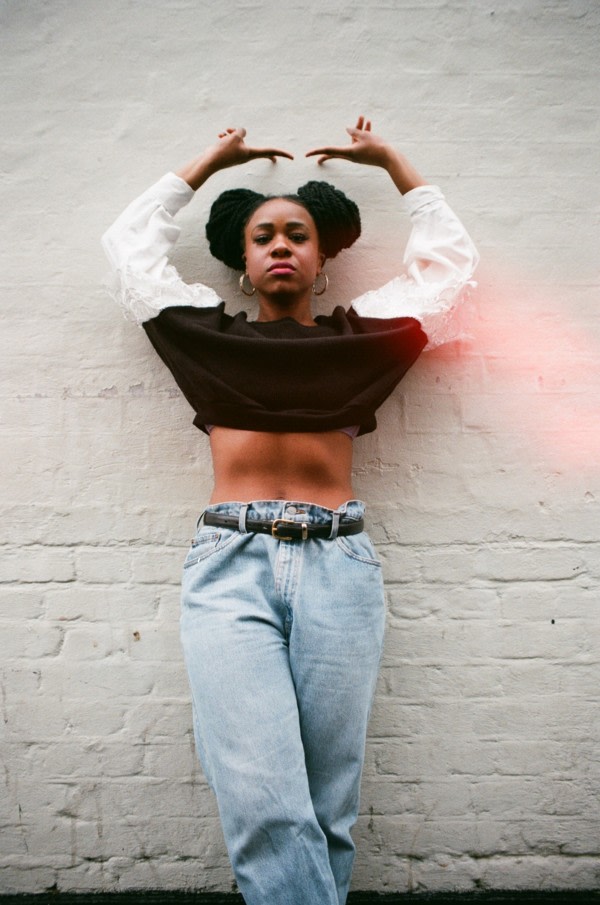 On June 1, NAO performs on The FADER stage at Field Day Festival in London. She's joined on a bill that also includes Erykah Badu, Loyle Carner, Moses Sumney, and Mammal Hands. Read her 2016interview below and get tickets to Field Day here.
---
A few minutes from the hubbub of east London's Afro-Caribbean Ridley Road Market, NAO's basement studio is a cozy sanctuary of sound. Patterned rugs in earthy tones haphazardly decorate the unfinished floorboards, and old soul and funk 12-inch records are pinned to the walls. The British avant-soul singer likes the vibe: she used to record here during her time as a session vocalist, and her regular collaborator, the producer LOXE, has a workspace just down the hallway. When I visit on a drizzly day in February, NAO's lifelong best mate, Charlie, hands me tea in a novelty mug emblazoned with the text: I <3 My Penis. "Well that's fine!" whoops NAO when she reads it. "Someone's gotta!"
Although my conversation with the 27-year-old artist is freeform and fun, her music is intensely focused. NAO's silvery singing style has the expressive instincts of her heroes Alicia Keys and Jill Scott, but she pairs it with the kind of body-moving beats that she fell in love with as a teenager listening to pirate radio. Over the last couple of years, she's made wonky R&B and pop songs with collaborators like LOXE and A.K. Paul, Jai Paul's similarly secretive brother, who worked on her arresting debut 2012 EP, So Good. On last year's breakout single "Bad Blood," Nao's sighing, octave-spanning vocal wholly commands the deceptively sparse instrumentation, which teeters between minimal drums and maximalist crashes. Her diction is idiosyncratic but precise as she sings couplets about half-faded memories: Lying on my back, seeing clouds and rays/ Drinking lime and bitter from my lemonade.
It figures that NAO has a hunger for unexpected collisions of sound. As a kid raised in the suburban neighborhood of South Woodford on the outskirts of London, she was as likely to be found listening to gospel in her local Evangelical church as she was to be making up playground dances to U.K. garage tunes like Sweet Female Attitude's 2000 hit "Flowers." Her love of beats stuck with her, and after completing a jazz degree at London's prestigious Guildhall School for Music in her 20s, she was briefly part of an all-female beatboxing group. Later, she found herself working full-time as a backup vocalist for local artists. "I could hide behind it," she reflects. "I just could rock up on stage, do a good or bad job, and no one cared. It wasn't about me. But as soon as you started putting your own music out, it's stressful because you're like, 'How am I coming across as a person?'"

You don't need the hype, you just need less.
NAO leads me to a compact personal studio where she's been working on her debut full-length, due this July on RCA. Sitting at her desk between a print from The Knife's video for "We Share Our Mother's Health" and a vase of blooming tulips, she explains how she makes the "nuggets"—short, twisted instrumental sketches—from which her songs grow. "I usually write the song, or an idea for it, and then I make the beat as well," she explains between sips of tea. "And when I go to a session, I'll say, 'Okay, I've got this little nugget.'" She hums the hiccuping bassline of "Inhale Exhale," which she crafted in this way. "It's just about giving it a go."
She'll sometimes lean on her imagery to convey a message, too. The monochrome art of February 15, for instance, showed her arms glistening like obsidian. The focus is on her hands, she says, to "show that everything was homemade." Meanwhile, in her recent press shots she wears a sweater that says "All You Need Is Less" on it. "The things that work best are the simplest things," she explains when I ask about the message. "I've found that with my music. You can get in the studio with big time producers—but the best things happen when it's with your friend that you've been working with for years. You don't need the hype, you just need less."
As she gets ready to head out for lunch, NAO tells me about a recent trip she took with her boyfriend to Tokyo where they discovered a bar called Little Soul Café. "It looks like a library but instead of books, it was back to back vinyls," she remembers. "It was run by a Japanese guy called Mya, and he just had this one deck and a bar of really delicious rums from Trinidad. He'd play Barry White, Earth Wind and Fire, Randy Crawford, really wicked stuff. It's my favorite place in the whole world. I just want people to get the feeling I had when I was in that bar." She looks a little wistful for a moment. "I want to make that feeling for me."