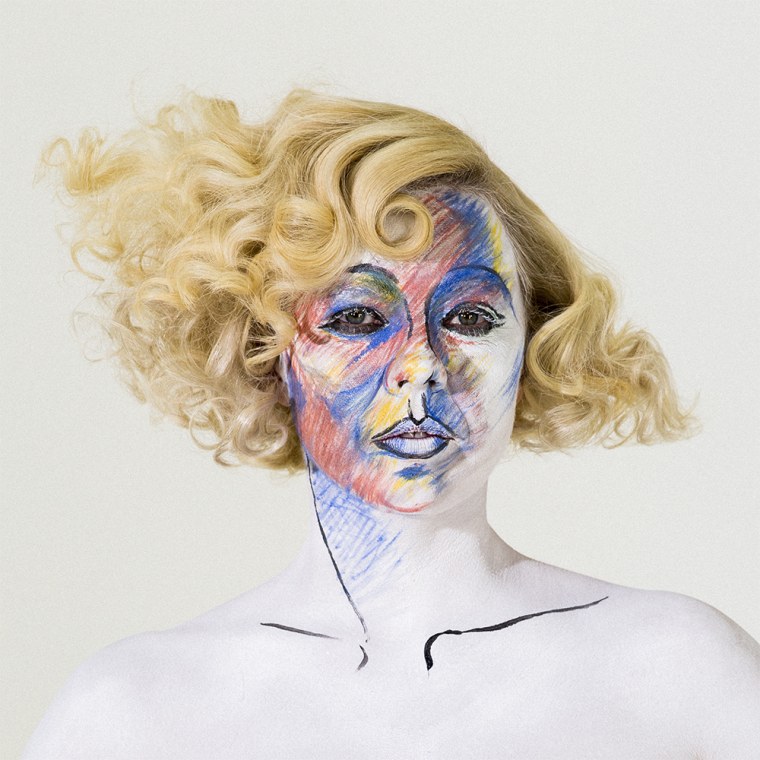 I learned about MNDR a while ago from The FADER — she's the sort of DIY/electronic/jazz nerd turned pop pharaoh everyone should champion. "For someone who grew up on a North Dakota farm, potentially writing tracks for people like Jessica Simpson was a weird prospect," wrote Julianne Escobedo Shepherd in a 2011 profile, when MNDR was working a lot with Mark Ronson. Today, she's returning with a new single "Gravity," with Hudson Mohawke as producer, John Hill as co-producer, and Peter Wade as vocal producer, and out tonight via Mom + Pop. Take a listen and reach our chat.

What is / what happened to ​The Mainstream​? (Also your relationship with "the mainstream" in music in general)?
I think you're referring to the MNDR wikipedia, which says my next album will be called The Mainstream. Afew years ago I took a label meeting where a song I wrote was described as "left of center but mainstreamy." I thought it was funny and ended up joke tweeting that my next album would be called The Mainstream. Next thing I knew it was on wikipedia. I'm still not sure exactly what "mainstreamy" means but it seems like I've been flirting with the mainstream for a while now. I'm not sure if I'm ready to fully commit, though. The mainstream is going to have to love me for me.
How has your approach and experience with collaboration changed over the years?
I've always loved to collaborate, to me music is greater than the sum of its parts. I think it comes from my background in jazz and experimental noise music where roles are constantly in flux, you get to be egotistical and get to destroy your ego all at the same time. My career has kinda been like this, too, from my early days playing upright bass in jazz trios to being a front person in my IDM band Triangle, to touring as a side-(wo)man to becoming MNDR. The last few years I've worked a lot on other people's records and now have come full circle again back to MNDR.
For me, music in "the mainstream" is also more collaborative than it used to be. Artists who weren't up for it are now down to clown, which is exciting. Lots of cool side projects and more of an "I don't give a fuck" attitude that suits my sensibilities at all levels.
How did you know you were ready to release this solo stuff?
I've been working on this new body of work, COM COY (Cult Of Me Cult Of You), on and off since I moved to L.A. in 2013. After touring "Feed Me Diamonds," I got a lot of opportunities to work with other artists which allowed me to hone my writing and production skills. I think working on so many songs for other people really helped me focus my own voice and develop a sense of the lyrics and sonics that would become COM COY. I wish I could say I had some strategy behind it, but honestly things have just been coming together and gelling organically. When Mom + Pop approached me about releasing music that was the final piece of the puzzle falling into place.
Any other notes about "Gravity"?
I've been lucky over the past few years to have so many amazing and talented people in my orbit, many of which have also secretly been working on new MNDR songs with me. I've been a fan of Hudson Mohawke since "Butter," and we met while I was touring with Mark Ronson. He played me a crazy track he had started and we ended up writing "Gravity" with another producer friend John Hill and my long time collaborator PeterWade. Hudmo's production is psychedelic for me in the way that it has tons of melodic and rhythmic details that make me wanna listen over and over again. A lot of that detail made it into "Gravity." The lyric could mean a lot of different things to different people, but for me it was a real situation that was making me feel like Iwas being pulled into a black hole. I wrote this song to help pull me back out. On another note, there's a Rick Wakeman'esque moment on the record that really makes me happy 'cause lowkey I am a huge YES "Fragile" fan. No apologies.