This is what people wore to the last ever Vans Warped Tour
Bright yellow hair, OD fishnets, and lots and lots of black.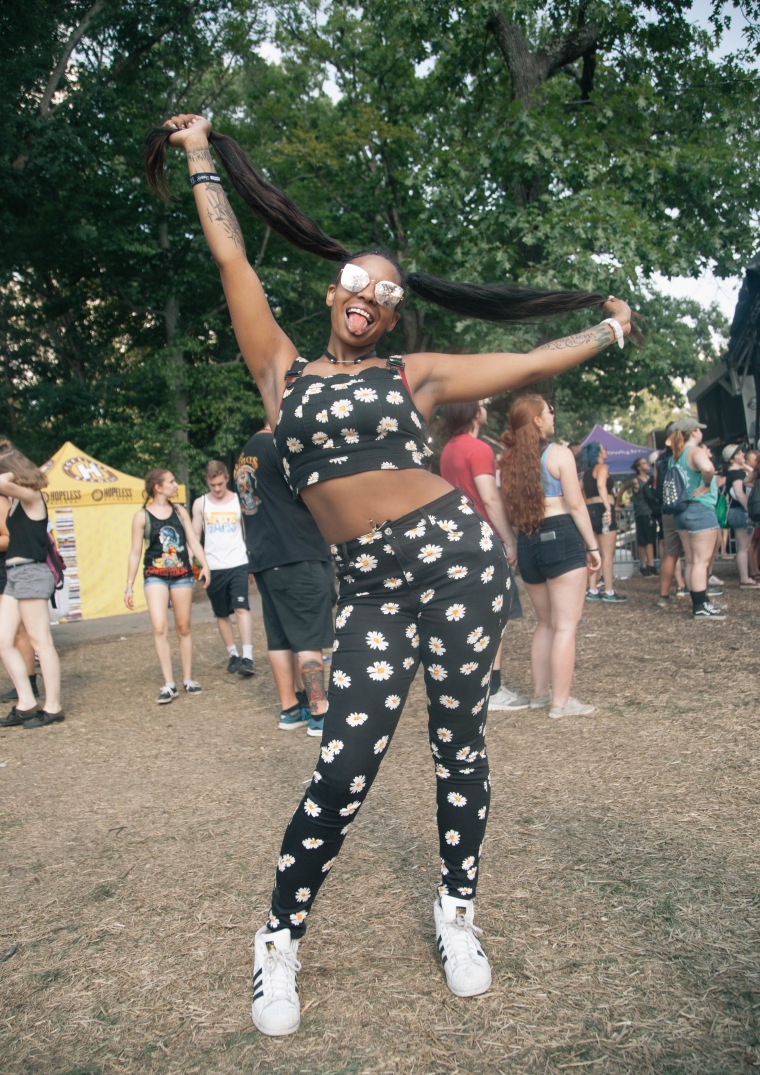 Growing up, the idea of going to Vans Warped Tour seemed like a right of passage in rebellious tweendom. I remember being in middle school, so jealous of my high school-aged cousin who got to attend the Tour's stop in Toronto. I, too, wanted to see Paramore, and I, too, had Hot Topic fits to get off!
I never did get to attend a Warped tour with my own two Vans-clad feet, so it's with a heavy heart myself and countless others say bye to the institution this year. The touring fest is wrapping up its last-ever jaunt across North America, and attendees of this past Sunday's Columbia, Maryland stop didn't let that get them down.
The legendary Merriweather Post Pavilion was packed out with fans whose cute and angsty looks beamed in the summer sunlight. In addition to everyone's built-in accessory of an infectious smile, there were lots of glowing, highlighter-yellow dye jobs, fishnet-heavy looks, chunky chokers and chains, beat up Vans, and lots and lots of black. Most looks were sourced from Forever 21, Hot Topic, and badass girl fave Dolls Kill (shout out Rico Nasty and Bbymutha).
It's been interesting to see popular culture hop on this wave of grungy-pop-punk chic the past year and some change. When people get in on these looks just for the 'gram, or for the sake of being on trend, it's pretty apparent, and honestly, corny. But when others who've lived these looks for life step to the plate, like at Merriweather on Sunday, it's almost immediately evident how they've dressed from their whole ass hearts, and in today's "fashion" climate, that's something to celebrate and admire.