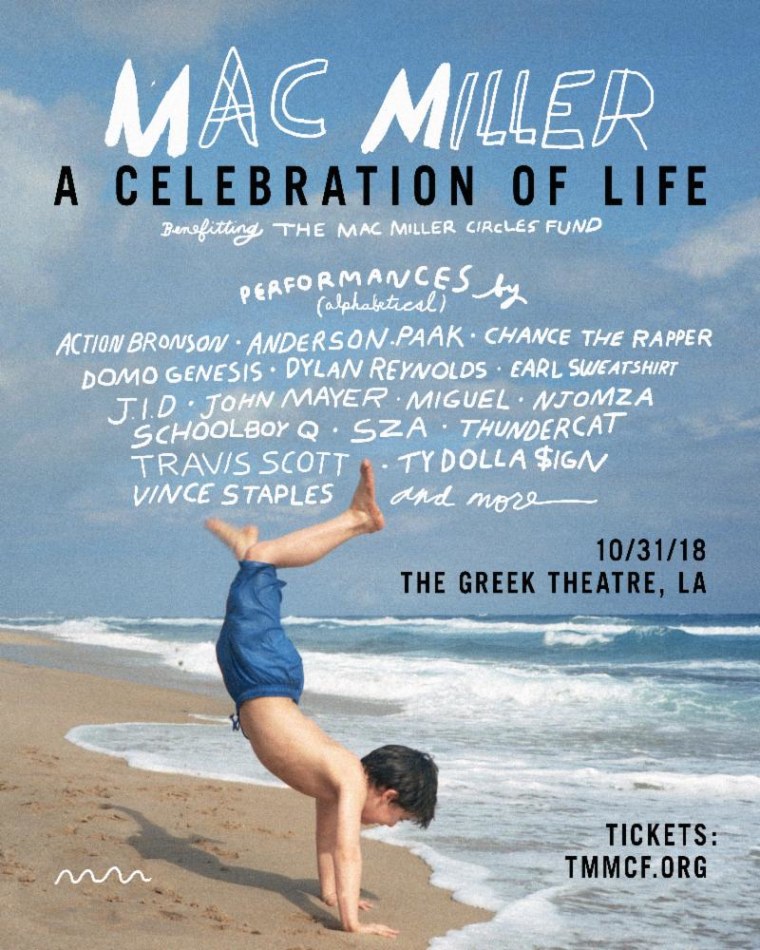 A benefit concert honoring Mac Miller as well as the launch of the Mac Miller Circles Fund has been announced by the late Pittsburgh rapper's family, and Christian and Kelly Clancey of 4 Strikes Management.
The show is set to take place on Halloween at the Greek Theatre in Los Angeles, and will feature performances from Miller's friends and musical contemporaries, including Travis Scott, Ty Dolla $ign, Vince Staples, Thundercat, Anderson .Paak, Action Bronson, and more. Tickets will be avaialble via Ticketmaster on October 5 at 10 a.m. PST. Net proceeds from the event will be donated to the MMCF — which was founded by Mac's brother Miller McCormick.
In a statement, Miller's mother Karen Meyers expressed appreciation at the amount of support the family has received while putting the event together.
"The support we've experienced is evident in this amazing line-up and is a testament to Malcolm's incredible life," Meyers said. "His Father, brother and I are beyond thankful to everyone who is working to make this concert happen along with every fan and every friend for continuing to support Malcolm and his vision. He was a caring, loving human with a smile that could light up the sky and a soul that was out to make the world a kinder place and the MMCF will continue to do just that."
Read more about the Mac Miller Circles Foundation here, and check the full lineup above.
Thumbnail image courtesy of Dale Berman/Getty Images.