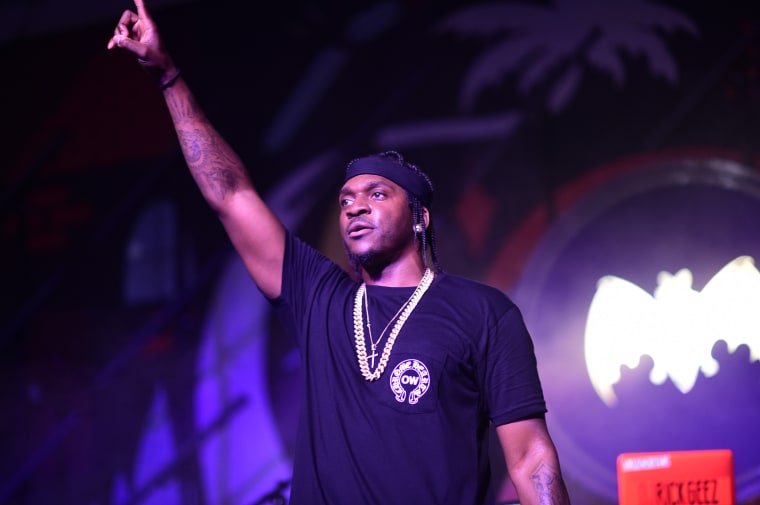 Pusha T just added some fuel to the fire revolving around his recent beef with Drake. While visiting The Joe Budden Podcast, Push claimed that he learned about Drake's hidden child Adonis because of his go-to producer and longtime friend Noah "40" Shebib, Complex points out.
"The information came from 40," Push said. "It didn't come from Kanye, at all." The GOOD Music president then explained that 40 did not directly tell him about Drake's child, but Pusha instead allegedly found out through a woman 40 had been sleeping with.
"40 is sleeping with a woman, who begins to...He talks to her daily. Five, six hours a day...And ultimately speaks about how he's disgruntled about certain things, notoriety and things involving Drake and his career, and so on and so forth," He said on the podcast. "With that also came the fact that Drake has a child. With that also came the trip that everybody took to go see the child, and bring him gifts, and all this information. She divulged this information. That's where it came from."
Pusha also said he wanted to clarify that Kanye West did not share information regarding Drake's son with him Despite recent rumors pointing towards West as the culprit.
"Only reason I'm here now, for real for real, is because [Drake] was so passionate about the MS thing," Pusha said. "And they did the backlight and they put the spotlight on his face, 'When you said my friend,' but your friend is the reason why. That's how it came about. That narrative's gotta die. Listen, it needs to die. It's done. That narrative is done."
In a recent interview on LeBron James's HBO show The Shop, Drake alleged that West leaked the story of his son after Drake played him "March 14" — a song revolving around his son and issues with the child's mother — while visiting West in Wyoming. Drake also claims to have shown West baby pictures of his child.
Listen to the full interview here.