Enjoy these rare photos of rap legends
As seen in Contact High: A Visual History of Hip-Hop.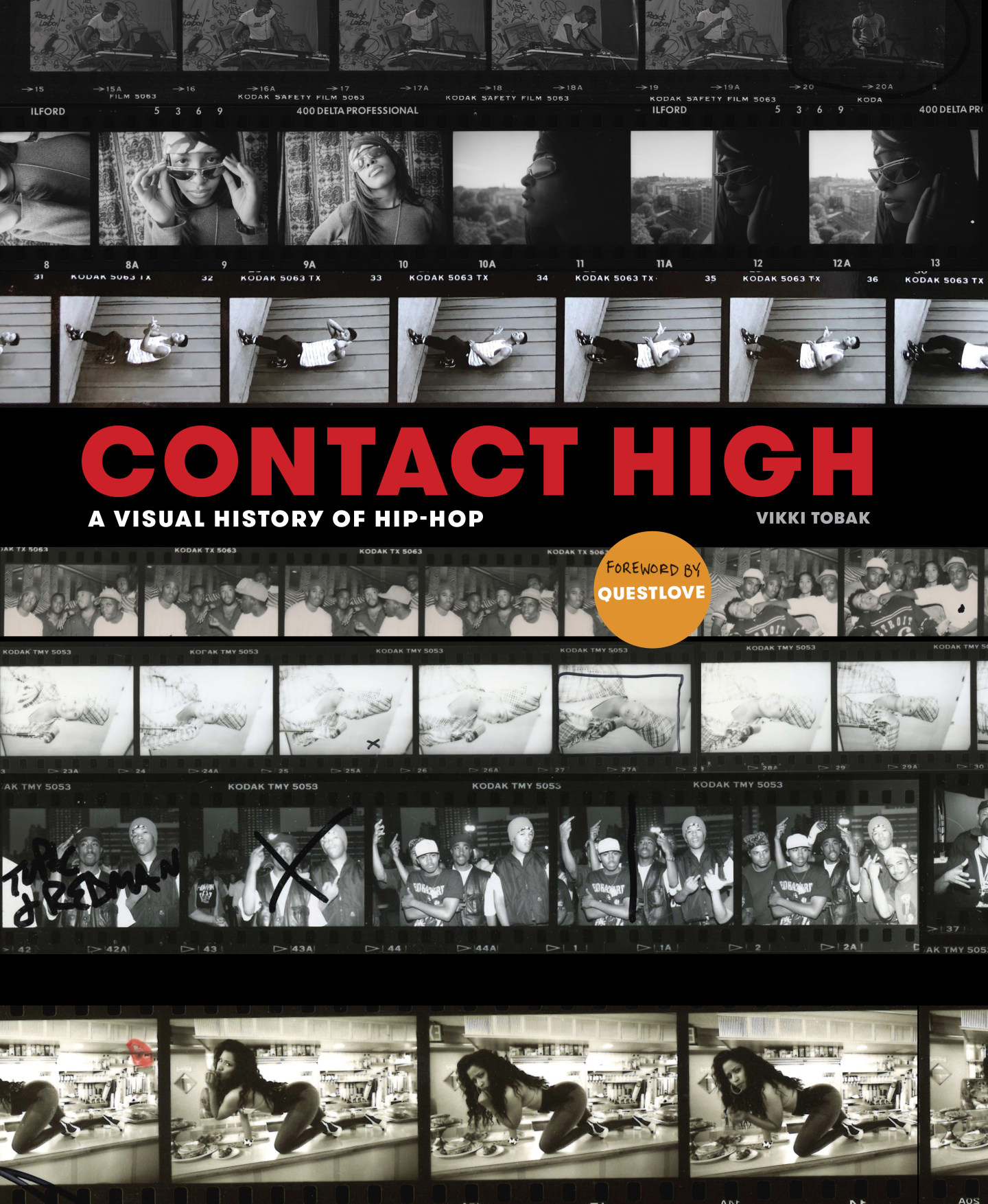 Contact High is an essential new photography book edited by longtime journalist (and FADER contributor) Vikki Tobak. Billed as "a visual archive of hip-hop," it pairs legendary photos from the genre's 40 years with unedited contact sheets and commentary from the equally iconic photographers who took them. It's a clever and multidimensional look at history, with images once relegated to the cutting room floor adding color and context to just how superstars — and the stories about them — were made.
Below are three excerpts from the book, which is out now. (Buy it from your local bookstore.)
Bad Boy Family
Jayson Keeling, photographer: "Photographing the Bad Boy family at the height of their fame was daunting. They were such a powerful collective. I love the shot of Puffy with his arm stretched forward like 'Look at us.' All of his artists were there—Faith, Biggie, Total, and Craig Mack. They were kings and queens at that moment. I decided to use a large-format 8"x10" camera as a way to make the shoot feel very epic. I was inspired by Richard Avedon and his American West series, where he made large-format portraits of everyday people against a clean white backdrop. He left the black border visible when he printed, and that series is now regarded as an important hallmark in the his-tory of portrait photography. I wanted this Bad Boy shoot to have that same feel to it. It felt larger-than-life in many ways, and I thought photographing them in this large-format, narrative way reinforced that. The shoot feels regal to me."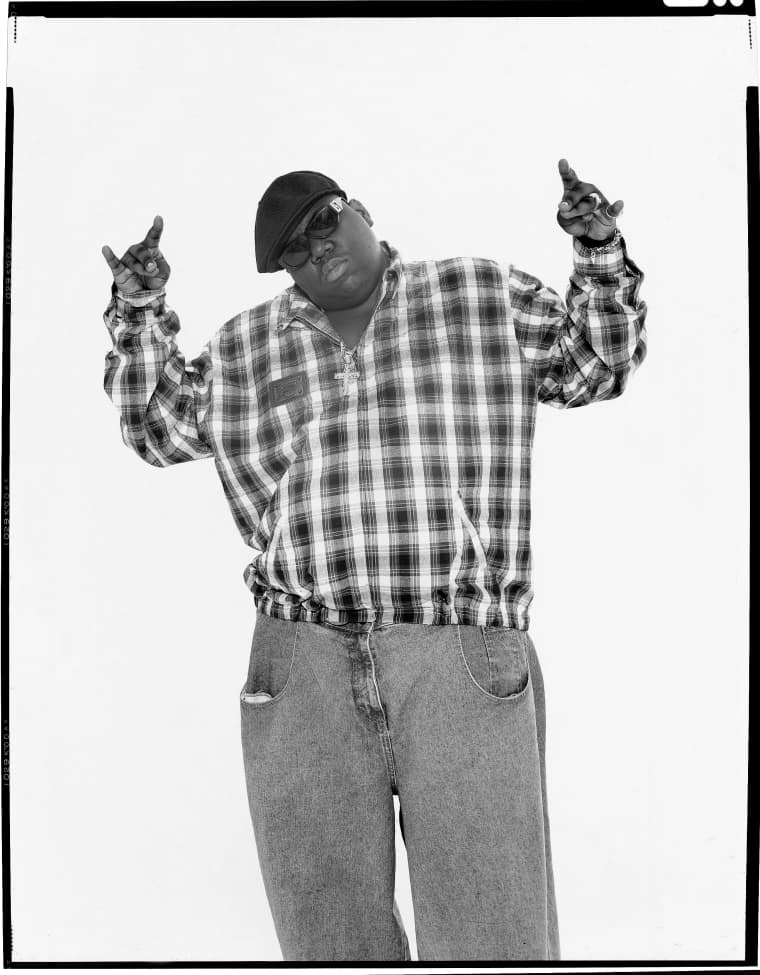 Jay-Z's first photo shoot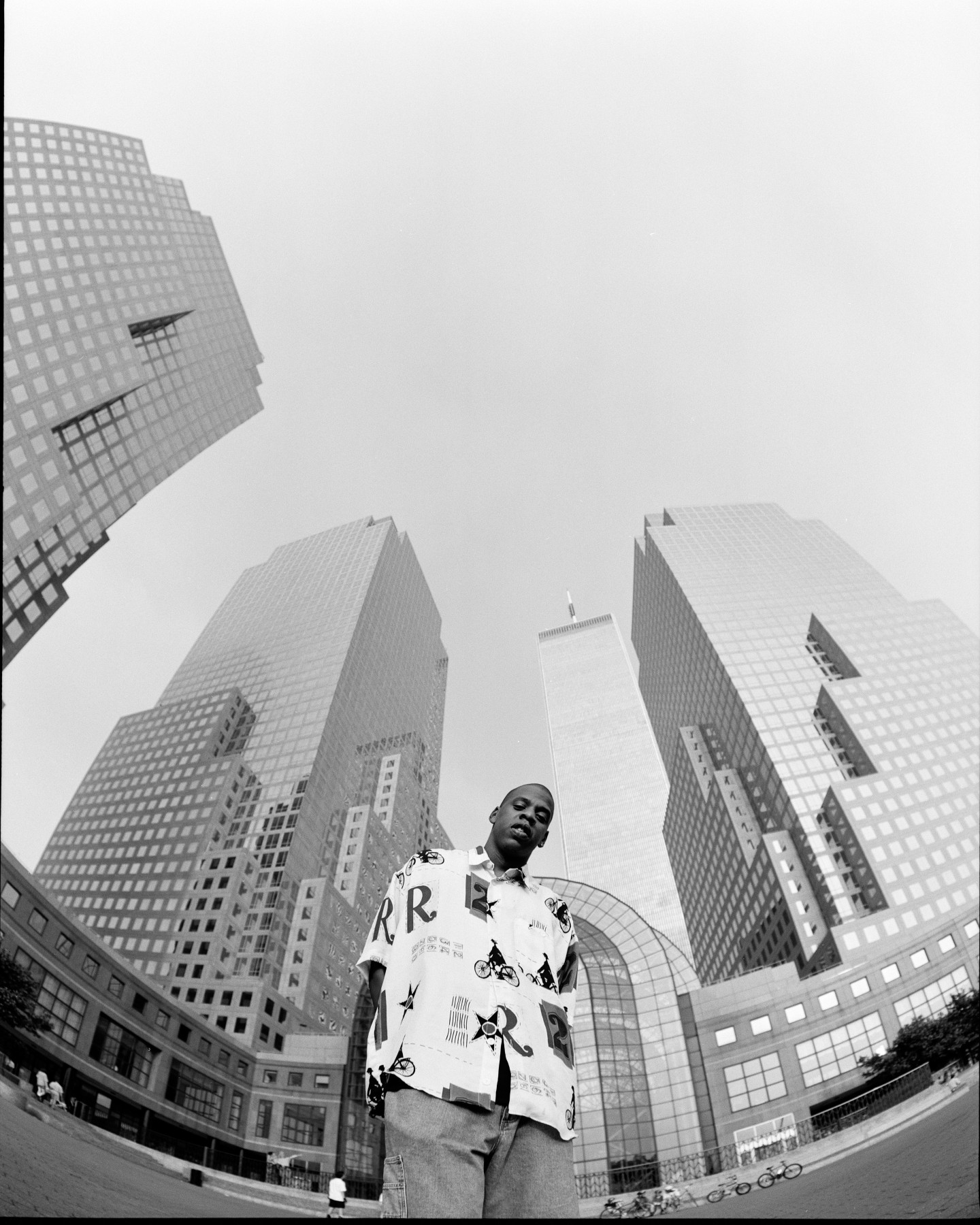 Jamil GS, photographer: "I remember thinking that Jay was really resourceful. It wasn't a big production and, to save money, he had me picked up by a few of his friends in a Lexus from my apartment on Avenue A. It was the same Lexus for Jay's 'Dead Presidents' video.
"We drove to Jay's condo off Atlantic Avenue and Flatbush in Brooklyn. Damon Dash and Kareem 'Biggs' Burke were there along with a friend from Virginia. He had just moved in, so it was sparse and didn't have much character yet, so we decided to hit the streets. I was inspired by the album cover of Donald Byrd's A New Perspective, a legendary Blue Note album cover that had the jazz artist in the background of a cool car looking regal and smooth. Based on that, I had a clear idea of how I wanted to photograph Jay. Luckily, it synchronized with Jay's own ideas.
"I shot on a Pentax medium-format with a fish-eye lens, and the film was Kodak Tri-X 400. I wanted to try something with silhouettes of cars, so Jay came prepared with two Lexus GS's and a custom-made vanity plate that we stuck on with gaffer tape. Jay also strategically placed two bottles of Cristal in the windshield. The idea was to shoot him surrounded by symbols of material wealth like the Twin Towers and luxury yachts. As long as we got those elements down, he was open and cool with whatever I wanted to do. When I asked him to pose in front of a giant yacht and told him that one day he would own one himself, he smiled and responded, 'No doubt . . .'"
A Tribe Called Quest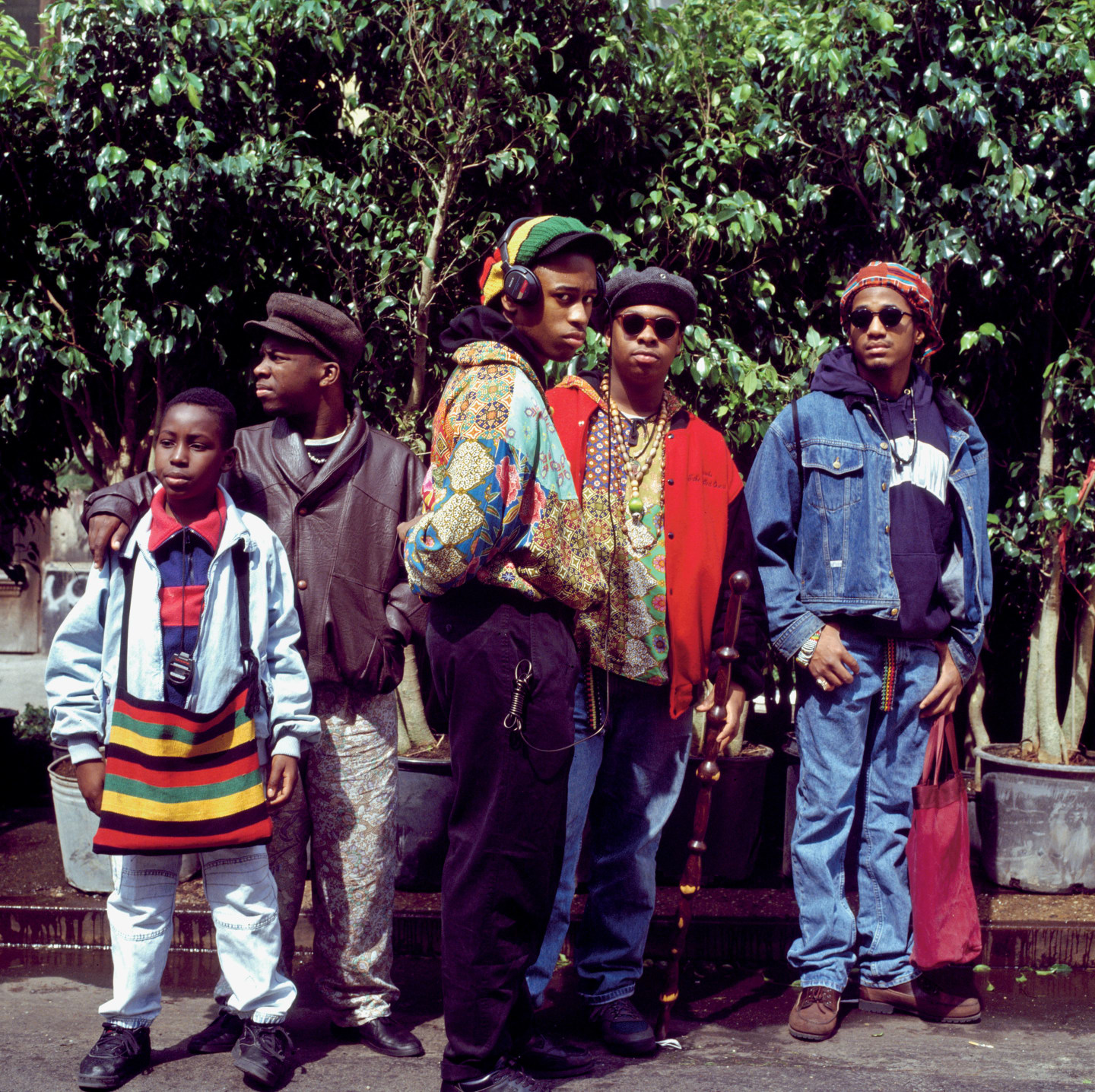 Janette Beckman, photographer: "When A Tribe Called Quest first came out, it was quite revolutionary. It helped usher in a new era of Afrocentrism in music and also had a major impact on style. Their attitude seemed to be about peace and love and coming together rather than battling each other, and I wanted to express that in the shoot. We wanted to get a photo in nature to express those elements but they didn't have much time, so I decided to take them to the Chelsea flower district, the closest place I could find with tropical-looking trees in NYC. The shot, taken with my Hasselblad square format camera, was taken for a book I was doing with Bill Adler called Rap: Portraits and Lyrics of a Generation of Black Rockers. Jarobi's little brother was in the shot too. They were all so young!"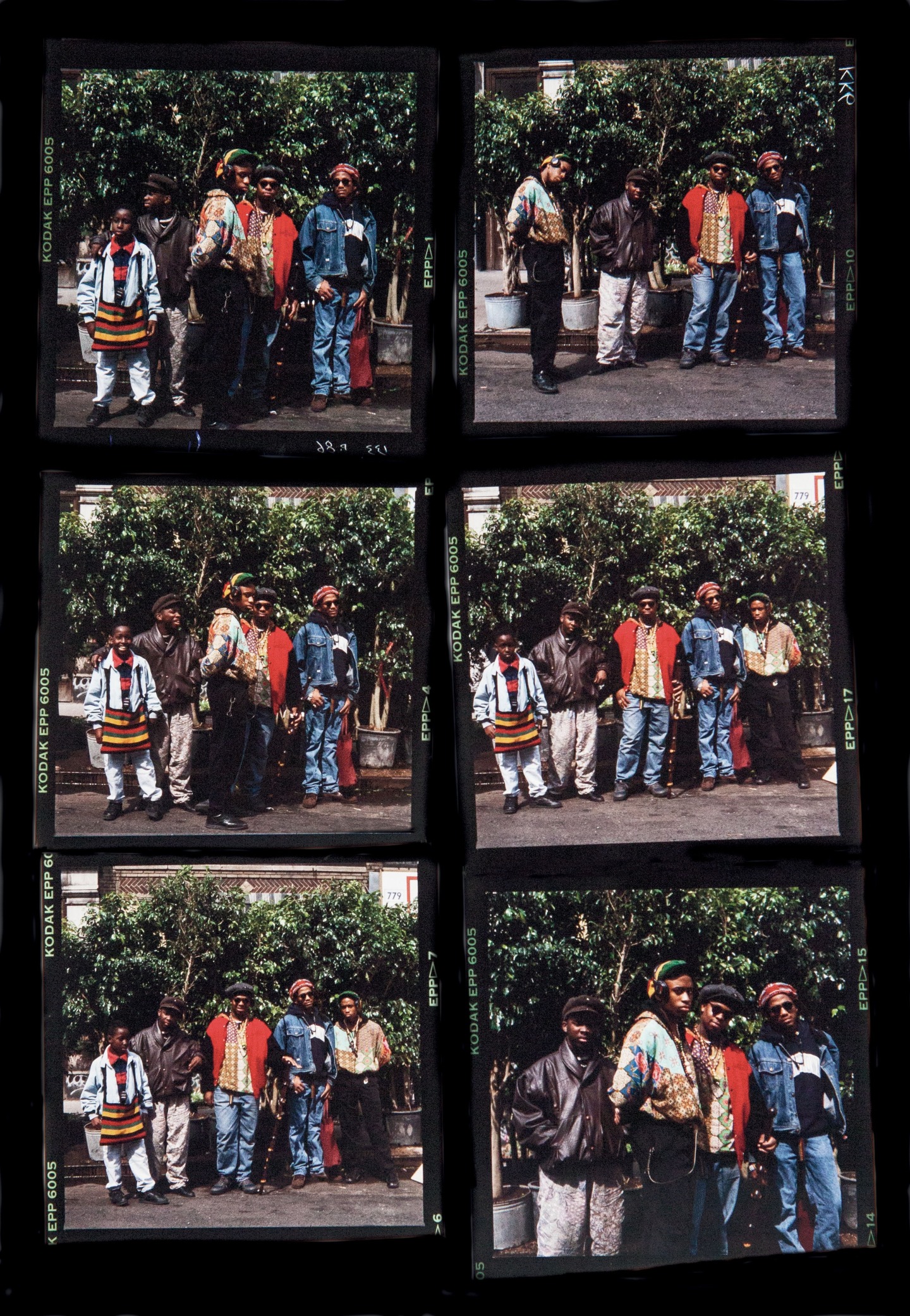 Reprinted from Contact High: A Visual History of Hip-Hop. Copyright © 2018 by Vikki Tobak. Photographs copyright © by Jayson Keeling, Jamil GS, and Janette Beckman. Published by Clarkson Potter, an imprint of Penguin Random House, LLC.