Jacquees, first of his name
An interview with the self-proclaimed "King of R&B" about breaking out of child stardom, covering other peoples' songs, and what comes next.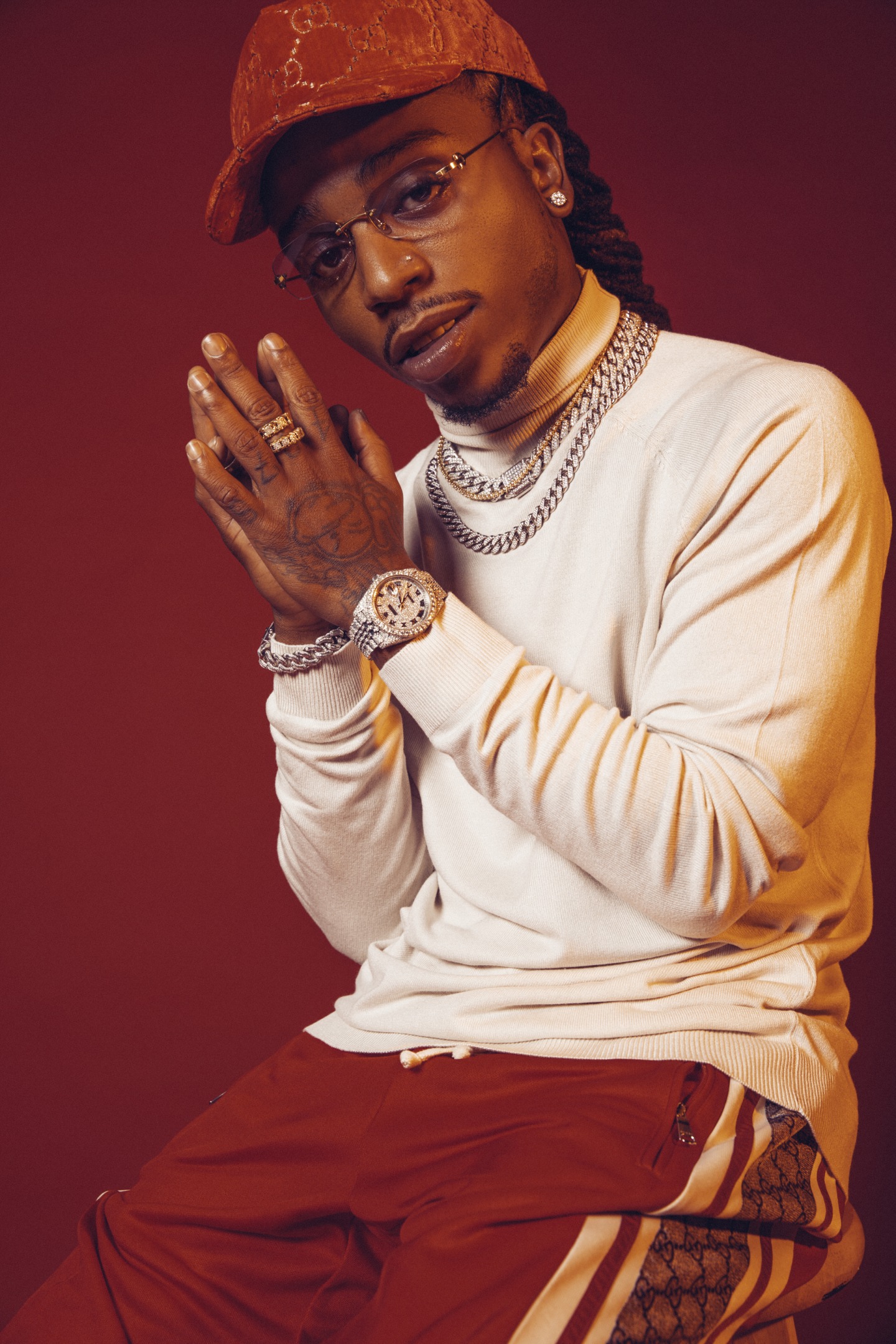 Jacquees has always been extremely confident — even cocky. At a December 2015 show, right around the drop of his Mood mixtape, at downtown New York venue SOBs, the small-capacity venue best known as a launching spot for rising rappers and singers was packed. The path from the stage to the stairs leading to backstage was blocked by a sea of fans, but that didn't stop the Atlanta singer from having the fan-sea parted several times for a handful of outfit changes placed carefully between a fully choreographed set.
In recent weeks, fans have caught glimpses of this confidence in other forms: an at-ease and well-sung debut television performance at this year's Soul Train Awards, a video declaring he's the "King of R&B," and a tense clip taken backstage at a show which captures him saying the same in front of a visibly taken-aback Keith Sweat. The latter two instances went viral online, perhaps an effective deployment of savvy marketing tactics, but this overwhelming faith in himself comes from a real place.
Throughout his childhood, Jacquees was groomed to be a regional teen pop-star, a professional avenue that has an intimidatingly bleak future if you're unable to break beyond its confines. In that time, he picked up game from some of R&B's most legendary figures, eventually finding a way out through the trust and belief of Birdman. Now he's broken the internet with a cover that's basically the rare Pokemon of 2018 MP3s, is sitting on a handful of sleeper pop-radio hits like the Dej Loaf-featuring "At The Club," has been meme'd into oblivion, and delivered his debut album to positive reception from his fans.
Over the phone in November, Jacquees recalled his year while driving around Atlanta, starting with a deep dive into his childhood and the youth career that almost kept him locked into one dimension of himself. Now feeling freer than he ever has, he's more than excited for that next level-up.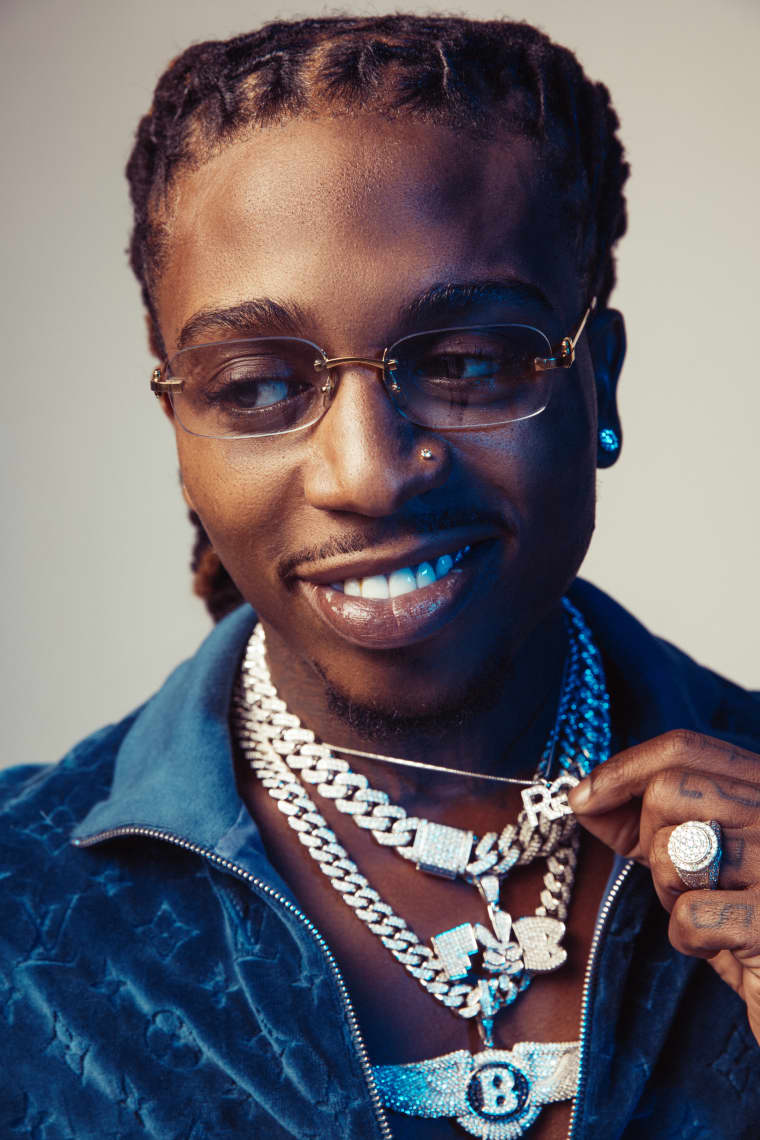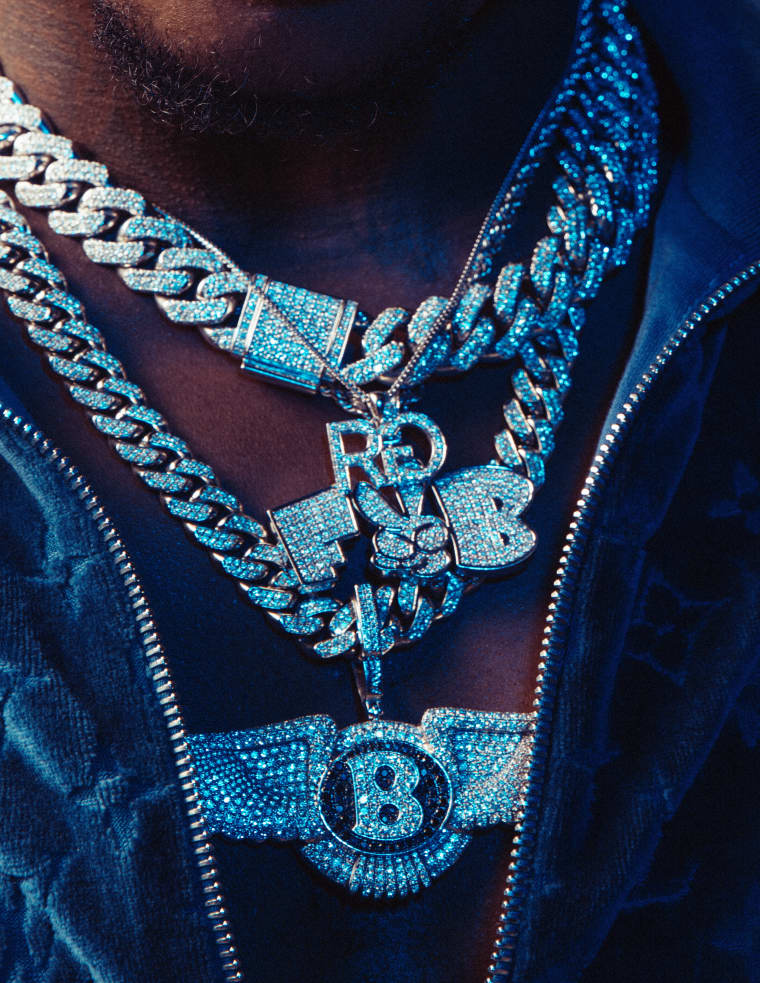 I know you grew up in Decatur and mentioned in other interviews that your childhood and upbringing was really fun and great. What made it that way?
For one, I've got a great momma. She made all the days fun, always tried to get us whatever we wanted and always filled our days with love and joy. She woke us up turnt up. Whenever we'd leave for school or go anywhere, she'd always send us off saying she loved us and to have a good day. In the crib it was me, my mom and my sister. I had a step-dad, my mom had gotten married at the time. I think it was the people I grew up around in my neighborhood that made it so fun. We all like to do the same things like play outside, just regular boy stuff. I'm still tight with a lot of the people I grew up around. A couple of my friends are on the cover of 4275.
What are you earliest musical memories?
Probably being in my aunty's house and hearing that Ginuwine "Pony," just on the radio. I remember just being in the radio station, I used to be there with Dottie Peoples when I was young. She's a gospel singer. I remember hearing that type of music all the time.
How were you hanging out at the radio station?
I was like three. On the cover of Quemix 2, that's me at the radio station. My grandmother was real big in the community in East Atlanta. She had a daycare for years, and basically she knew Dottie Peoples and some radio people too, so she used to just say, "Take Que up there," and my auntie used to take me. My grandmother had a daycare center called One Step Forward Learning Academy. She raised a lot of the kids [in the area]. There's a guy in the NFL right now that my grandma used to watch when she was a kid. I was there from the time I was born 'til... you can go 'til you're 13 if you want to because they have after school programs there.
I've read in other interviews that your first childhood talent show, when you covered the Jackson 5, that you knew music was going to be a big part of your life. It seems like you've been recording music for a really long time, though. When did you first start?
I first started recording music when I was 12 years old. I used to work at a barber shop in my neighborhood in Wesley Chapel, and there was this barber named Dope. He was always one of the barbers that used to give me game on how to clean his clippers and different shit like that. He used to also always give real life game, and pay me a little more, too. He was like my first manager for real, the first person that tried to make something shake. He knew this dude who had a studio, so he took me over there to see if we could do a song. I remember [seeing] this dude [at the studio], he was a legend — he was in the garage sleep! He was in a group back in the day. They told me who it was and were like, That's how this shit go, and I was 12, I was like, Damn.
I walked in the studio and they put the beat on and the producer was like, "Yeah yeah, we're gonna record a song, these are the words right here, all you gotta do is sing it." I remember how it went and everything and we put it on a disc, and that was my first record. It was called "I See You Over There." It really made more people in the area aware of who I was, and that I'm a young singer out here.


What was the musical path from there? I started following you around the 19 project. What happened in between?
A lot of working and grinding. A lot of growing experiences and learning. I went through a lot of stuff. I had been [making music], but when I dropped 19 I knew I found my swag. Like, This is my sound, this is Jacquees. Like when Michael Jackson made "Beat It," or one of those records, I just came into a whole new sound when I started working with Forte Bowie and Nash. I talk to Forte about my career and artistry a lot. We write songs together and make music together, but in other ways, he just always tries to talk to me about elevation, and re-creating yourself in certain moments, as an artist.
Forte Bowie mentioned in an interview with FADER that he was happy you were able to break beyond the Atlanta teen bop scene that was happening at the time. Can you tell me about that?
Exactly. When we were younger we were a whole group of artists that worked tightly together. Me, Jacob Lattimore, the OMG Girls, Issa, Jamar Harris, a bunch of people, and then Rich Kidz, they were in another lane. My swag was always street, and I remember the records I was making when I was getting older, I didn't cuss or nothing in my songs 'til I turned 18. And I was like Man, I gotta break out of this world, of everything they're trying to do with all of us. Everybody's dope, but I want to go to this other side real quick. So what I did was, I started making that type of music. I started telling the producers and writers I was working with that I wanted to say this. I started voicing what I wanted to do, I want to do this, I want my video to look like this. That's what I did. It was well received because I've always just been who I am. People are just growing. I'm a real person, so it's always easy.
When did you feel like you broke beyond that? Was that with 19?
It was around the time of 19, and it wasn't as far as the music as much as it was the content. I had to turn it up a notch. I started making records like "No Question," "Future Baby Mama," "Come Thru," we started talking like that. We had to start giving it to 'em.
You've also mentioned that you felt stuck at that point in your career though, and you didn't know how to push it to the next level. Can you tell me a little about that time and how that meeting with Birdman happened?
That was after 19. During that time I felt like I'd come to the end of my independent success. I wanted to be on TV now, I felt like certain people were turning to me, I felt like I was supposed to be up there. I felt like I had to put in some action to get there, but we were like, Damn, what do we need to do?
I talked to my manager Jonathan Sims, like, I'm 'bouta get down with a label or something. I was like, "Call Corey [Lamar]," you know, Corey's Rich Homie Quan's father. So he called him. Corey didn't answer, so I was like, "Man, I'mma call Corey." He picked up and I was like, "I'm tryna get down with Rich Gang, I'm tryna holla at Birdman." He was like "Shit, I'm with Birdman right now." He told me to send the song I had with Quan and the video, and when they called me back it was Birdman, and he was like, "Man, I'mma put you down, don't even trip." And that's what he did. I went and met him a couple days later, and after that I was signed to Cash Money, 2014.
In another interview you talked about an instance where someone had seen you in an old video you posted where you were meeting Diddy, and when you saw Diddy in recent years you showed him the video and he said basically "God's Plan," the world coming full circle. It seems like you've been around a lot of artists and industry figures from a really young age? How has that always been the case? Why is that a constant?
I've been in a couple different [deal and contract situations] when I was coming up. I was always moving around trying to figure it out, and I always landed around some muhfuckin' big people like Puff, Stunna. I used to be around Puff a lot and he didn't even know and now when I show him he's like, "Damn!"
You were also in the studio with Jagged edge a few times when you were younger. How'd that happen? Any other artists like that from your past? Working with artists at that caliber at such a young age, what kind of stuff did you take away from those experiences, and what stuck with you from those times?
I started working with Jagged when I was like 16. My manager Jonathan Sims, he plugged that in, so I worked with them early on. I learned a lot, most of those times were really all about singing. We weren't really talking about anything else, just singing and vocals, like truthfully using my voice, my God-given talent.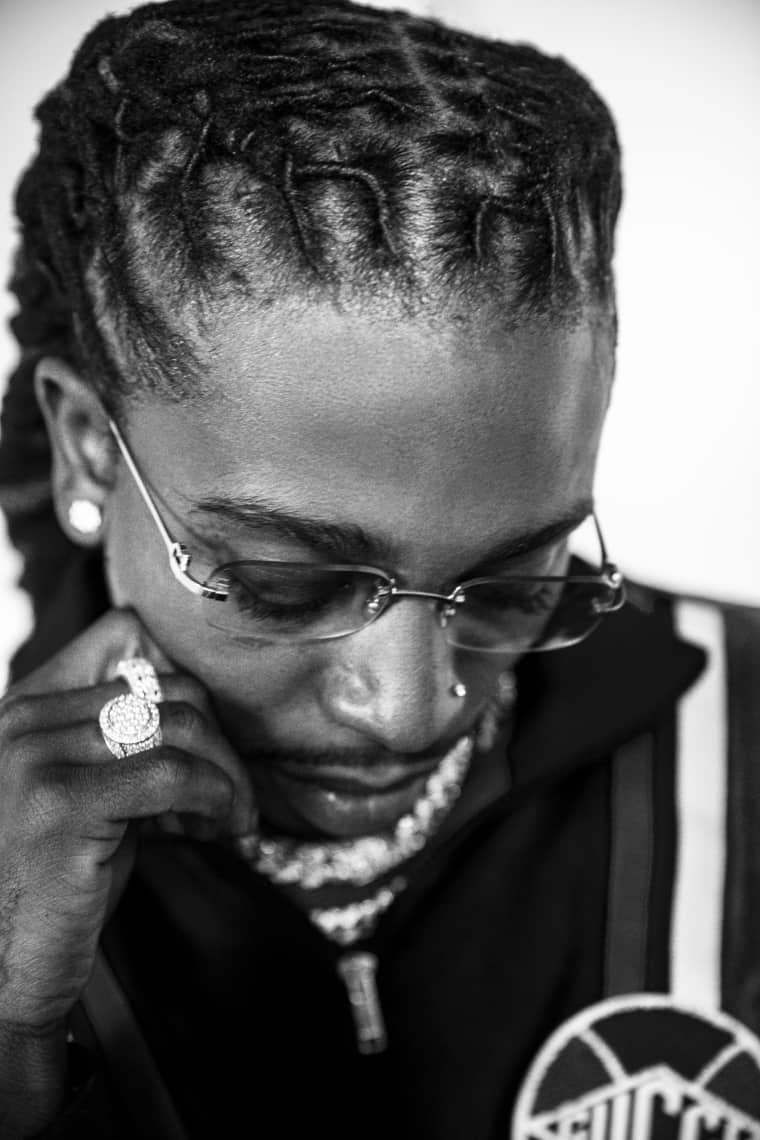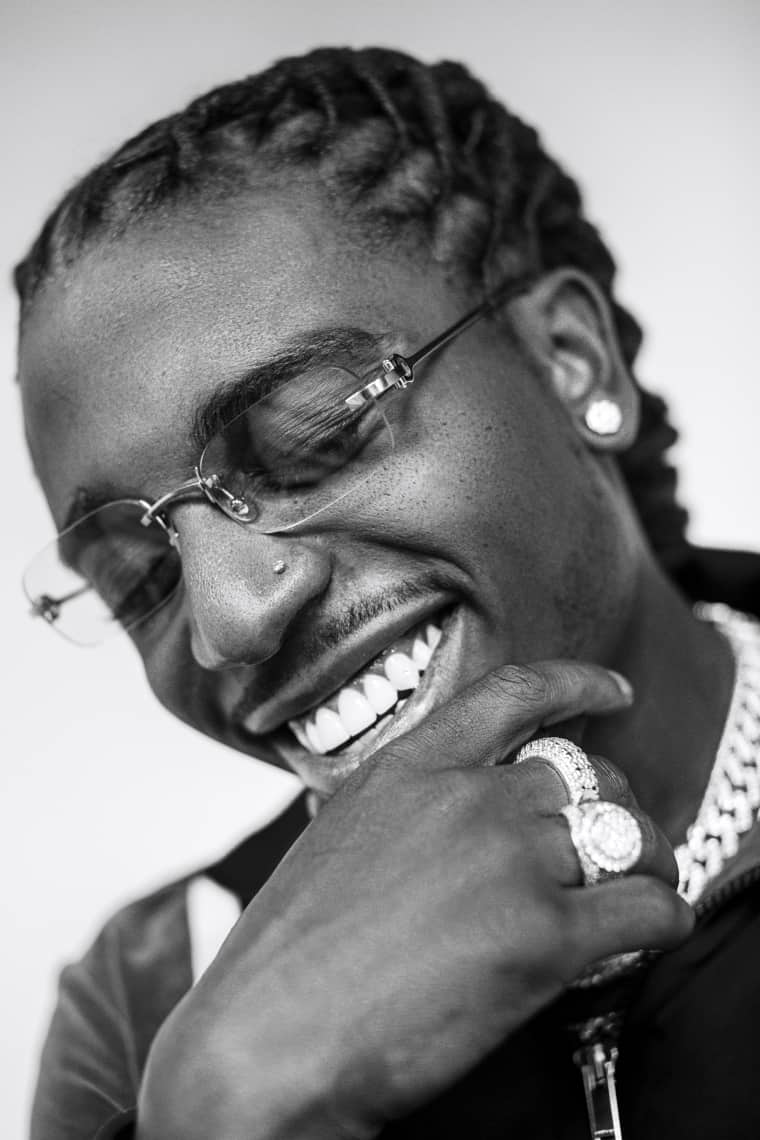 It's clear you love covers. What's always drawn you back to covering or flipping songs that you like?
Shit, because I don't really hear nobody else doing that for real. And I'm just like, Man, I wanna crush that. And everybody learns from somebody, so with the oldies it's like Man, lemme go back and change it and learn something. Every time I do it I learn a new run, I get a new tone, a new something. That's really why I love doing it.
I wanted to ask you about your cover of Ella Mai's "Trip." I've been following the news story and read that your team made a statement to Billboard that said there wasn't bad blood between you guys, but how did you feel in your own words about how all that happened? Have y'all talked to each other about it?
I just felt like, I never held anything against her because she's an artist, and I know there's always people on top of the artists that control the situation so I always just looked at it like that. And then on top of everything, I'm a real nigga, so I ain't really trippin' on that for real.
We haven't spoken since. There are people talking in front of us but, she's coming to my city on December 15 so, hopefully, when she comes to the city I can holler at her.
What drew you to the song in the first place?
Shit, it's a great ass song! I loved it. When I first heard it, I was like Damn, this song hard! She killed it. I'm finna Quemix this! Because I knew the next Quemix was coming out anyway. And then I was like, I'm finna leak this, this shit too hard, and I leaked it and it blew up! I knew it was gonna blow up, because I already know what Quemixes do.
Do you wish the whole situation was handled differently at all? Do you think y'all will work together in the future?
I ain't gonna say I wish nothing, but if I had one wish I would just wish we could have done the real remix together. That would have been cold. And yeah, I think so, because we're fans of each other. When I first met Ella Mai, she told me she'd been listening to me for six years, so yeah I'm pretty sure we'll do a record. We met backstage at the Heartbreak On A Full Moon Tour, Chris Brown. I was on the tour. That picture I posted for the "Trip" Quemix cover art is the picture from when we first met. That was this year.
After the "Trip" remix, there were a few memes going around about your cover, but there've been memes of you floating around the internet for a while before that, like that one about you singing in the car. How do memes like that make you feel?
Shit, like I'm poppin'! I'm with all that shit. See, I'm a tough nigga, like, it's OK. The internet can't hurt me 'cause I ain't come up on the internet, you feel me. I was in the street, so it's different. I was actually cool, I didn't get cool on the internet. I'm a real human. I really went to school, I really did all that. These folks be weird.
Is there a favorite meme of you that you've seen that's stood out to you or is especially funny?
The little voting one I seen the other day. Some fans had caught me at the airport, and I take pictures with my fans regardless of how I look. It said, "Go out and vote today. I don't give a damn if you gotta look like Jacquees." And the way I was dressed and shit they were like, "What the hell does he got on?" That shit was funny as hell. But I was just fresh off a show and a flight, I didn't give a fuck. I was on the way to the crib. All that shit make me laugh, I ain't never seen a meme where I was like, "What?!"
Did this year feel like even more of a breakout year for you at all? How has your life changed in light of that?
This is my best, this is a great year. 2018 has been amazing. Me and my momma were just talking about this. I feel like God really poured it on me this year. 4275 my album came out, that was the biggest thing to happen to me this year.
I always try to become a better person, the best version of me. Earlier this year I had a lot of slip-ups like running into trouble with the law, stupid shit, not using my brain, but I feel like I overcame all of that. And now I feel like I'm in another position to be great. My momma brings me back on track, and I think about how blessed I am. I just try to stay out the way.