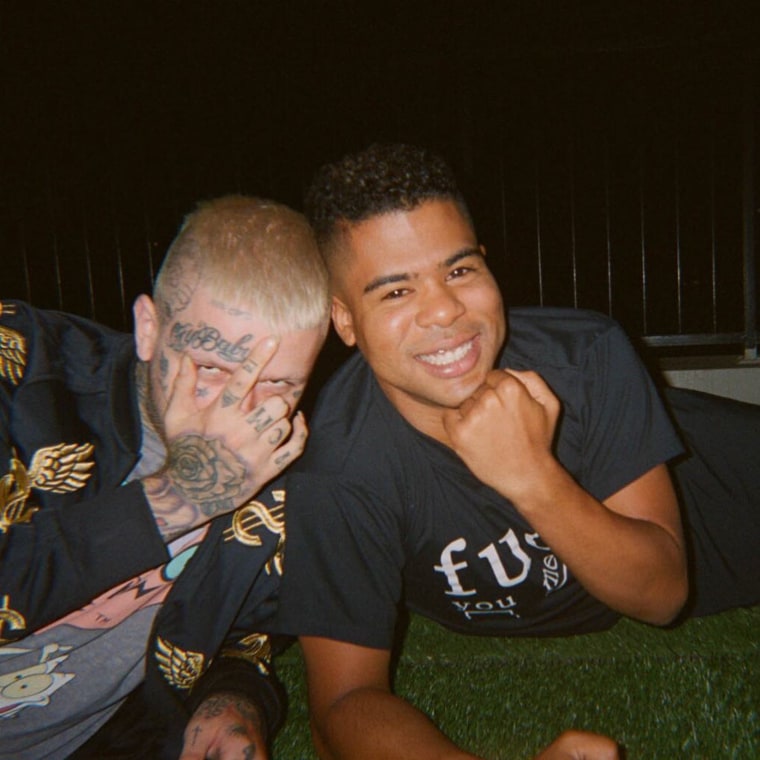 The ILoveMakonnen effect is all over modern rap. The industry is hungry for fashionable misfits with street knowledge who can both turn up to 11 and croon with sorrow, and that appetite began in 2014 with Makonnen's smash hit "Tuesday." Prior to his commercial breakout, the rapper, singer, and producer proved that outsider art could bang with solo songs like "I Don't Sell Molly No More" while acting as a key collaborator in the rising Atlanta rap scene with artists like Migos, Mike WiLL Made-It, Father, Metro Boomin, and Sonny Digital. Drake took notice, remixed "Tuesday" with Makonnen to commercial success, and signed him to a short-lived and tumultuous deal with October's Very Own. Makonnen had a lane that was unmistakably his, and other musicians have long sought to merge with it.
That streak continued in 2017 when Makonnen began working with Lil Peep, the late buzzing rapper set to introduce the charts to the tattooed, drug-addled world of emo-rap that found its genesis in rappers like Makonnen. The two artists clicked, and excitement for their music grew from fans — stoked by the artists themselves, as Peep referred to their album as "legendary." Peep's tragic passing at 21 gave their unreleased music a new significance to his fans, who have since scrutinized each posthumous release in a manner associated with deep heartbreak.
The controversy peaked with "Falling Down," a posthumously constructed collaboration between Peep and XXXTentacion, who was shot and killed in 2018 as he awaited trial on a litany of charges, including the aggravated battery of his pregnant ex-girlfriend. The song is a revised version of a track Makonnen and Peep co-wrote in London, but members of Peep's rap collective GothBoiClique said Peep wouldn't have approved. Makonnen saw things differently, telling XXL in September: "I guess I can speak for Lil Peep since it's our project together, I would say that we would be very open to talking with whoever and to making any sort of creative things happen."
A month after the release of "Falling Down," transcripts of XXXTentacion apparently confessing to a number of disturbing crimes were revealed. When I asked Makonnen if his perception of "Falling" had been changed by the news, he demurred: "I don't know anything about that."
Today, Makonnen has released "I've Been Waiting," the first single from his collaborative project with Lil Peep. It features Fall Out Boy, and Makonnen is certain Peep would have been thrilled with the team-up. Two days before the song's release, The FADER spoke with Makonnen over the phone from Los Angeles about the song, the upcoming project, and navigating Peep's intractable legacy.
The FADER: How did "I've Been Waiting" come together?
Makonnen: It originated at my friend Brenton's house. When I met with Lil Peep to work on our album, we'd both play each other ideas we had. This was one of the ideas that I played him, and he was like, "I love that one, I could tell my story and add a lot to it." It was one of my all-time favorites, and it became his favorite. We first started recording it in L.A. in July when I first worked with Lil Peep in the studio. Then, we went to London in August and finished the track there.
Fall Out Boy was a big influence to him. [Peep] said that his style was a cross between ILoveMakonnen and Fall Out Boy. Pete [Wentz] had reached out to me after Peep passed away and sent his condolences. I told him about what we were working on and he asked if they'd be interested in adding something to it. It put the cherry on top of something that was already made great. I was very ecstatic with what they did. I showed Peep's mom and a few others, and they were all excited about it.
In the music that you and Peep made together, would you say there are any common threads that resonated with him?
As artists, we were both just diving into each other's art. We could've made every song together. We weren't going to run out of creativity to make music.
Being with Lil Peep taught me to be a little more fearless — to be me and create, and not think about what others don't accept me for.
What did working with Peep in the studio on this project teach you about your own work?
It taught me to keep being myself, because that's what people like — even when I feel embarrassed. I guess that's what people enjoy about me — I'm the type of artist who can truly showcase himself, all negatives and positives. Being with Lil Peep taught me to be a little more fearless — to be me and create, and not think about what others don't accept me for.
Can we expect any other features?
I can't say for sure yet, but there might be. I definitely want to get back in with Smokeasac, because we were the main ingredients on it in London. Mostly, the collaborations came with other producers.
Has the music that you two recorded together changed significantly since the London sessions?
No. If anything, it just has the support that it should've had.
After Come Over When You're Sober, Pt. 2 dropped, there was controversy within Peep's fan base about how the record was produced. Do you worry about backlash from this fan base?
No. With all due respect, most of these fans didn't come until after he died. I don't know if they really even know what they're talking about. The fans that were here before he died know that this is the level that he was moving into. There's just so many people talking about stuff, and I just feel like I can't really jump in the conversation with them because it's like, more than half of you all weren't here when the person was alive, okay? Probably most of you all that were here wasn't really that interested in what we were doing in the studio at that time.
It is what it is. People debate all day, but as a creator that was here, I'm just holding the truth to what me and Lil Peep wanted to do. It's crazy because, his original fans, we were doing this for them. We have all these new fans that come saying, "We want you to do stuff for us," but it's like, "Well, what are you a fan of?"
Your uniquely tumultuous history in the music industry is well-documented. What has this new experience taught you about it?
It's one of the most cutthroat, disgusting businesses to ever be in. If you don't want to be cutthroat and disgusting, don't join it.