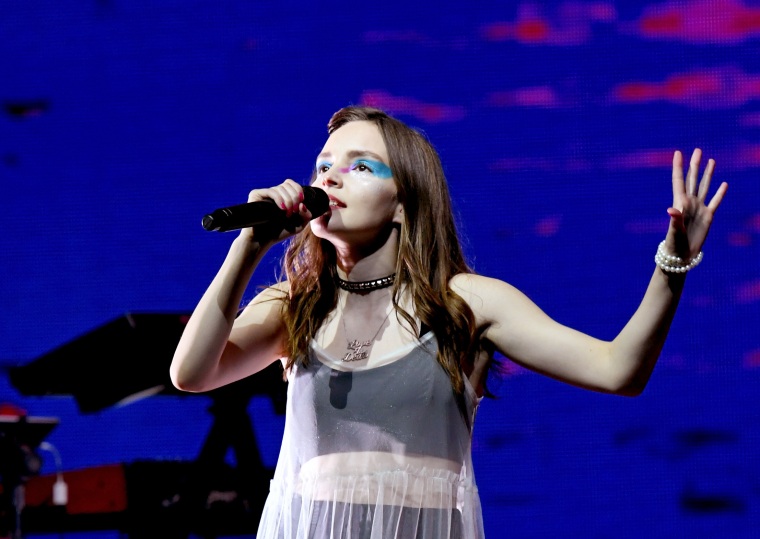 Last week, CHVRCHES issued a statement after recent collaborator Marshmello released a song with Chris Brown and Tyga, both of whom have been accused or convicted of abusing women. Brown was quick to respond, calling the Scottish synth pop trio a "bunch of losers" and "the type of people I wish walked in front of a speeding bus full of mental patients."
CHVRCHES frontwoman Lauren Mayberry has been vocal about the violent threats she's received since the band distanced themselves from Marshmello. During their headlining set at Fortress Festival in Forth Worth, TX, Mayberry further defended the band's decision to rebuke Marshmello's collaboration, in the face of death threats:
"We weren't picking on Chris Brown for the sake of picking on Chris Brown. It was a morally dubious decision that happened, but ... we would be really hypocritical if we worked with somebody and didn't say anything about what they did immediately after that fact, when we give money from our headlining shows to girls rock camps, and when I'm a patron of Rape Crisis Scotland. You can't do that.
Now I'm gonna have to invest in some fucking bulletproof tutus, because apparently that does not go down well with the Breezy fans ... we were like, 'maybe don't promote serial convicted violence to young people,' and then they were like 'you know what we're gonna do? We're gonna rape you and shoot you.' You kind of proved the point."