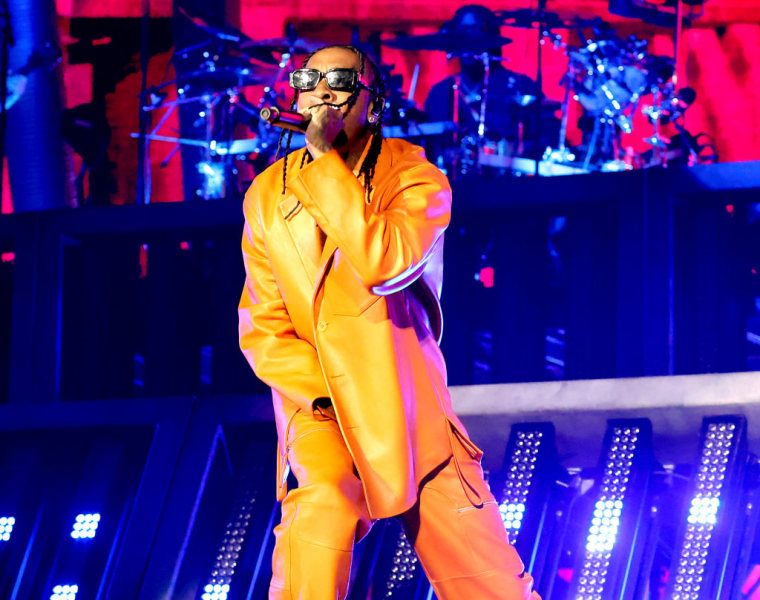 All eyes might have been on Blac Chyna's court case this week but there's another intriguing battle involving a former part of the Kardashian-Jenner universe. Tyga's efforts to clear his name in a contest with sneaker company Vans reached federal court in Brooklyn on Wednesday with lawyers for Vans arguing that the rapper's "Wavy Baby" shoes violate trademark law (via Billboard). Tyga, in his defence, claims the shoes are an art project and thus not subject to the same laws.
Tyga teamed up with the appropriately named MSCHF to design the shoes. MSCHF worked with Lil Nas X on his infamous "Satan" shoes last year and, more recently, helped The Weeknd release music on a fully workable saw blade. The shoes the pair came up with certainly looks like Vans trademark Old Skool design with a few clear points of difference: the sole is warped and wavy with the logo similarly distorted.
Vans launched an immediate lawsuit when the shoes were announced earlier this month and are seeking to block any future sales. Billboard reports that attorneys for MSCHF argued the shoes were a form of free speech protected by the First Amendment.
"These shoes comment on consumerism, on the absurdity of sneakerhead culture," said MSCHF defender Megan K. Bannigan reportedly argued in court. "This was released as an art project. It was not released in competition with Vans." Vans lawyers, in response, argued that MSCHF and Tyga had "tricked" customers into believing the shoes were an official collaboration.
Vans filed their lawsuit three days before the Wavy Baby shoes were set to drop on April 18. MSCHF states that the initial run of 4000 pairs manufactured sold out immediately. The application for a restraining order hinges on future sales, which MSCHF claim they have no intention of making. They state that the drop was a one-off and intended to "critique consumerism inherent in sneakerhead culture" as well as "the phenomenon of sneaker companies collaborating with anyone to garner clout and shoe sales."
U.S. District Judge William F. Kuntz declined to issue a ruling at the end of the hearing and said a ruling on the restraining order would be issued eventually, without stating exactly when.