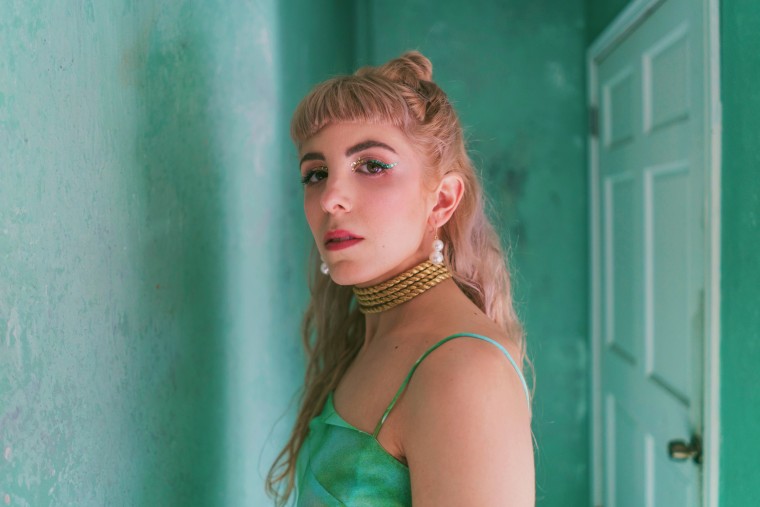 For 180 days, Montreal singer-songwriter Alexandra Levy journaled the aftermath of a romantic relationship. She explains why on a song from her upcoming album, singing over spare guitar and fuzzy feedback noise, "That is what I am told, counting every moment 'til I'm six months older and that much farther..." When I get her over the phone a few days ago and ask if 180 days ended up being enough, she laughs: "No. But I was definitely in a different place than where I had been."
Levy's journey to that place, as messy and complicated as it was, is the core of her beautiful and insightful debut record as Ada Lea, what we say in private. The ten-track project, which comes out July 19 on the indie label Saddle Creek, makes public what tends to happen behind closed doors. Often, her songs end up revealing the strange and weird thoughts grief and transition can bring out of us, feeling all the more honest and real in its chaos.
Today, The FADER is premiering "mercury," a frenetic song about the dissolution of a friendship. Levy messes around with the pacing as she reworks through the falling out, slowing down to sing, "You've made it known that it's time that we close another door," before the guitar kicks up and it's full throttle again. "The quandary with myself and dealing with things that couldn't be relayed in a typical linear song form, meant that I couldn't actually write the song in a typical song form," Levy tells me. "I was going along with things as they were happening."
The Monserrat Muro-directed video, also debuting today, features Levy dancing and picnicking alone outside at night, projecting the same sort of unsettled, unfinished energy. Watch it below and read our conversation about journaling for 180 days, writing her own music, and still feeling embarrassed by her own creations, sometimes.
You journaled for 180 days. That's a super specific timeframe, why?

I wanted to keep a record and it kind of encouraged me to keep my independence. I just wanted it to be six months, I wanted it to be half a year. I just wanted to let enough time pass and see where things lie.
Did you feel it was enough time?

No [laughs.] It wasn't enough time but I was definitely in a different place than where I had been when I started journaling, and it's incredible what a bit of time can do, and days go by and are replaced by the previous day and little by little you're forgetting. That process for forgetting is the hardest part, and whether it's a friendship or a romantic relationship, you don't want to let that go and you know that you don't want to forget as time passes but in a way it's your way to cope with things.
How did your emotions day-to-day show up on the record?

I kind of let things happen the way they were happening and didn't try to control them too much. Especially with the song "Mercury" specifically, that's a song so untraditional in its form. The quandary with myself and dealing with things that couldn't be relayed in a typical linear song form, meant that I couldn't actually write the song in a typical song form. I needed the song to develop how it wanted to develop and I think as a record on its own that's kind of what ended up happening; challenging form, allowing expansion, allowing certain ideas to breathe. People have said to me that there's so many different songs and it sounds as if it could not be an album. I find that so interesting because the backtracks were recorded in two days; it was all songs that I had written around the same period so that's just what happens when you let yourself go wild.
When did you get into music?

I started playing music when I was 15 or 16, and I joined the high school jazz band and they needed a bass player and we had a bass lying around the house so I taught myself how to play. The jazz band was going on a field trip, and I just really wanted to go on the field trip with all of my friends. Then I became obsessed with the bass and music in general. I [started] a cover band and we participated in the battle of the bands and that's where it started, just becoming obsessed with music and I was in a Protest The Hero cover band.
When did you pivot to writing to songwriting?

I started playing the upright bass and that's kind of where I started playing a bit more piano and guitar and it came pretty naturally. I had always been writing little stories or keeping things in my journal, and when I went to music school i found a group of people that were songwriters too and we just wrote together. When I went away to New York I was kind of doing it in secret, writing songs in secret because it was kind of taboo to be doing that at a jazz school. You're supposed to be playing standards. If you're not staying true to the music and venturing off on your own and writing singer-songwriter thing, you're not a jazz musician.
I slowly started singing and taking lessons. The transition was pretty long, it took a while but essentially, there was so many other people that love [jazz] music that deserve to be playing it and there was something that just didn't feel right for me. It's not my music. Especially being a woman, it's not really my world. That became really clear to me and I moved back to Montreal, I think for the better.
Why do you think you're drawn to being able to write your own songs?

A lot of the music that I hear today, I listen to it and there are things that I would do differently. I think with everyone who writes their own music, they're hopefully bringing something new and exciting to the table and I look for that when I'm listening to music. I think that it's really fun to hear people's own creations.
Do you like hearing your creations?

That's a funny question because I don't always, to be honest. It's hard to hear my own stuff and a lot of the time, I'll think that something that I've written is kind of unnecessary or stupid or irrelevant and I just become very self-doubting and that becomes hard. Some people have reached out to say how my song has moved them and that's what I could only hope for in writing. I think that's essentially what I'm looking to do and to not be so self-centered in the process and to know that, in the way other music moves me, I have the potential to move other people.