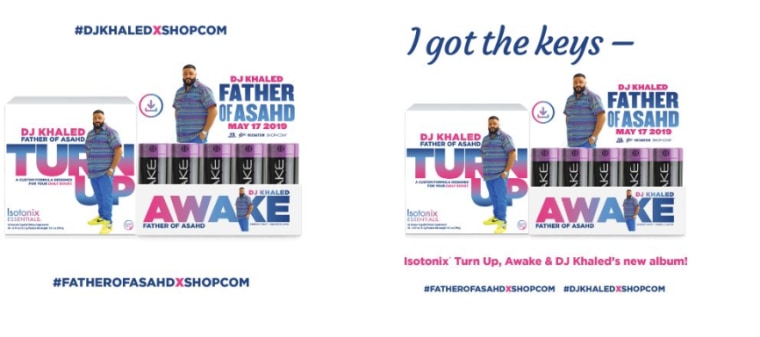 The New York Times ran an interesting report on the current status of album bundles over the weekend. Album bundles, for those who don't know, are a way of juicing sales and boosting chart positions by including an album in a package alongside things such as T-shirts, hoodies, and concert tickets. It's a big business that everyone from Travis Scott to Backstreet Boys have taken advantage of in the past few years, as streaming increases and traditional album sales plummet. However, it's not without complications and the Times report suggests Billboard is planning to tighten its rules around what is, and what is not, an acceptable bundle.
An interesting example of the finer details of the bundle wars cited by Times reporter Ben Sisario centers around the recent chart battle between DJ Khaled and Tyler, The Creator. Tyler beat out Khaled in the charts with his album IGOR, a result which led to Khaled reportedly getting very upset indeed.
According to the Times report, both albums had gotten "an almost equal number of streams," so Billboard had to examine their bundles for discrepancies. It was sales of Khaled's Father Of Asahd alongside a range of energy drinks that the chart-monitoring company decided was not valid, chiefly due to explicit attempts at encouraging mass purchases. One blog post by e-commerce site Shop.com reportedly told its members to buy 12 packages to "push DJ Khaled and Market America to No. 1!"
All of the sales through this bundle deal were subsequently discounted and Khaled had to make do with the No. 2 spot. Billboard defended the decision, telling the Times, they "saw an organization encouraging purchases among their members by promising them material and organizational benefits."
Desiree Perez, chief operating officer at Khaled's label, Roc Nation, attacked the very nature of bundles, saying the practise is "confusing and demeaning to the art." She added: "We're obviously not fans of bundling, nor should anyone who cares about artists making music. But our hands are being forced by Billboard's desperate, last-ditch effort to keep streaming from eliminating what's left of music downloads."
It could also be argued that Tyler, The Creator bundling his album with highly-desirable merchandise and designer clothing is a more enticing package for fans to purchase. Either way, Perez's comment that the whole business is "demeaning" hits the hardest here. Consider the merch bundles wars evolving, if not quite over yet.
The FADER has reached out to Billboard and DJ Khaled for comment.