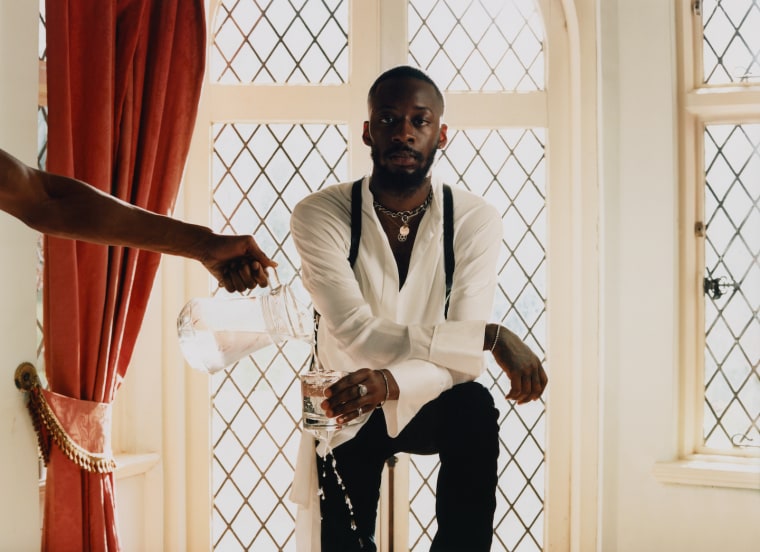 Before GoldLink's major label debut was released in March of 2017, the DMV-bred artist's image was routinely shrouded in mystery (at one point he actually wore a mask). His catalogue largely consisted of raps over Soulection type beats that were nostalgic at their core — either about love interests that got away or recounted scenes from his knuckleheaded adolescence. In those early stages, it wasn't clear if he'd end up falling into the Soundcloud abyss or if he had what it took to transcend a new crop of artists that was multiplying by the day. The bars and delivery weren't fully fleshed out up to that point, but what was detectable very early on (when he was still categorizing his music as "future bounce") was that GoldLink had a keen sense for how to make music that was gripping and sonically layered, even with those limitations present.
GoldLink packaged 2017's At What Cost in a much more linear fashion, though it did maintain those same skills that made him stand out early on. The album was anchored by a central theme: to amplify, and in turn, preserve, the D.C. area's rich history of Black music. There were tinges of go-go, singing from 2000's R&B standout and Maryland native Mya, and appearances from DMV flow aficionados like Lil Dude. And, to many people's surprise, the album's triple platinum-selling single "Crew" earned a Grammy nomination. The accolades the album received hinted that if GoldLink continued to attach tangible narratives onto his already stellar gift for orchestrating the vibes, then he may be on his way to being considered one of rap's more promising acts.
His latest offering, a 14-track album titled Diaspora, finds the DMV native focusing on the connection between himself, a Black American, and other Black artists across the globe, but a large part of its success is that it plays with a concept that is still being figured out in real-time, leaving ample space to improvise.
It doesn't take very long for Diaspora, true to its title, to take its listeners on a few different routes. Its first track, "Joke Ting," which features smooth crooning from London-raised singer Ari Pen-Smith, is GoldLink's time to revel in the success he's experienced since "Crew"; the track's title plays on British by-way-of Caribbean slang. That's followed by the Khalid-featuring "Days Like This," a somber look back at turbulent experiences from GoldLink's early teen years, building on the nostalgic raps he's been producing since the beginning stages of his career. Diaspora's fourth track and one of its lead singles "Zulu Screams" has a whirlwind of global Black influences: The song's title references a famed tribe from Southern Africa, while British-Nigerian artist Maleek Berry assists on the hook and Bibi Bourelly delivers the bridge in the Congolese language Lingala. But Diaspora's value isn't just in its ability to serve as somewhat of an anthropological study on the parallels between Black cultures across the world.
The biggest strength that GoldLink displays throughout this album is that he has become a master at picking his spots, which might be born out of pure necessity. It's hard to pinpoint what exactly makes GoldLink good as a standalone artist. His lyrics very seldom leave a lasting impression outside of the immediate moment that you absorb them. His flow is one that feels unique to him but, at times, it's so frenetic that it conflicts with the soul-leaning production that he seems to favor. Even on his biggest hit to date in "Crew," it's arguable that Brent Faiyaz's sleek hook and Shy Glizzy's spirited verse are what make the song remarkable, as opposed to his own contributions. On one hand, this could be viewed as a deficiency on GoldLink's end. But if that is indeed the case, at least he was smart enough to carry the trend of being an auteur over to Diaspora. So many of the album's best moments don't come directly from him. He holds his own on the romantic, club-heavy standout "More," but it's Lola Rae and P2J's silky voices that make it pop. "Coke White" with Pusha T starts to lose a bit of its momentum when GoldLink comes on with a completely different beat. What holds everything together is his ear for compelling production and masterful sequencing, which makes the album flow almost flawlessly.
Goldlink's decision to title this album Diaspora allows listeners to witness the interpretation of a term that can be challenging to understand in its full scope. Even knowing how to engage with the word "diaspora" can often feel like shaky ground: Does it mean being inclusive of literally all people of African descent? Does it have to include people living on the continent to be valid? Is it "the diaspora" if it primarily centers the Black American experience? There is no correct answer to these questions but, over the past three years or so, due to an increase in conversations sparked on social media, there has been more progress in Black communities across borders placing an emphasis on understanding each other. In turn, the experiences and information being shared has helped magnify just how connected we are in spite of colonialism's legacy. More than ever before, there seems to be a pride in Black people that drives their curiosity for culture being created elsewhere and music is usually their first introduction to these other worlds. Just five years ago, it would have been difficult to grasp that "ting" would become a playful mainstay in Black American slang or that music from West Africa would be in regular rotation on urban radio stations in the States. But people's love for the music is what is changing this narrative. There's even been an uptick in albums by Black artists titled Diaspora over the past few years.

In 2017, jazz musician Christian Scott aTunde Adjuah released an 11-track album of the same name. On it, his saxophone maneuvered its way through a myriad of backdrops: New York's acid jazz rap moment of the early '90s, trap-style 808s, and at other times, a mashup of African drums with the rhythms of his hometown New Orleans's bounce genre. When played in full, his version of Diaspora is a journey through history, while, at the same time, proposing what the future of Black music could sound like when conjoined in such a way.
A year later, in November of 2018, Baltimore-based singer Joy Postell released her own Diaspora. In her take, the 10-track album was less concerned with trying to tell the collective story of Blacks worldwide than it was with focusing on struggles particular to her own Black American experience. One of the album's first songs, "North Star," is a plea to be led to freedom, in the same tradition that Black slaves used to navigate when trying to escape bondage.
Beyond a title, similar attempts have become commonplace in recent memory as well. Walshy Fire's new album Abeng is an intentional collaboration between African and Caribbean artists of various nations; last year, Houston producer Slim K released a mixtape of chopped & screwed Afrobeats hits; even Drake's More Life was largely centered around working with artists from throughout the global Black community — specifically from London — even if it wasn't marketed that way. More than anything else, More Life could be viewed as somewhat of a blueprint for GoldLink's Diaspora, considering that the bulk of its featured artists are Black Brits as well.
With how massive genres like Afrobeats are becoming on a global scale, it'd make sense that it won't just be the artists themselves who want to see this become commonplace — labels who see the potential earning power of these collaborations will likely start to push for them to keep happening. But to see GoldLink add onto this conversation underscores the fact that there is no ideal way to go about exploring one's identity. To his credit, Diaspora's loose theme holds together strong enough that his choice to not center himself in many of the songs becomes secondary. Even A-list features like Pusha T and Tyler, The Creator don't hold enough weight in this equation to knock the focus out of whack. In GoldLink's world, the priority is always to make the best music possible, instead of having the music's value rely so heavily on names or any other singular aspect. Diaspora succeeds on that front and joins a long legacy of Black artists grappling with what it means to rightfully represent who and what they come from.
Correction: This article previously stated that GoldLink's "Crew" single was double platinum. The single is now triple platinum.