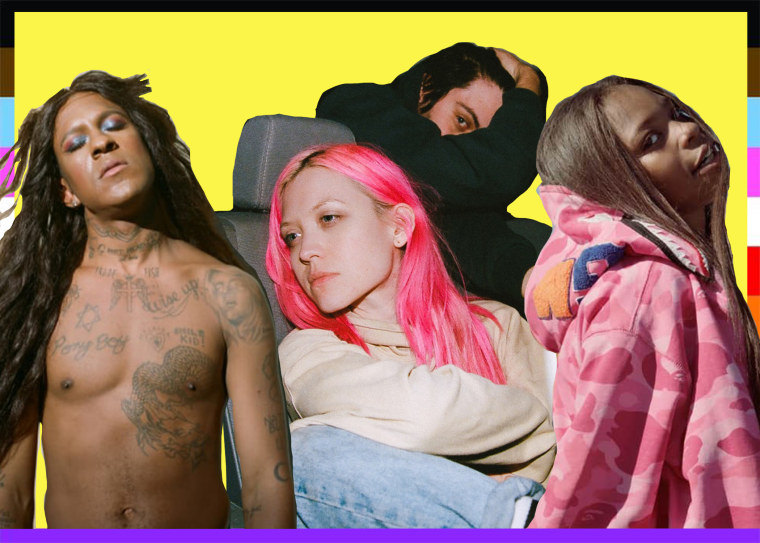 This weekend marks world pride in New York City, a celebration of the obstacles the LGBTQ community has overcome and a rallying cry for progress that still needs to be made. At the same time, pride season can be discombobulating and often isolating when it feels like a capitalist approximation of disenfranchised identities. Perhaps one of the most appropriate ways to celebrate, for community members and allies alike, is to uplift and center queer narratives. Today, we're discussing six of our favorite records that deserve a spin this weekend. Though it would be short-sighted to conflate identity with artistry, especially when each of these artists offer so much beyond their sexuality, these are projects that synthesize queer experiences so masterfully that they're worth revisiting.
Deerhunter, Turn It Up Faggot
In the years since its release, Deerhunter frontman Bradford Cox has distanced himself from his band's loud, squally debut, saying that it's the work of a band that wasn't necessarily ready to make good music. And it's true, Turn It Up Faggot is probably the worst of Deerhunter's catalogue: silly and oftentimes plain stupid, it carries little of the surrealism and nuance of the band's later work. But as a 'fuck you' statement from a young queer punk band, there's no record better. From the album's cover — a mirror image of Black Lips' Jared Swilley standing naked, half-erect — to the use of a taunt they heard at early shows as the album's title, to the snide university student anger of the songs, Turn It Up Faggot spits in the face of respectability politics. There will always be members of the LGBTQ+ community who don't, won't, or can't fit in with the majority of society, and Deerhunter's debut is for them. Turn it up, faggot. — Shaad D'Souza
Mykki Blanco, Cosmic Angel: The Illuminati Prince/ss
On the road to Mykki Blanco dropping their mixtape Cosmic Angel: The Illuminati Prince/ss in 2012, much of the press lazily grouped them in with other emerging queer artists for no reason other than sexual orientation. But what the tape did — especially in hindsight — was offer a new approach to a genre that was already being reimagined in various nooks of the internet. Mykki Blanco, the character — a wild teenage girl — was initially developed as a performance art piece by Michael Quattlebaum who once described Mykki as having "two sides: cute and criminally insane." And the tape often followed those two routes. On songs like "Betty Rublble" and "MB's First Freestyle," a wild, pitched-up voice detailed the lengths of that insanity, which sometimes came out as plain murderous. At other points, Blanco flexed their ability to spit conventional, gruff-voiced bars about their lyrical prowess, love interests, and the wild scenes from the clubs they frequented ("Kingpinning," "Virginia Beach," "Wavvy"). And though the general rap listenership is more (but barely) softened to it now, Mykki's election to go over beats that would've been previously confined to the niche electronic music-championing club kid scene proved to be monumental, considering that many of rap's young stars of today pulling from more alternative influences.
Rap didn't know what to do with Mykki Blanco back then, and it's arguable that it still doesn't, though they've gone on to collaborate with the likes of Kanye West, Madonna, and Teyana Taylor. But what can't be disputed is that Cosmic Angel: Illuminati Prince/ss disrupted the comfort zone of hip-hop, while simultaneously empowering a community that had been shut out of being front-and-center, despite its crucial contributions to the culture as a whole. Even the project's title lets you know that Mykki Blanco could never be confined — not by gender, genre, or anything in between — which is why they have gone on to thrive in a number of creative endeavors (in and outside of music) since that introduction to the world seven years ago. — Lawrence Burney
Now, Now, Saved
Now, Now is the musical pairing of KC Dalager and Brad Hale. The two have been making music together since high school, sharing an earned mutual understanding that's reflected in the synchronicity of their work. Last year, the duo returned from a six year hiatus with Saved. Their most realized project to date, Saved spins in arcade colored synthpop to the band's space-gazing Midwest emo. It's a consistently enrapturing journey, from the breezy kick off of "SGL" to the extraterrestrial outro of closing track "P0WDER." Saved isn't an immediately "gay" album upon first listen, but rather in how it gradually reveals its liberation over several listens. Dalager sings directly to a lover for most of the record, but she writes with just enough distance for any listener to totally wrap themselves in the narrative. To me, Saved reads as a absorbing encapsulation of queer desire: desire with higher stakes, desire with enough certainty to take the risk. — Salvatore Maicki
MNEK, Small Talk
Uzoechi Osisioma Emenike, or MNEK, dropped his debut project Small Talk – EP in 2015. Small Talk is a reminder that pop music can be fun and deeply cathartic at the same time. It is a six song powerhouse of upbeat dance hits that feel so necessary that they are familiar the first time you hear them. It brought to us "The Rhythm", an infectious bop that arms even those who haven't mastered a one-two step with the feeling that they've instantly downloaded a Beyoncé level catalogue of moves into their brain. I know because once my mom and I literally pulled over into a closed gas station to turn it all the way up, hop out and dance when it played on shuffle. And that's Eminike's exact intention, singing "When I let the rhythm get to me/I just don't know who I'll be/ think I just might lose my mind." Within this kind of intention and execution lays the brilliance of MNEK as a songwriter, one who has lent his talents to the likes of Madonna, Zara Larsson, JoJo, and yes Beyoncé herself. The EP finishes with a stunning display in the power of arrangement and harmony on "Suddenly", a hypnotic song that ebbs and flows like a river; and boy does he run. And riff. And belt. Overall, Small Talk introduces MNEK as a bastion of the power of vocal technique. But he is also a gay, black man and is very aware of that perspective. In a 2018 interview with BBC Radio, Emenike said "I didn't always see someone that I could relate to, that would tell me that being black and gay is OK," expressing that he'd like to be the one to do that for people. — Nalae Anais White
Kodie Shane, Young HeartThrob
Atlantan singer and rapper Kodie Shane's album Young HeartThrob is one for the queer books. Released in 2018, comprised of 15 tracks, this album covers all the bases; heartbreak, unrequited love, lust, and sex. In a Red Bull Documentary she mentions her sexuality; "Queer as fuck, by the way, and happy about it"- this is exemplfied in all of her music, and in this album especially. On "Sing To Her", one of the more confident songs on the album, Shane sings - "She like when I rap but love it when I sing to her/ she can't get enough". Young HeartThrob is a mix between boastful, self-assuring songs and songs full of longing and betrayal. In "End Like That", essentially a break up song, Shane confesses, "I told you "If you leave, there's no comin' back /I never thought that it would end up like that". Her lyrics and yearning delivery flow seamlessly alongside the melodically trap influenced beats. In its entirety, Young HeartThrob is an iconic queer album about the tortures of love and sexual desire. — Ava Trilling
Tommy Genesis, Tommy Genesis
Tommy Genesis is an equal opportunity heartbreaker. On her self-titled debut album, the only thing the Indian-Canadian rapper likes more than playing around with fuckboys is stealing their girlfriends from right under their noses — before leaving those girls in her dust. On the album, self-described "fetish rapper" Genesis races through the world with an eye for little more than sex and money, regardless of where those two things come from; the result is a short, slick rap album that's gleefully slutty and bracingly queer — two traits we could all use a lot more of. — Shaad D'Souza