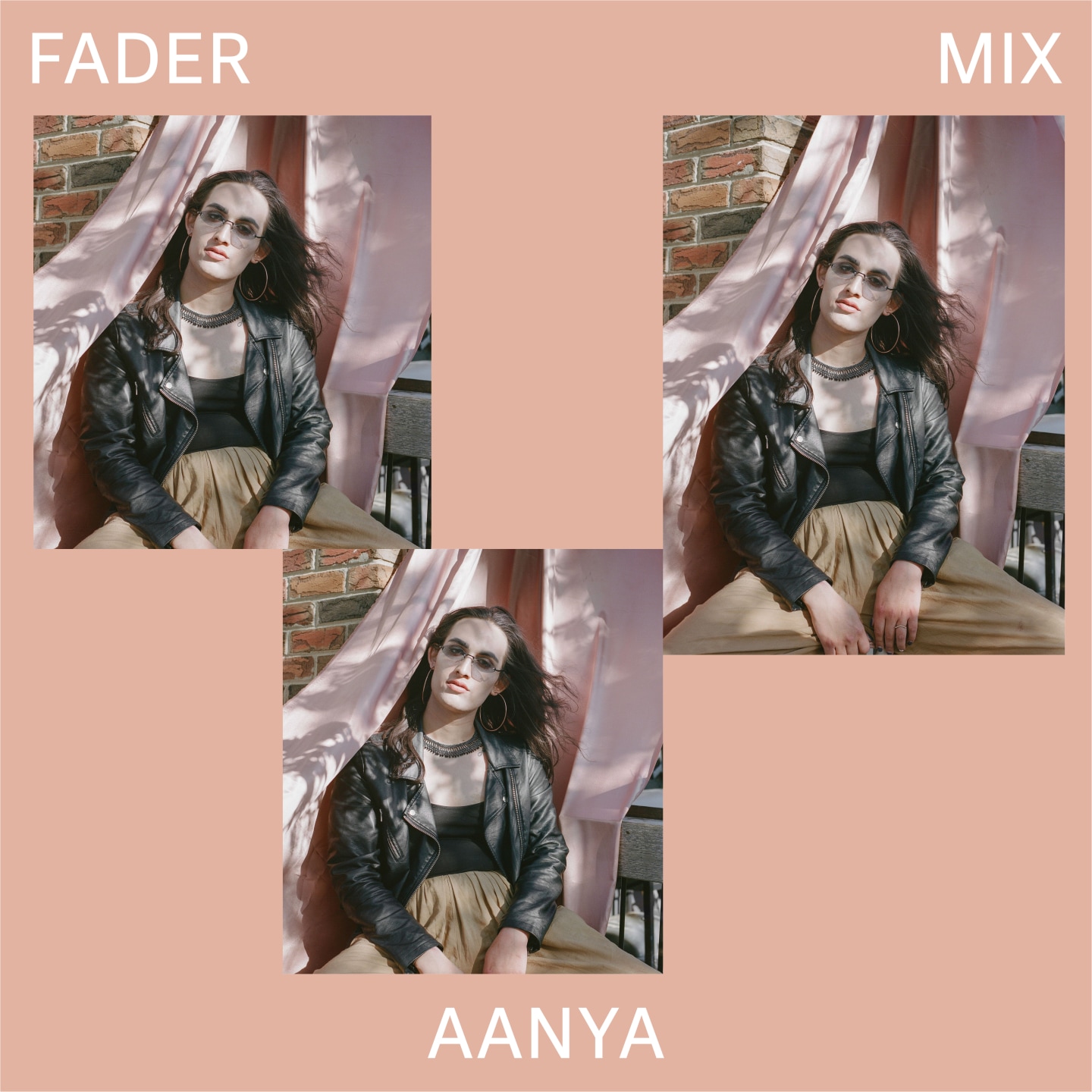 In the near two years time Aanya's been active in Toronto's club scene, the DJ formerly known as Coco Supreme has become a significant trailblazer for the city's LGBTQ+ community as "one of the first Trans Woman of Colour making big moves." Between working with incarcerated LGBTQ+ populations, and as a community health professional, she's played a role carving trans and queer-centric spaces and festivals while moving up the party scene supporting Azealia Banks, Ian Isaiah, CupcakKe and more.
After a short retirement earlier this year, due to her frustrations with Toronto's stagnating scene, she recently resurfaced under her real name with a renewed commitment to curating sounds that the city may not be used to. For her FADER Mix, Aanya pulls from different parts of her life to craft a revitalizing 30 minutes of far-reaching club tunes. She puts bhangra in conversation with '90s pop, hip-hop, and Detroit house. There are some tunes you may recognize and some you may not, but all are dance-till-the-morning-worthy. Listen below and read on for more about Aanya, and how you can best directly support scene-pushing creators.
Where are you right now? Please describe your surroundings.

Right now I'm shuffling through 12-inch vinyl finding records to use for a workshop I'm teaching through INTERSESSIONS with JUBILEE on July 20th. It's hot as hell in Toronto today so I'm sitting in just a bra and booty shorts on my patio sipping on my special "AANYA" cocktail — rum, ginger beer, pineapple juice, and slices of watermelon.
Tell us a bit about this mix —What do you imagine people doing while listening to it?

With my rebrand came an investment in wanting to orchestrate sound at parties that crowds in Toronto may not like. My inspiration definitely stems from the club genre which, to me, is Detroit house/techno/punk/ballroom/industrial noise. This mix has a lot of different elements of different parts and eras of my life starting with a more noise/club intro, sounds influenced by my South Asian heritage, and remixes of the bad bitches I grew up with as a 90s kid like Missy, Kelly Rowland, etc.
For me the most important part about this mix is that I'm crowdfunding for a life-saving surgery. As much as I enjoy where my music is taking me and the platform my communities have helped me build, at the end of the day I started playing live sets to make money!
Is there a track in particular that stands out? Why?

If I had to pick one it would be the TOXIC remix (Britney Spears). My friends/followers/fans or whatever who've watched and helped me grow know that I always have a Britney Spears track in every mix. It's kind of a subtle unspoken thing but I literally love Britney so much.
What do you look for when you're looking for songs to play in your sets? Are there specific moods you want to set?

I'm a pretty versatile DJ so I just look out for music that I like, download it (properly, even though I'm broke), and organize playlists.
Since my mentors were on tech 12's with vinyl and taught me the basics of DJing like cueing, finding the one (and would kill me if they ever heard I ever used Rekordbox or any kind of sync button), I learned a lot about reading crowds in that old school style way. I usually have a couple tracks I'll throw in every set for a couple weeks that I'm amped about, but otherwise just suss out the crowd and see how experimental I can get. Or if I have to play Britney Spears, Missy Elliot, Migos, etc.
You stepped back from Toronto's club scene recently — what's changed about it? What do you wish to see?

I stepped back due to some personal health/family issues as a mother of mine passed away. I also felt like every party in Toronto had the same line-up of DJs who, and I'm very public about my stance on this, don't know what pitch-bending or finding the one is. I got frustrated with the sort of nepotism in the scene here, and also the disregard of the barriers I've broken in this city as one of the first Trans Women of Colour making big moves, and just felt undervalued, underfunded.
Since AANYA's come out my Toronto homies have been so generous and supportive in seeing me blossom. What I want to see is people coming out to this rave I'm throwing in Toronto to raise money for my surgery. All my homies, the best and biggest DJs Toronto can offer, are all volunteering their time and energy, so I know we'll be at capacity.
What do you love about your craft, and what are important lessons you've learned from spinning?

I honestly just love the craft. For me, the craft is beat-matching by ear, creating blends (and also full design pieces and my own production) that are unique and based on more musical theory rather than what I feel like a lot of DJs do nowadays which is just find two tracks that are similar BPMs, hit sync, and play.
The most important lesson I've learned is from my mentor Eloqenz: know your music! You can't beat match by ear and pitch-bend if you don't know your tracks super well. BAMBII and Nino Brown have also taught me so much about self-promotion, navigating the industry as a woman of color (although being trans is obviously another layer of barriers); Both of them have been invaluable to any platform I have now.
Who's making music that you're most excited about right now?

On a large industry level, I am OBSESSED with Bhad Bhabie. Yes she's problematic etc., but she's signed to Atlantic Records so the production behind her music is insanely good and I just find her whole persona such a 2019 phenomenon. Also, obviously, Megan Thee Stallion, Rico Nasty, AH-MER-AH-SU (Listen to her EP Star), Aya Nakamura and CupcakKe.
On a more indie level, I draw so much inspiration from my talented friends: Jerico, a Montreal-Haitian DJ/producer who is beyond talented; my sis PRECOLUMBIAN in Philly who started the party SELTZER with BEARCAT; Freeza Chin who's doing ground-breaking community radio and building up artists here in Toronto; and my girl Sydanie.
Tracklist:
DON'T GO THRU THAT FRONT DOOR – GET FACE
Animosity- Joey LaBeija
Now you know how I feel – Merca Bae
STAY UP – Debby Friday
Noelsferatu – Run Up At the MET Gala – MAJIA
B R RIGHT (TRINA TF) – TOTAL FREEDOM
Pretty Boi (MISSY) -Mansa '91
PSYCHO – quest?onmarc
Brush Your Teeth Afro Edit – Anais B
(Panjabi MC) Mundian To Bach Ke – BADER
Teri Duniya – Balasa
(Lil Wayne) Lolipop – BADER
FIRE STICK – Jay R Neutron
Satisfaction (S&B Afro baile mix) – Benny Benassi
Flute song remix – Gafacci
Get a Lick – Ase Manual
Make some Noise – Jayhaan
Mashrokit – 4B, Teez, Lotic
Orixas Groove – DJ N.K
Holy – Dinamarca
XEN (ARCA) – FALSE WITNESS
OTR baile – must
TOXIC – MTG
THE B ALARME – DJ PAVIGO
A LOT (davOmakesbeats x Bianca Oblivion) – 21 Savage
TRY AGAIN (CHABOI MAS DURO EDIT) – CHABOI
Wavvy Riddim – Miracles
Scott Storch – Lean Back – Architect
Dilemma – Brad Braxton
One Minute Man edit – Matjang
Sada Vasda Raje Punjab (Uproot Andy RMX) – Mahendra Kapoor & Suresh Wadekar
Parvada - Conejx