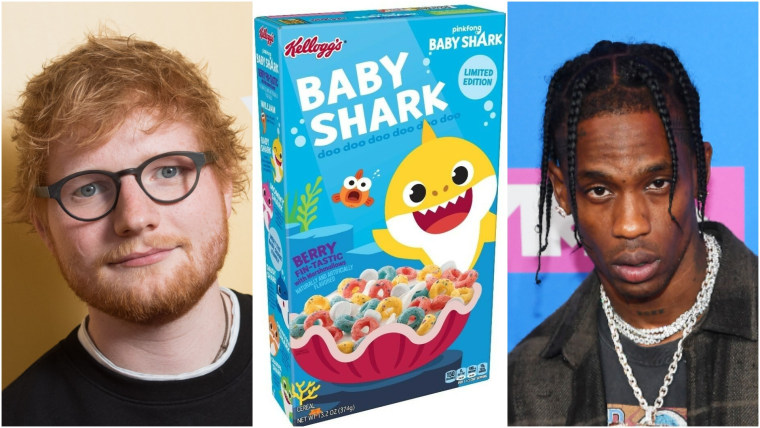 You've heard "Baby Shark," but have you eaten it out of a bowl filled with milk? I won't blame you if you missed the news from earlier this week that the mega-viral children's song crafted in part by Korean entertainment company Pinkfong — a chipper, potentially irritating micro-tune that's amassed way more YouTube views than your last unboxing vid and charted on the Billboard Hot 100 for an astounding 20 weeks — is now being presented to the tykes in edible form, courtesy of cereal conglomerate Kellogg's and big-box titan Sam's Club. The breakfast-made sugar-bomb, berry-flavored and loaded with the type of dried marshmallows that any Lucky Charms fan will readily recognize the texture of, hits stores on August 17 and will be available "while supplies last."
It's that last phrase that's most notable, and not just because you should be anticipating door-busting lines outside your local Sam's Club for the stuff. The Baby Shark cereal boxes are adorned with a cute little air bubble that says "Limited Edition" near the upper-right-hand corner, a suggestion that this supposedly unique branding opportunity also possesses collectible value not unlike the scores of unopened baseball cards, action figures, and other fan-driven ephemera that collects dust on basement-den shelves across the country. This in itself isn't too curious — the collectibles market is wide and expansive, and as any regular Storage Wars viewer will tell you, everything is worth something to somebody.
Cereal-as-branding opportunity: not a new thing, either. Younger generations (which is most of The FADER's readership; I'm 32 for reference) probably don't remember this, but (extreme old man voice) in my day getting your picture on the face of the Wheaties box was as — if not more — impressive than averaging a triple-double. There's Nintendo cereal, cereal based on branded candies, WWE cereal, Avengers cereal — again, not remarkable on its face. But "Baby Shark" isn't a cartoon TV show (as one of my colleagues recently, incorrectly, but understandably assumed), or a movie, or a multi-tiered entertainment property. It's a song, and now there's a cereal that's based off a song, which is suitably weird for the weird era we live in.
There's a trend here. As far as the music industry's concerned, we're living in the Age of Merch, in which an ailing-but-never-not-quite-dying business model is being applied to literally anything other than the music itself to turn a buck. Earlier this year, Ed Sheeran — whose love for Heinz ketchup runs so deep that he has a goddamn bottle of the stuff tattooed on his body — teamed up with his favorite condiment brand on National Ketchup Day (that's June 7, if you didn't have it in your calendar already) to market "Edchup," which went for $5 (plus shipping) per 32-ounce bottle. (Retail price on Amazon for a normal 32-ounce bottle of Heinz as of writing: $2.88.) Last month, Travis Scott unleashed his own $50 box of Reese's Puffs, hideous box art and all — so, if you've ever wanted to spend $47 more than what you'd usually shell out for a box of Reese's with a cactus on front, your opportunity has come (and gone—it's been sold out for a while).
Why is this happening? It's too easy to throw up our hands and say, "We live in a dystopia" — late capitalism didn't invent cross-branding, after all — but embracing a sense of consumerism-as-identity, one of the most pervasive trends in the millennial and Gen Z sets, plays a role. Every time a Sheeran or a Scott strikes a purposefully eye-catching, left-field branding deal like this, they're rightly seeing a marketplace filled with purchasing-power buyers who will gladly stand in line in front of the Supreme store or rapidly refresh a sneaker app for the latest Yeezys. Who's to say they won't do the same for ketchup or cereal?
In the case of "Baby Shark," though, it might be more simple. "Baby Shark" achieved a level of popularity through sheer virality — a you-gotta-hear-this form of word-of-mouth encapsulating IRL interaction and URL memes. Sound familiar? That's because Lil Nas X's record-shattering "Old Town Road" rode (sorry) a similar wave that's yet to crest. "Baby Shark"'s day in the sun has long since set, but it's totally possible that Pinkfong, Kellogg, Sam's Club, and whichever companies or individuals have thrown their money-grubbing paws into the fray here are trying to replicate Lil Nas X's attention-getting approach. Will it work? Just look at "Old Town Road" — stranger things have clearly happened.