It looks like the U.K.'s Conservative Party ripped off Jacques Greene for a pro-Brexit ad
Greene's label LuckyMe describe the use as "gross but expected."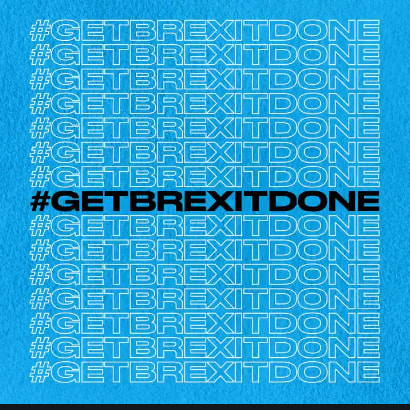 On Tuesday morning Britain's Conservative Party, led by Prime Minister Boris Johnson, unveiled the latest in its hugely expensive pro-Brexit advertising campaign. The short video, which was shared across Twitter, features the phrase #GetBrexitDone in a font noticeably similar to that used on the cover of Jacques Greene's 2017 album Feel Infinite. Greene has previously complained about his imagery being used by others, calling out musician Christopher Port for a similar offense two years ago.
Come together.
↓
Back the new deal.
↓
Get Brexit done.
↓
Move on as a country.

Let's #GetBrexitDone. pic.twitter.com/6S2lDrmnd6

— Conservatives (@Conservatives) October 22, 2019
Reached for comment over the similarities between Feel Infinite and the Brexit campaign, a spokesperson for Greene's label LuckyMe said:
"This use is gross but it's to be expected. We oppose the Conservative Party and Brexit. [designer] Hassan Rahim's work for us has become a dominant trope in graphic design in the late 2010s. We're still very much proud of Feel Infinite and it's a compliment that the album's been subsumed into popular culture. It's why the recent cover is just this abstract expressionist piece - we wanted to do something that people couldn't co-opt. Part of having a clear aesthetic means giving up the makers context. It's nothing new. But yeah, fuck 'em."