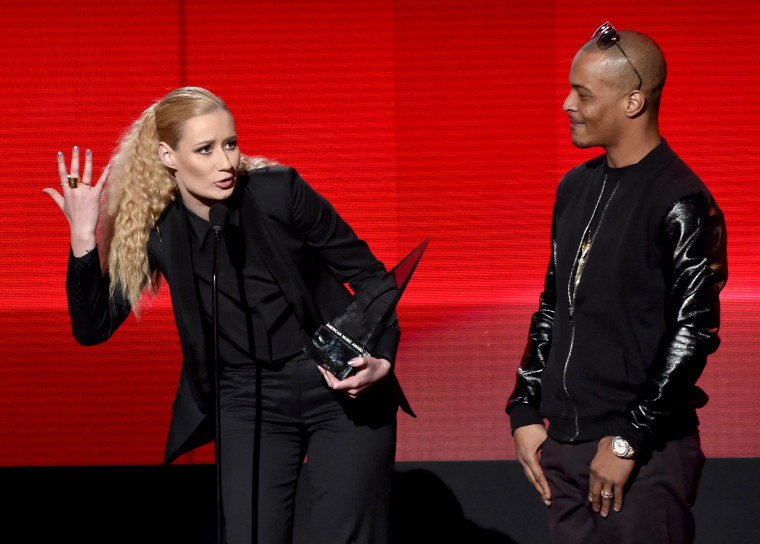 Iggy Azalea has fired back at T.I. in a series of since-deleted tweets posted after T.I.'s appearance on The Breakfast Club this morning.
T.I., who signed Azalea to his Grand Hustle label in 2012, was asked by Breakfast Club host Charlamagne about recent comments in which he called Azalea "the tarnish of [his] legacy." T.I. doubled down, saying that while he did not want to "speak down" on Azalea, he felt that she neglected her black fanbase to please a burgeoning white audience, compromised T.I.'s reputation, and implied that she used ghostwriters in her raps.
On Twitter this afternoon, Azalea accused T.I. of attempting to "approximate [himself]" with the success of her album The New Classic. (Azalea and T.I. ended their business relationship in 2015.) "The only song you ever were a part of making was '100,'" she wrote. "Thank you for that, but you were NOT a part of the creative OR executive process on that album."
She went on to accuse T.I. of holding a different opinion outside of the public eye: "Seeing a man speaking out of his asshole and blurting our [sic] one thing in public and another in private for years [is] really infuriating."
Azalea took a Drake-ish tack when addressing T.I.'s implication that she used ghostwriters in her raps: "I don't have ghost writers, but do I write with multiple people on songs especially big pop-leaning ones? Yes. I've never claimed otherwise."
"Please move on and speak about artists you are (hopfully) [sic] actually helping," Azalea concluded, "and stop trying to bring me up for relevance."
Read her tweets below: