Ghana is now
A fresh, youth-driven creative class is being established in Ghana thanks to artists like Darkovibes, Amaarae, Joey Lit, and more.
Right now, there is a bustling revolution of creativity sweeping throughout the continent of Africa growing at a pace like never before. Particularly In West Africa, Ghana continues to set the pace as an incubator for some of the most innovative creative talents. Back in the '70s, legendary Afrobeat pioneer Fela Kuti was inspired by Ghanaian highlife artist Ebo Taylor. Today, contemporary Nigerian musician Mr. Eazi credits Ghana as one of his biggest inspirations — creating a genre called "Banku music," named after a popular Ghanaian dish.
Over the past several years, online platforms like Instagram, Twitter, and YouTube have become a border-free share space for African millennials to tell their stories. Talents emerging from this digital boom include several impressive young Ghanaian artists like Amaarae, Darkovibes, Joey Lit, Kuukua Eshun, and Prince Gyasi. Through mediums like music, fashion design, visual arts, and social impact initiatives, these artists are revolutionizing the way we see life in Ghana, helping to bridge the representation gap between Africa and the rest of the world.
While Africa is home to the youngest population in the world — with nearly ⅔ of its inhabitants under the age of 25 — the face of Africa is still primarily shaped by the actions of older generations. Now more than ever, young artists are making their way to the forefront of creative production by transcending traditional approaches, sending a new message that represents a quickly developing youth culture.
I arrived in Ghana during Chale Wote, a festival period that attracted visitors from all over the world from China to the U.S.. While most people came for the festival, I was more curious to learn more about the landscape of music and creative culture that was pushing boundaries across Ghana. While the mainstream industry is slowly opening up to new sounds, It has not been an easy journey for young artists to break traditions of the mainstream. Hoping to hear from someone who knows this struggle firsthand, I reached out to Amaarae, a Ghanian-American musician and producer on the rise. We agreed upon meeting at the local art market at a hidden record store that might easily go unnoticed. She immediately stood out with her unique style, rocking a blonde buzz cut and bold shades that suggested a without-a-doubt, genuine kind of confidence. Both young and middle-aged male shopkeepers spotted her, stopping her to shout things like "Ama, we dey see you!" and "We love your music".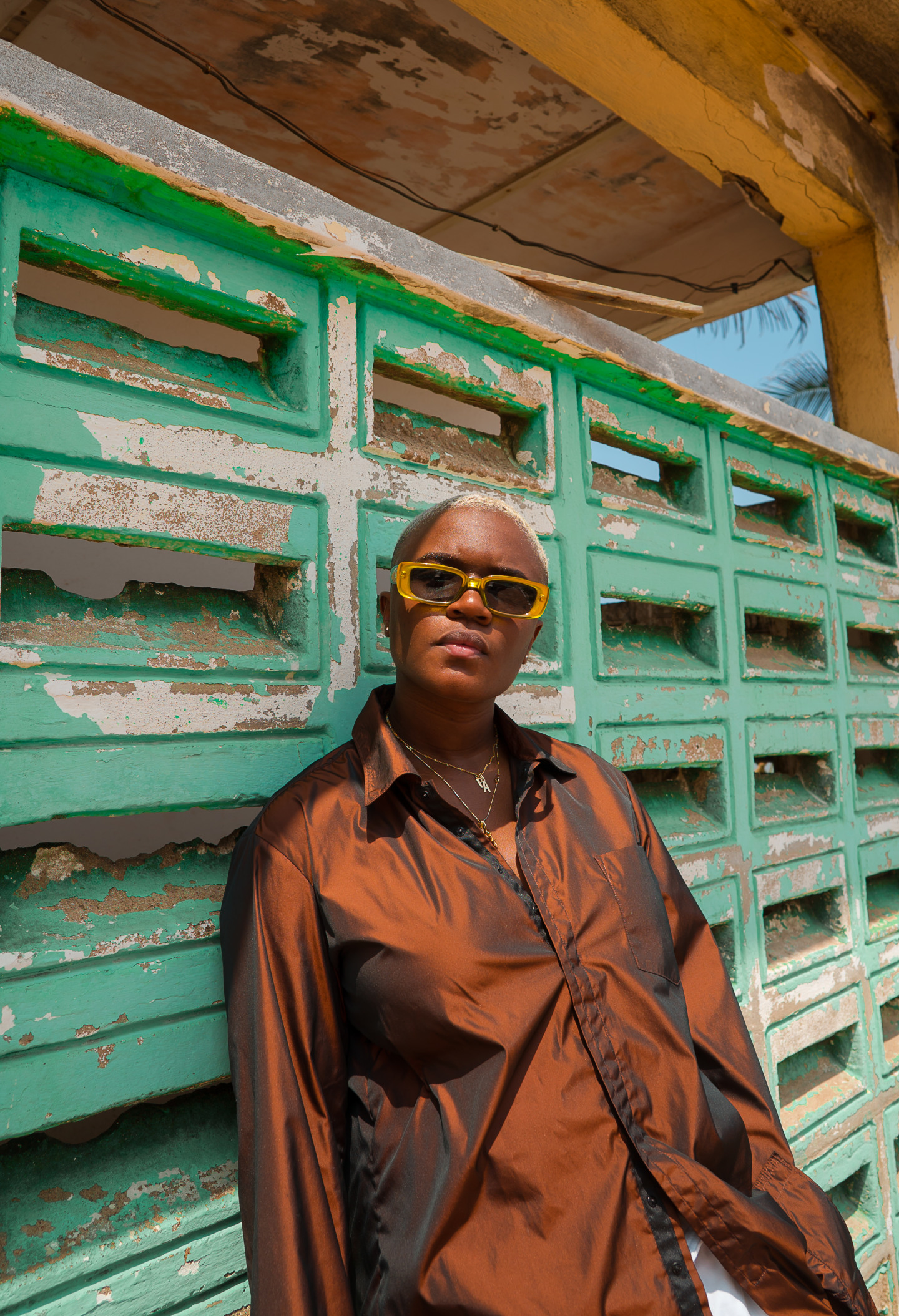 However brief it may have been, the small yet surreal moment illustrated how vast her audience is, and the way that her music is spreading widely across generations. Later on during our discussion, Amaarae reflected on times in Ghana when things were very different for young artists like her, noting that, "When I was 17, everybody was like Ooh, you have to make the local hiplife or local afrobeats because nobody is gonna listen to what you guys are on. Fast forward, five years later we are literally fueling the youth."
As a musician, Amaarae is dedicated to expanding upon the representation of women in music within Ghana both on the main stage and behind the scenes. Since the age of 17 she has produced and collaborated with the likes of Wande Coal, Santi, and Kojey Radical, generating a competitive discography without ever compromising her sound or individual expression that plays with soft falsettos and bouncy melodies. Amaarae represents the revolution for countless women in music who are doing things on their terms.
"That's one thing that's important to me, just always saying 'fuck it, I'm just gonna do it.' And I wanna see more women do that," she says, assessing the current creative climate of the country. "There's this crazy exchange and synergy going on — of elements, of sounds and experiences, and everyone is just sharing. I think for West Africa to be at the center of it in this moment, right now, is so crucial. It's beautiful to just watch that unfold."
Another exciting development in Ghana's young creative class is the willingness of artists to step into other mediums as a means of collaboration and spreading their voice to as many audiences as possible. "We believe that if you want to move far, move together. You want to move fast, you go alone," says Darkovibes, an Afrobeat musician who works alongside a collective of other creative hybrids in music, fashion, and culture called La Même Gang. Together, the six of them — Darkovibes, $pacely, Kiddblack, RJZ, Kwaku BS and Nxwrth — form an explosive unique energy that connects traditional sounds and culture with a contemporary take on what music, community and brotherhood means.
My first engagement seeing La Même was a few days earlier at a pop-up $pacely hosted called Merch Mania which brought out the hottest fashion and music influencers in Accra into one space. They hosted a streetwear pop-up with different local designers including 'Free The Youth' and performances by emerging acts. Instantly, I was able to see the value community had around the music La Même was creating and the importance of expanding their impact beyond music itself.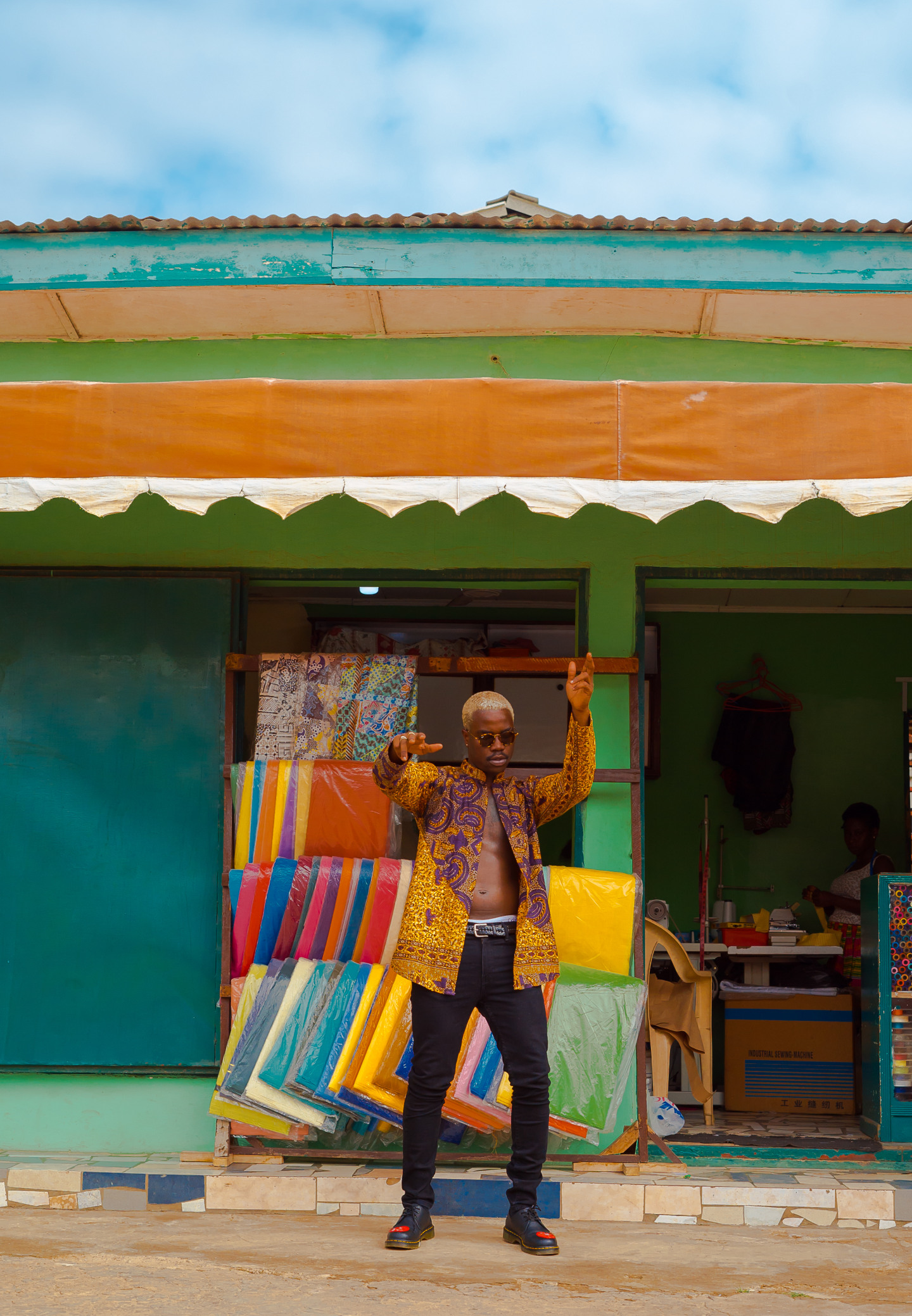 Music in particular has been an instrumental part in tying different creative mediums together in West Africa, such as Nigeria's Alte scene that encompasses music, fashion, visual arts and identity to show an alternative take on youth culture in West Africa. Darko, like many young Ghanaians, has been influenced by the Alte movement and sees how important it is for these two scenes in Ghana and Nigeria to collide. "Community has really helped over here, and everywhere else, actually," he says. "In Nigeria you see Odunsi, Santi, Wavy, Boj, Teeze, all those guys. You'll always see them together and supporting each other, so you understand Okay, these are people pushing their sound together." For Darko, La Même is more than a collective, it is a company and a lifestyle that brings cultures together. He wants to show that, at the forefront, young people can break boundaries within the mainstream using the resources around them.
Outside of music, a new class of tastemakers in Ghana's fashion scene are connecting culture and design. Fashion designers like Joey Lit started his streetwear label and creative collective Free The Youth in his hometown of Ghana's harbor city Tema — 45 minutes outside of Accra — to put African streetwear on the map. The collective has been featured on platforms like Vogue for their tasteful approach to design that celebrates streetwear and youth culture in Ghana. "We have to praise Africa more than we praise other cultures," Joey says as we walk through Tema's Community 6 neighborhood "That's how the world will appreciate us as artists and influencers."
Tema, roughly 18 miles outside of Accra, felt like a place where the aforementioned togetherness was more visible during my visit. As we walked through the city, we were met with many visual settings that all had a character of its own. "I think Tema as a whole looks like a big [photo] studio," Joey said as we walked. "Its buildings and things are like props to us here. Half is industrial and half is settlements. So we all go to industrial areas to take photos. The architecture of the whole place is an inspiration already."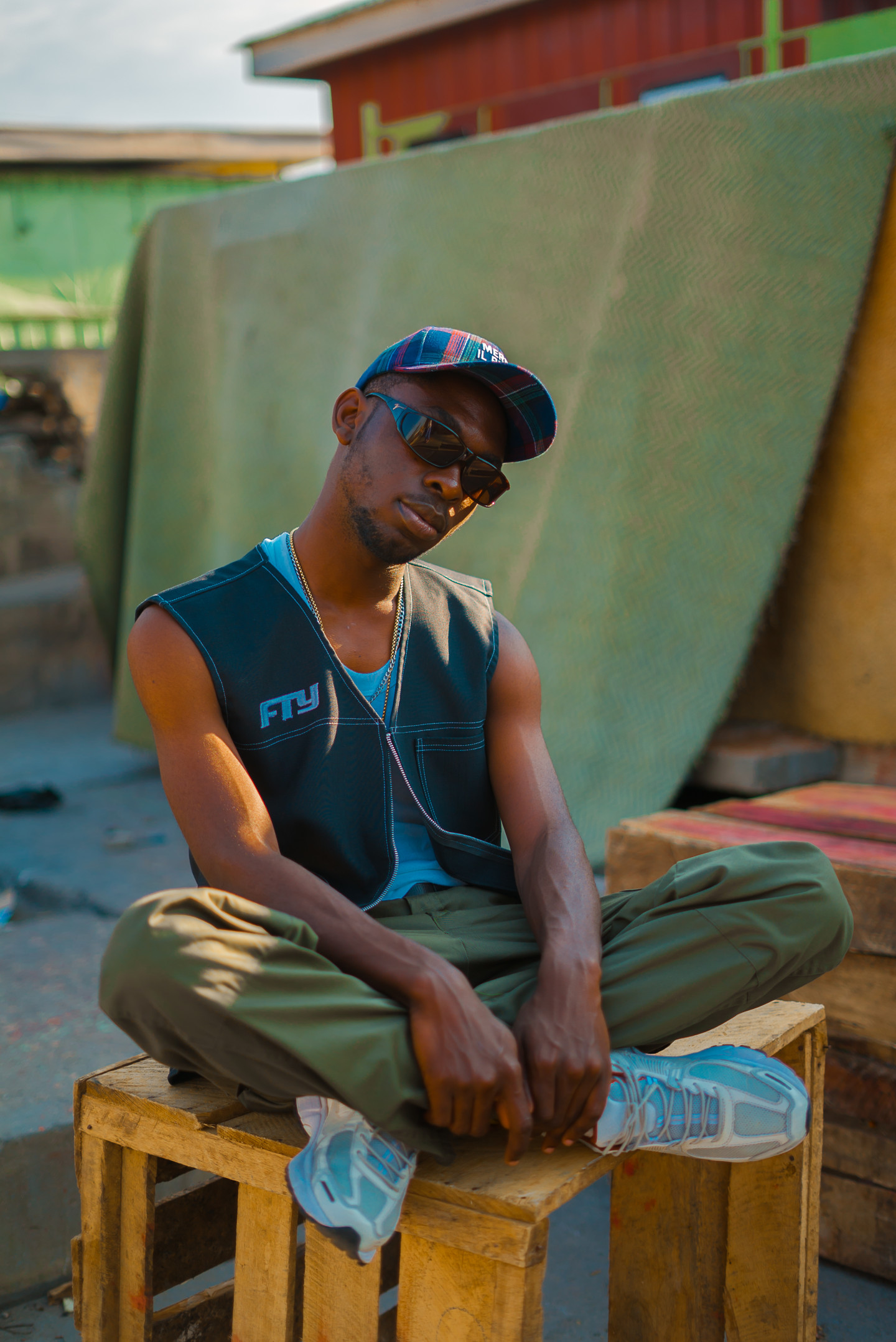 Because Tema is a harbor city, this has made it easier to access goods from other countries. China in particular has become one of Africa's biggest trade partners and has greatly expanded their economic ties to the continent over the last three decades and especially in Ghana. Joey talked about how social media and how Instagram trends coming from the west have shaped buying patterns that have opened doors for chinese sellers in Africa to capitalize on African youth. Because of this, he wants to create a new movement that focuses on local tailors and production. "When you see new Balenciagas and new Raf Simmons [online], you can see it in a Ghanaian shop in less than two weeks. The Chinese are monopolizing our clothing market," he says. "I feel like import cannot be without export, so it's both. Us connecting them, then connecting us. Equal energy." He says his mission is to create access to workshops to educate young people on sustainable fashion that involves the community and empowers youth and plans to launch his first event at the end of the year.

In the past, the narrative and history of Africa has been verbally passed down, which made it difficult for people to understand the continent's widely varied set of cultural values. The lack of recorded history also presented a challenge in people being able to grasp what is going on in a contemporary sense. This has made visual arts a vital medium in documenting contemporary stories and logging modern history. Filmmaker and community organizer Kuukua Eshun has pushed to shed light on different social issues like mental health and family dynamics in Ghana through films she has directed and wrote. As a community organizer she has also worked to create safe spaces for young women and founded Surf Ghana's newly launched project Skate Gal Club aimed to develop female skaters in Accra.
I connected with Kuukua in Osu, an area where most young people in Accra go out, to talk about her work as an artist in the city and her role within the creative scene."Creative people are naturally visual people because we need to visualize everything before it comes out," she says. "It plays such a big role in the community right now because it's how we tell our story. It's a way for writing our own narrative without waiting for someone to do it."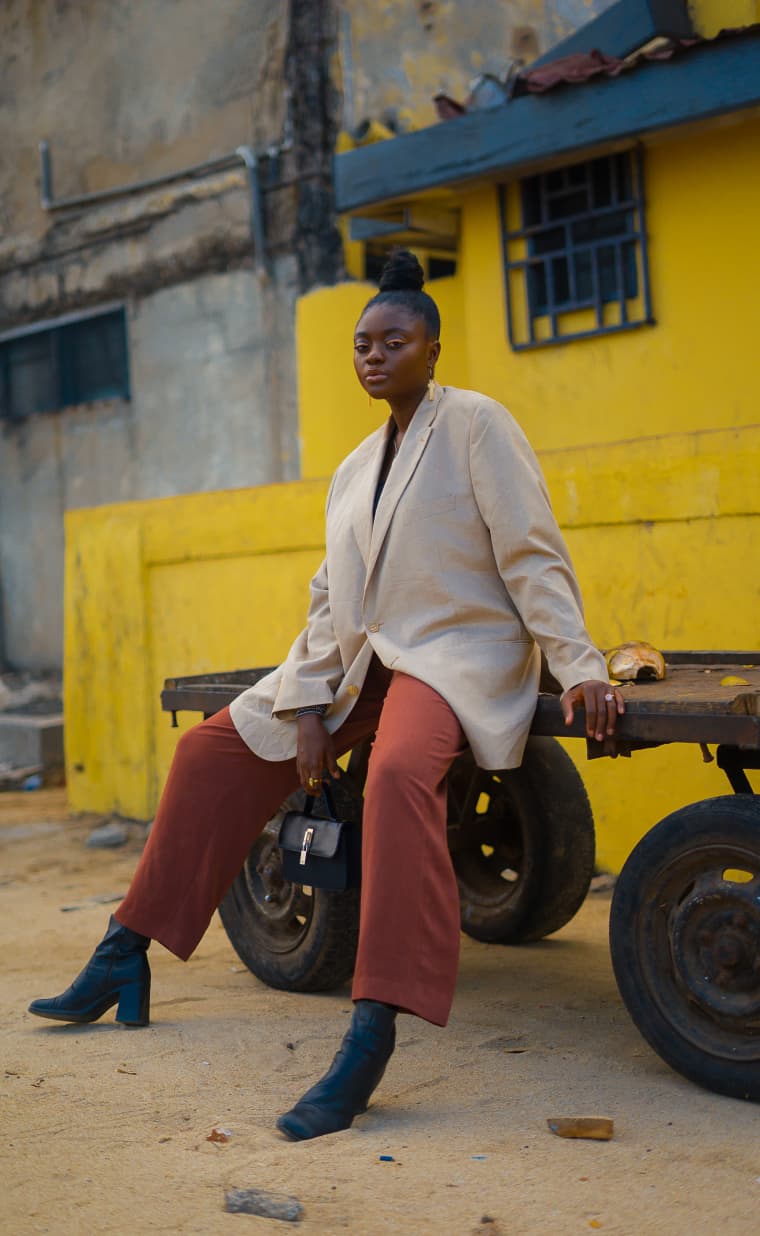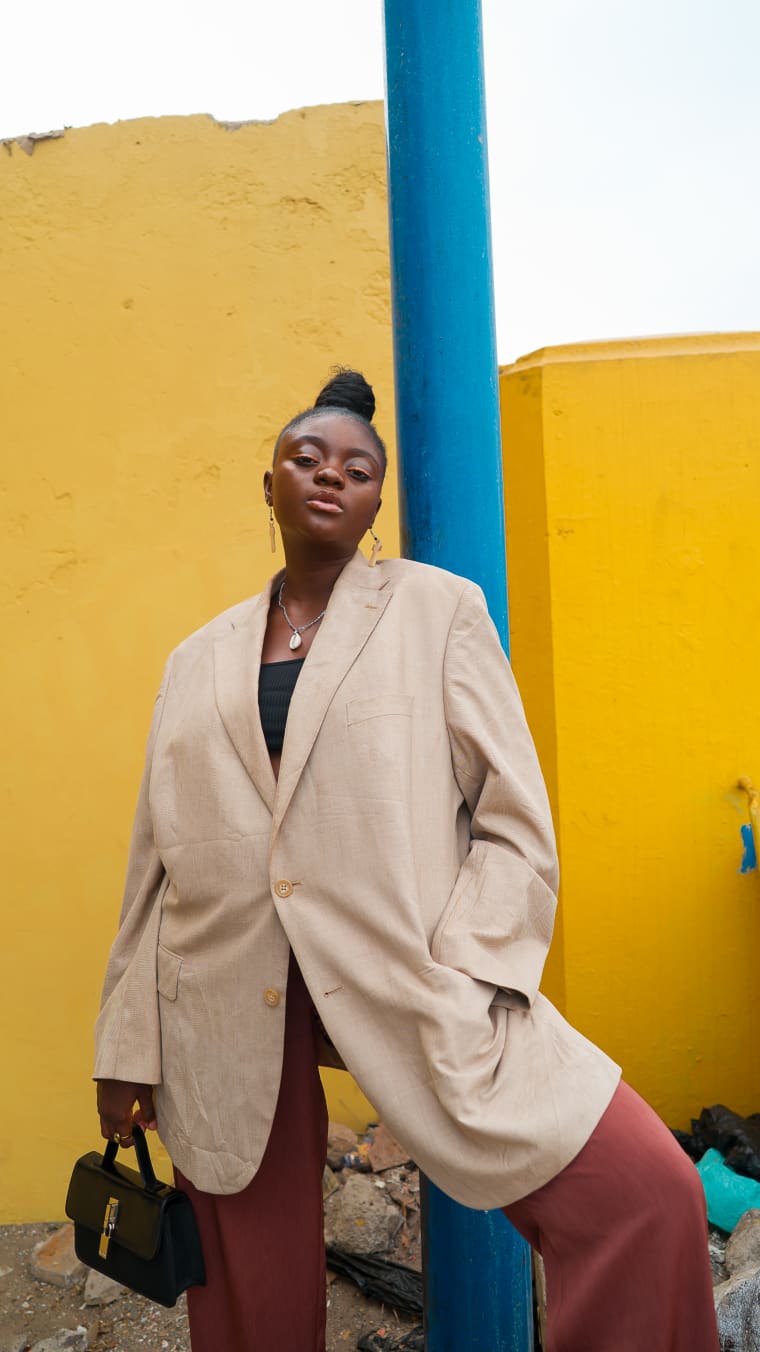 Her short film "Stranger To Your Seed" released in 2019 through an event at Jamestown Cafe addresses abandonment and the lack of self-awareness she and many young people in Ghana face who dont have active fathers in their life. Despite the fear to be open about her trauma, Kuukua fearlessly uses her own personal relationship with her father to narrate the story and connect with those who also share similar experiences in a visually captivating way mixing narrative, cinematography and color theory. "As a filmmaker I want my stories to represent my heritage, the things that I believe in and fight for. The youth right now are really putting themselves out there. There is no fear. There is no limitation. There is no holding back."
Artists are not only using their own platforms to tell stories, they are also learning how to spread their content further and impact global communities. 23-year-old visual artist Prince Gyasi is using his work to shape narratives around local communities in Ghana as well as explore the culture around iconic Ghanian hip-life musicians. In 2018, he produced "A great day in Accra," a series inspired by Art Kane's 1958 photo "A great day in Harlem," which showcased 57 jazz musicians of the Harlem Renaissance. He also created the visual images for Apple Music's Ghana Bounce playlist, which highlights music at the forefront of Ghana's vibrant scene. Outside of commissioned work, Prince focuses on his personal art pieces that can be seen in homes of icons like Ava Devurney and has been shared in art fairs in cities around the world from Paris, London to Seattle.
Prince believes cultural impact in the creative industry is one step but allowing art to be a vessel for social change is what will create long lasting effects. He says, "The real freedom is found in art. If you can tell to the world about Ghanaian and African stories without opening your mouth, you're free." A big reason why he focuses his art on children and young people is because he believes in shaping how children see themselves through imagery shapes how they see their future. As we walk in the seaside town of Jamestown taking photos, Prince reflects on his childhood and the moments that have lead him to now. "My parents believed in my future and helped me acquire basic education. I need to let the next generation experience that too on another level."
Prince is doing this as a co-founder of Boxed Kids alongside Eshun, which is dedicated to connecting art and education for children who don't have the means to access it. "It's my responsibility to highlight that truth for the world to see," he says. "I'm tired of seeing a lot of artists paint sad pieces about our kids — which could be the truth for sure — but how long are you going to paint that story to the kids? Do you want to uplift their spirits, or do you want these kids to keep seeing themselves in your pieces drowning in sorrow? I believe we need to empower these kids to help them see themselves as lights. As a black artist, that is my divine assignment."
That desire to mentor and be a beacon of change is taking shape in more ways than one. As risk takers, these young artists in Ghana are starting movements without waiting for validation or guidance, but instead using community and online resources to guide one another, share information and create value for their work. Using their personal platforms and understanding how to leverage global brands are opening doors that once seemed impossible for African artist. Creative industries are leading the way to engage the diaspora and present an image of Africa that makes people around the world want to see it for themselves. Artists are not only shaping history, they are apart of keeping history and creating a legacy that will impact people for generations to come.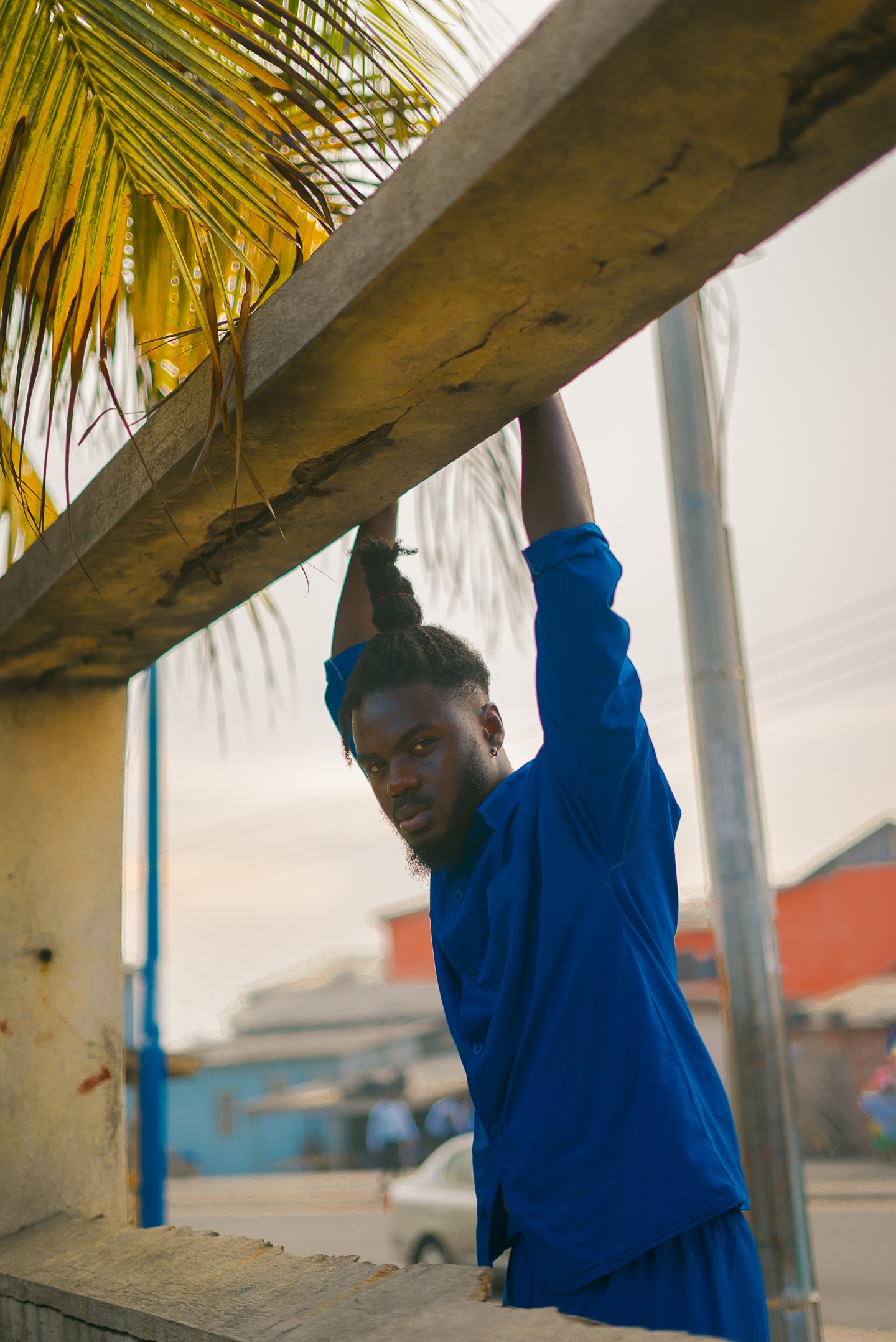 Production: Melanin Unscripted