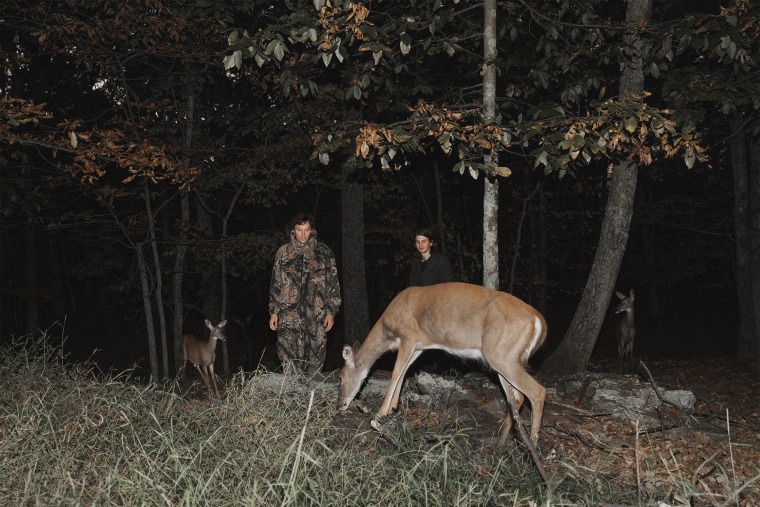 The Front Bottoms' open-minded and eclectic approach to indie rock has seen them infuse their sound with everything from folksy instrumentation to nostalgic '80s pop melodies over the past decade. Today they round off 2019 and look ahead to the new year by sharing "Camouflage," their first new material in over a year. The song brings together many of the influences singer Brian Sella and drummer Mat Uychich have touched on in the past, creating a celebration of sorts for a band perennially on the fringes of a major breakthrough.
The band has been in the studio working on the follow-up to 2017's Going Grey, due in 2020. The "Camouflage" video captures the past year of Sella and Uychich's life as they regrouped and began working again.
Speaking about "Camouflage," the band said: "We spent a lot of the last year reflecting. There was a lot to think about, a lot to stress about, and a lot to be happy about. We feel lucky about it all, but it's getting hard to separate real life and the music, or tell which parts even belong to us and which parts belong to you. That's the best though. We retreated for a while, learned some stuff, then came back and learned some more. You definitely learn more when you're around the people you love and the people you care about. We made new stuff, lots of art, all different kinds of stuff, some of which will hopefully never leave our heads. A meditation practice, breathing exercises... life is crazy. New song."
This weekend, December 21, The Front Bottoms host their annual Champagne Jam at Philadelphia's Fillmore Complex. The sold-out event will also feature performances from Why?, The World Is A Beautiful Place & I Am No Longer Afraid To Die, Mannequin Pussy, and more.