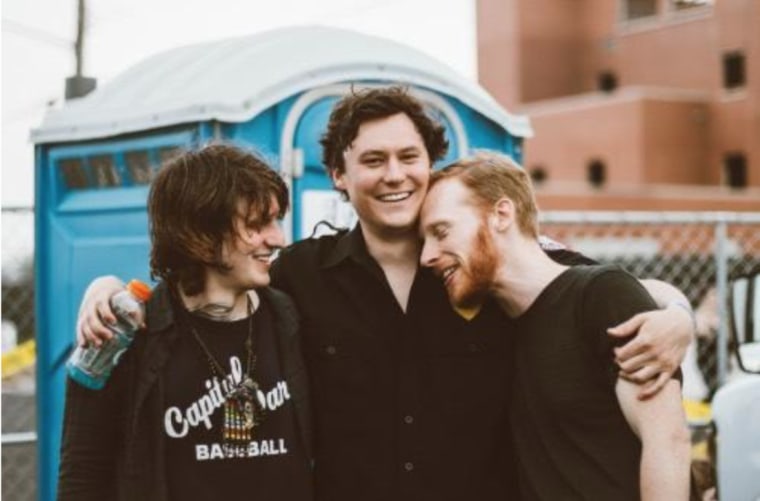 Towards the end of a sinewy live studio version of "Cotton Crush," released on 2012's Matter of Time EP, Kevin Devine howled a line from The Front Bottoms' early cut, "The Beers," which only seemed out of place because the drugs weren't quite right: "I will remember that summer / As the summer I was taking steroids." Drink hung over those early Devine records like a headache, and The Front Bottoms were clearly on the same stained page, but the conversation between the two songs wasn't just chemical — they were both self-analyzing to the point of discomfort and, when they could, cracking pitch-black jokes about their own misery.
Today, Devine is pre-releasing the first part of The Devinyl Splits No. 12. It has The Front Bottoms revisiting Devine's "Just Stay," a drug-addled standout from his 2006 LP Put Your Ghost to Rest. Where the original version was clean and acoustic and sung through a calm remove until the final crescendo, The Front Bottoms' version is slowed down and frenzied from the start, with Brian Sella dragging every line out and cracking his voice at the top of his register. It means that the slow-moving meeting with a dealer in the first verse is given as much weight as the song's fulcrum — "It's pretty, but you hate yourself" — and it turns "Just Stay" into a magnificently overblown performance, rather than a reflection.
"Brian told me a story last summer about being a college student and getting 'Just Stay' from a friend of his before he went into work at Shop Rite one day," Devine told The FADER about the cover's origins. "He said he listened to the song on repeat on headphones the whole shift, picked his head up, realized eight hours had passed. The story made me shy and proud, because whatever nominal influence I may have had at some point on Brian & Mat [Uychich, FB's drummer], they've repaid in inspiration a thousand times over since we met in 2011. I love their band and the two of them (and Tom, Erik, Rosh, and Jenn) dearly, and I love what they did to the song, thrashing it up some, giving it sharper teeth and a stronger motor."
Brian and Mat responded with a sweet statement of their own: "Every experience we've had with Kevin has been such a positive and fun vibration. We've been waiting to do this together for some time now and finally had a chance to get together and record. We are proud of what we have done together and can't wait for what is to come. Love you all."
Listen to The Front Bottoms' "Just Stay" below. The single will be followed by Kevin Devine covering The Front Bottoms' "Rhode Island." They'll be released together on Devinyl Splits Vol. 12, out March 29 and available for pre-order here.