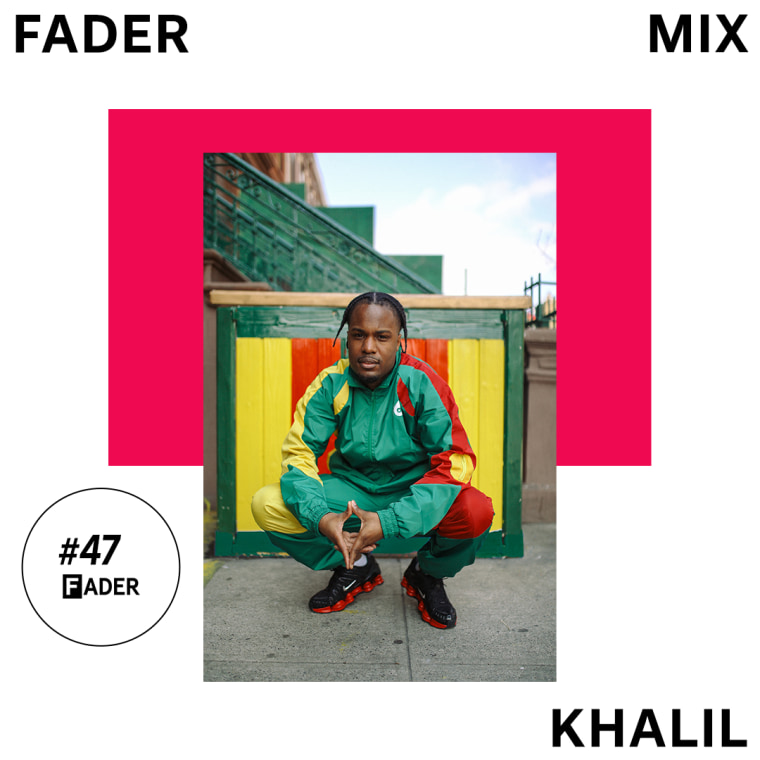 The longstanding FADER Mix series presents new, exclusive DJ mixes from our favorite artists and producers.
In early February, just ahead of the first installment of his party, Jerk and Suya, Brooklyn-based DJ Khalil shared a video clip to his Instagram that was equal parts comedy and education. In it, he broke down the connective tissue between cultures of West Africa, Latin America, and the Caribbean as a way to emphasize how Black people over centuries have not only maintained African traditions, but how they have added onto them. Most parties with themes that are based around unifying and mixing cultures tend to let the music do the work for them. Khalil is one of the best New York City's nightlife has to offer in terms of music selection, but with that presentation, it also underscored that his motivation for Jerk & Suya (and other parties of his like the West Indian-focused Tingz) transcends music. Music is simply a tool for him to bridge the gaps between Black people on a global scale.
So it's fitting that in his new FADER Mix which is out today, Khalil spent a whopping 2.5 hours displaying just how connected those cultures are. And by doing so, he proposes what nightlife could sound like if this happened with more regularity, Throughout the mix, Khalil offers up dembow, dancehall, soca, afrobeats, and more. What's also special here is that Khalil taps into his Jamaican heritage and tradition of DJing by mcing throughout the mix, adding context to every pivot he makes. Over email, Khalil shared what went into the thinking of the mix, and why connecting each corner of the African Diaspora is a top priority for him right now. Listen to the mix below.
The FADER: Very early on in your mix, it's clear that you are someone who DJs at a very particular type of party. Throughout it, your energy and the context that you give tracks before playing them makes me feel like I'm experiencing the closest thing to the club that I'll get for some time. Was your intention to make it feel like a live experience?

Khalil: I actually DJ various kinds of parties. I don't like doing the same things over and over and I like to challenge myself. My goal as a DJ from the start of my career was to be able to play for any crowd, any style and I pride myself in my ability to do that. BUT I would have to say my specialty and what I am most known for would have to be anything around a Caribbean, West African, and hip-hop/R&B vibe. In terms of my energy & style of mcing on the mix, initially I wasn't trying to duplicate a live club experience, but that's just how I automatically DJ. I'm Caribbean and I grew up in East Flatbush and then Canarsie — two extremely Caribbean neighborhoods in Brooklyn. DJ's were always playing out in the street or people were always blasting a live recording of a fete or bashment. So, from young I always attached high energy mcing with DJing.

As a DJ, what is your top priority when you're playing live?

When I'm playing live my top priority is to grab the crowd's attention and be able to engage with them. I feel like my job as a DJ is to make sure the people that come to see me play let loose, forget about their problems, and leave saying they had a great time. A DJ's job is to serve the people. If someone took time out of their day to come see you then you should give them your ALL when you're performing. In order for me to get into a zone where I can be at that high level of zen, focus, and performance I have to engage the crowd quickly. That's also where good mcing comes in handy — it's almost a cheat code to do just that. DJ'ing to me is an exchange. When you give the crowd vibes they give vibes right back to you and it builds and builds until it's at a point where the two entities basically become one. It's deadass a spiritual interaction.

Your mix's mission is to span the whole of the African diaspora — or, at least, cover as much ground as possible within 2.5 hours. There's dembow, afrobeats, soca, dancehall, and more. Why'd you take this approach?

Firstly I just really love music and there is so much good music out there that people never tap into because they are stuck in a box. Like I don't care where it's from or when it was made. If it's good music I will play it. A huge part of that comes from my personal background. I'm a blend of West Indian and, to a lesser extent, Latin influences. Also the areas of Brooklyn in which I grew up in East Flatbush and Canarsie are Caribbean melting pots so I grew up hearing music from all over the Caribbean and my parents played everything. Caribbean DJs and Jamaican DJs in particular are typically open format DJs with unexpected and eccentric song selections.

We're in a time where people are trying to define themselves — Black people in particular and we all know to some degree or another that not everything we have been told about who we are is true. I think what's happening right now culturally and musically in the diaspora is something we're seeing for the first time and it needs to be highlighted more. We're starting to blend together and learn more about each other. It's the first step to a long road of things that need correction but it's a start.

Would you say the reasons for making this mix are the same reasons for you throwing parties like Jerk and Suya, which makes a point to bring West Indian and West African cultures together?

Yes. It's the same exact reason. The idea for Jerk & Suya was firstly inspired by another party I have called "Tingz," which is a strictly hardcore Dancehall party. When I started the party it brought out a huge population of New Yorkers who felt like they were missing that vibe. Not to say that those parties don't go on at all because they definitely do all over and especially in Brooklyn. It's just a lot of the demographic that attended "Tingz" may have at some time or another fell out of the loop with their culture so it was like a breath of fresh air to them. I realized "Tingz'' was re-connecting a lot of young mostly creative West Indian New York youth to their culture and teaching to those that knew nothing about it. This was around the same time that Afrobeats had exploded on an American mainstream level (sad to say but American mainstream is always late) and I was getting brought out a lot by friends of mine who are Nigerian, mainly Ivie E. Ani and Flo Ngala.

Also being West Indian, many of us have family members who are Rastafarian. I remember from young going back home and speaking with my grandfather and his friends who were also elders and them saying things to me like, "Remember always keep your eyes on Africa." Those things always stuck with me. My parents are also very Black conscious people and always spoke things about Africa and who we are to me so the spark, curiosity, and interest was always there. However when I started going out with Ivie and Flo, it was my first time I was actually experiencing the culture in person. If I can bridge that gap then it's a job well done and it's much easier to do that with people when you can show them commonalities. This world is all about give and take.