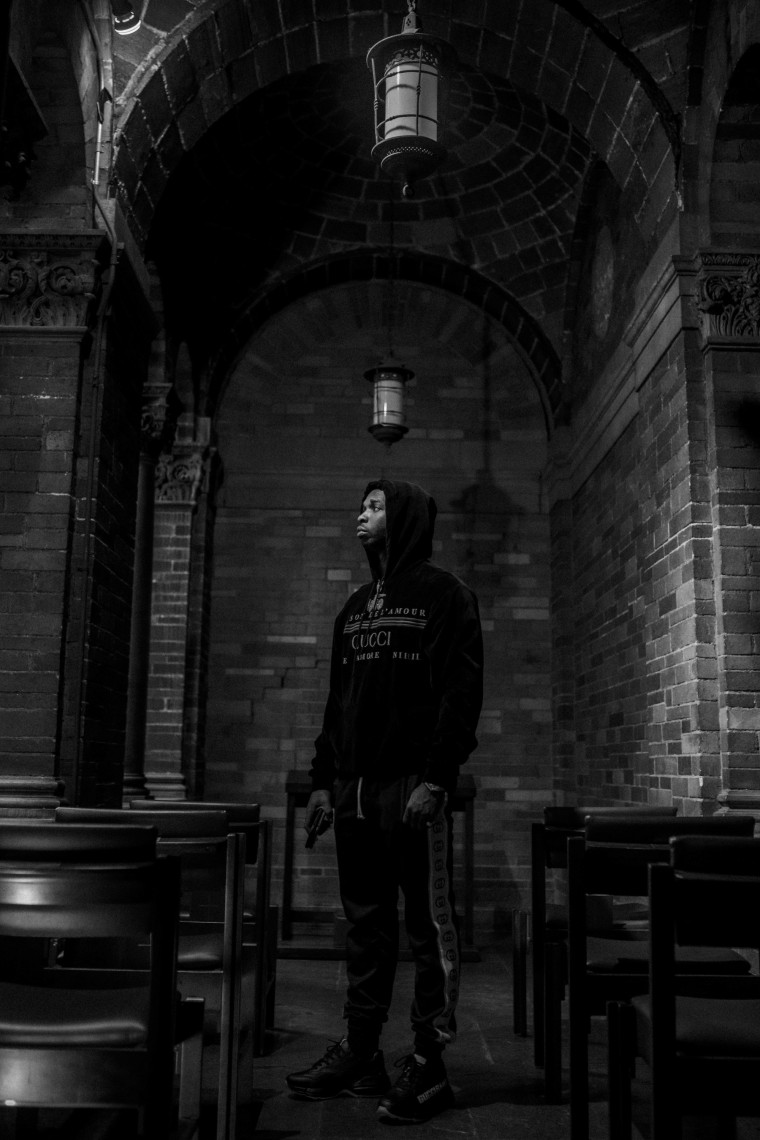 Rapper Pop Smoke was shot and killed in a reported Los Angeles home invasion Wednesday morning. He died at the age of 20. Later that evening, the Canarsie native's neighborhood gathered to commemorate his life and career, rapping and dancing to the songs that took him from those very streets to places near and far — both physically and sonically.
Pop was born Bashar Barakah Jackson in 1999 to a Jamaican mother and a Panamanian father. He would go from running the streets to accompanying recording artists he knew during their studio sessions. He'd get his start in music in 2018, initially remixing New York City drill songs. That December, he dropped "MPR (Money, Power, Respect)," a rework of Brooklyn's Sheff G's "Panic, Pt. 3" with Sleepy Hallow and Fresh G. But it was his original music that propelled him to popularity. In April 2019, Pop released the introductory single that cemented his arrival, "Welcome to the Party"— an instantly infectious track with curiously catchy lyrics like "Bitch, I'm a thot, get me lit" infused with bawdy Brooklyn slang atop a grime-esque bassline that separated from standard drill. He fortified this formula and released his debut EP, Meet the Woo, three months later, quickly setting the soundscape of the city— its contained chaos of fusion gleans to NY's more limitless than directionless rap scene. Within weeks, he scored features from hip-hop heavyweights; Nicki Minaj appeared on a remix of "Welcome to the Party," as did French Montana and grime star Skepta. Other songs such as "Dior" and "Flexing" added to his growing catalogue and fame, but it was "Welcome to the Party" that hit the hardest. The song was anchored by its usage of UK drill production which would later characterize much of Pop Smoke's discography due to frequent collaborations with East London producer 808Melo.
But 2020 was starting to feel like his true breakout year, not even a full two months in. Last month, he landed amongst the top 20 in Billboard's emerging artist's chart while earning his first Billboard Hot 100 hit with his Travis Scott collaboration, "Gatti." Just two weeks ago, his sophomore mixtape Meet the Woo 2 debuted in the top 10 of the Billboard Top 200 albums list.
The album release party for Meet the Woo 2 earlier this month was Pop Smoke's last official celebration of his meteoric rise. After all, it was hard for him to celebrate at home. Last weekend, NYPD precinct barred the rapper from performing his headlining set alongside Fivio Foreign and Sheff G at the BK Drip show in Flatbush's Kings Theater— the first-ever major concert showcase of the Brooklyn drill rap scene. Before that, he was among a group of artists pulled out of Rolling Loud Festival's first-ever New York edition in October due to The NYPD identifying him, Sheff G, Pop Smoke, 22Gz, and Casanova as threats to public safety over alleged gang affiliations. The NYPD's history of harassing rappers predates Pop, but their targeting of the late rapper led to a coronation curtailed by his own city. These legal troubles coupled with a recent arrest forged an ominous cloud of uncertainty over how his story would end, but that was an ominous threat of jail time, not untimely death.

Pop Smoke was such a sensation to witness because, while hip-hop continues to expand, he fed off that cultural diffusion while remaining quintessentially New York. His Caribbean flair, Brooklyn bravado, and trademark tone swiftly became the new voice of the city. He was a familiar, yet fresh archetype of what New York feels, looks,and sounds like. When we listen to Pop Smoke, we hear DMX, we hear 50 Cent, we hear Shyne.
His Power 106 freestyle over 50 Cent's song "Not Like Me" surprised people who didn't know he fit the mold of what is considered a true spitter by traditional NY rap standards. He rapped, "Manslaughter and homicides, whole bunch of mommas cry, whole bunch of niggas die, looking up, I wonder why," reminiscent of Flatbush rapper Shyne in the year 2000. While Shyne had a penchant for underscoring societal ills that shaped his environment, Pop was more subtle. It was as if he inherited Shyne's angst; with their uncanny similarities in cadence and matching maxims that seemed to be "fuck the world for making me this way but I wouldn't have it any other way."
On "PTSD" Pop raps, "Niggas tryna set me up so I'm raising hell" which may have been an allusion to the viral video of him as a teen getting assaulted years ago. The song is an underdog story about the odds and the opps being stacked against him akin to 50 Cent's "Many Men." With a similar vision for vengeance that 50 rapped with, he adds "I'ma take it there, 'cause when you come from where I come from, I ain't playin fair." But Pop's preferred revenge was simply success. In an interview with Shamira Ibrahim for the December issue of this publication, Pop described his mission: "I always knew I was gonna have bread," he said. "I always was good with knowing how to talk, knowing how to hustle." His 50 Cent Get Rich or Die Trying mentality unfortunately became a reality.

Pop was born with DMX's gift; a rapper voice— both specific, ubiquitous, and unforgettable. But we also hear the future, where a subset of New York rap can merge with its British counterpart (both inspired by the original Chicago wave of the early 2010s) to create a new signature sound that Pop Smoke played a pivotal part in popularizing. His baritone bellows resounded across the city through a pan-Atlantic sound that became something of a paean to part of New York life. His voice was where pain and joy collided — from the covert chronicling of trauma in "PTSD" to the heavy but high-octane party anthem "Dior." It rang from club speakers to car windows to school lunchrooms, all the way to the charts.
In a December interview Pop Smoke explained his devotion to being a beacon of hope for people with a similar story to his own. "I make music for that kid in the hood that's gotta share a bedroom with like four kids – the young kids growing up in poverty. I make music for that kid who got beef, thinking about how, when they go to school, these people might try kill me but I still gotta get my diploma for my mom. I make music for kids like that who know they just gotta keep going, that there's a better way. That's who I really make it for...The people who really need some inspiration."
An older generation of the hip-hop community senses tinctures of similarity to the past as Pop Smoke's passing, in some ways, harkens back to the death of the Notorious B.I.G.. Both famed rappers of Caribbean descent from Brooklyn, shot and killed in Los Angeles at the height of promising careers before the age of 25. Biggie passed two weeks before the release of Life After Death while Pop died less than two weeks after the release of Meet The Woo 2. Both died around their respective sophomore projects; short discographies solid enough to act as a compass to gauge the direction of where each would have headed.

At the crux of the matter with both deaths, and many more celebrity deaths, is where the onus gets placed. Blame is distributed — to labels too lax and out of touch to develop and protect their signees, to a dangerous environment, a callous industry, and a questionable community of peers. Conspiracy theories and armchair harangues trickle down to the artist in front of conflict and everyone around them. When a celebrity dies, the battle of what their legacy will be or should be eclipses everything. An artist's tragic death becomes marked by immediate icon status, painting them as a legend, no matter how premature or promising their careers were.
A Pop Smoke mural may emerge somewhere on the streets of Brooklyn sooner than later, joining the company of late NY rap greats taken too soon. Or, his legacy may not match the magnitude of those who came before him. But what is lost in that process of projecting onto a public figure's legacy is that someone lost their life.
More eyes are on him now, whether for people to learn about an artist that never made it onto their radar, or to learn a lesson from another short-lived success story and tragic demise. As normalized as gun violence and sudden celebrity death have become, Pop Smoke's death can't be waved off as just another passing to the community of Canarsie, who celebrated each chapter of his story. People die, people mourn, news cycles end, memories fade, but the imprint a young Bashar Barakah Jackson left on the city is indelible, and New York will never forget.